Two times is a habit and three times a tradition, right? Well I've started this blog with my 2013 New Years Resolutions and continued to do so in 2014. So why change anything in 2015?
But before I get started I need to evaluate the outcome of 2014. (Read up here what those points where.)
#1 We did have a magical winter wedding even though there was no snow at all, I lost my voice the day I didn't need it and our maid of honor had to cancel a day prior. That's life. But it still was the greatest day and everything fell into place.
#2 I miserably failed this goal. Instead of loosing weight and feeling healthier I rather increased the problem.
#3 I did try to be a nicer person but I guess you can always do more. And I am sure there are people who would object…
#4 Well, just three weeks after I wrote down this goal I lost my job again. Three days prior to the wedding. However I didn't leave the job until end of May. And I really don't know what's worth – having to leave right away or struggling with motivation every day for 5 months. I grew with this situation and I know I can handle it and I fought for the job but in the end it was better to go and leave it all behind. I do have a new job but I won't say anything – not jinxing it again.
#5 I did it! I opened a Dawanda Shop (platform no longer exists) and I am so proud I did. There are a few things in there and I already sold one piece. There will be more so make sure to check in once in a while.
#6 I think I did a pretty good job here. Let alone with my advent DIYs I brainstormed so many ideas. I do have a more and I didn't get all the projects done I wanted to. However I didn't start the dream dress.
#7 I did try new recipes. Lets see if I had three of each board:
yummy cakes & sweets: I baked zucchini brownies and I threw together two recipes and came up with a maple cream cheese pie and I also tried the pull apart pumpkin bread and cinnamon cake
yummy food: I experimented with grilled cheese variations, made a pumpkin risotto and the crispy cheddar chicken
yummy salad: I tried lots of avocado recipes such as avocado and white beans, avocado tuna, green bean avocado and my favorite beluga lentil with apple
yummy soup: I really didn't get any soup up here this year and I hardly ate any new soup either. This needs to change.
#8 & 9 Yeah, I did work on my blog and there is a new layout. It is my place and I wrote about the things that matter to me. And the blog is growing – (very) slowly but steadily. So I do something right and you like what I do here. Thank you!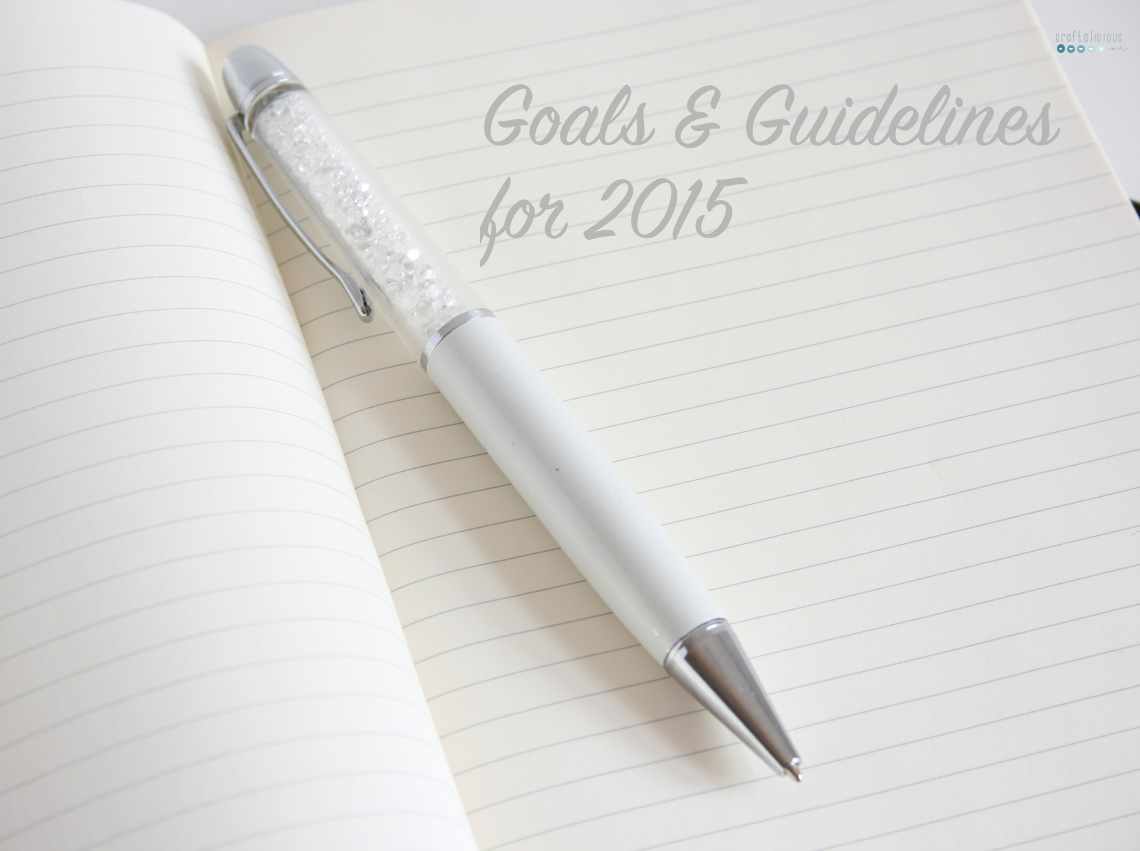 But now lets have a look at my goals and guidelines and resolutions for 2015:
♥ 1: Get healthy, feel better get back to yourself. This includes loosing weight, getting rid of backaches and knee problems, eating healthier and exercising a bit. I will do a whole plan for this topic otherwise I am not sticking to it. Good thing hubby is right here with me by joining in.
♥ 2: Be nicer, be more patient, listen better. Doesn't seem to be a big deal, well it is. I am impatient, things need to go fast and I get grumpy when it's otherwise. Unfortunately hubby is the one dealing with my moods.
♥ 3: Declutter! It doesn't matter what: my closet, my cupboards, my emails, my computer, my craft room, my stack of fabric… you name it and I could do it. I should do it! And while we are at it cleaning would be a good idea too.
♥ 4: Cook more (healthy) food. One recipe from every cook and baking book I own. Unfortunately I own mostly baking books. But still put those books to good use!
♥ 5: Invest time, fun and ideas into my Dawanda Shop (platform no longer exists). I would love to make a few sales this year. However I am not to big giving myself shout outs or doing lots of advertising on my behalf.
♥ 6: Classics. I realized throughout the last year when watching "Once upon a time" I really never read certain stories (Peter Pan, Alice's Adventures in Wonderland…) and I also haven't seen some classical movies (Casablanca, Breakfast at Tiffany's, Gone with the wind, Flash dance, etc.) I want to catch up and fill my void of not knowing.
♥ 7: Write more letters & postcards. I love getting mail unfortunately I don't and that might be because I do not write myself. So here is to snail mail!
♥ 8: Invest in blogging. Work on this blog – still a few things I don't like but I don't have the skills (yet). So I will look into CSS. And I also feel like I want to go on a blogging event. I've been at The Hive and it was inspiring. Maybe an online course or a conference or just a meet up with blogger in real life.
♥ 9: Staying creative. Try new things, work with new materials and tackle those secret projects I carry around for years. Just remember the dream dress – and that is only one I told you about.
Wow now that is a list! Kinda overwhelming. So good thing that Elisa is doing a monthly link up with New Month Resolutions. I like this idea. But I like my long list too. But then you do get lost during the year… So I decided having my long & important list and breaking up tasks for the months so I can really do get something accomplished. And this way I might sneak in a few more things that didn't make the big list. So I would basically get more things done?! Now that sounds like a plan!
Are you doing a list? How do you manage to keep on track? Let me know, need all the motivation I can get.
Happy planning, Tobia
Edit: Bine has asked about our plans for 2015 and what we think about it all so I have added this post to the linky.