My friends, while I am typing this the dishes pile up on the dining room table, the drink glasses are scattered in the living room, burned candles line the balcony and I need strong coffee today. A lot. My heart is full after hosting Friendsgiving yesterday. I don't have many pictures to share because I was either busy or enjoying my friends and families company. To sum it up all in one word "flawless", "perfection" or "success" pop up.
But let's take you a long and share a bit of my first time hosting Friendsgiving. As I said previously I am not much of a dinner party hosting expert. I don't mind having people over but hosting big events is a bit more than just opening the door.
Preparations for Hosting Friendsgiving
As I mentioned I did NOT cook all the dishes. But still a few preparations needed to be made. Unfortunately on Thursday I had to be in Hamburg again for a rather important meeting. I was trying to get out of it but couldn't and it was good I didn't. But this made it a bit more stressful than I would have wished for. We both took Friday off work though to make it less stressful.
Friday morning after chilling on the couch for a couple hours, reading blog posts and writing posts I finally started getting in go-mode. I was dead tired and started to get really cranky. So I left the house to go to the little farm shop where I ordered the turkey. As I said I didn't get a whole turkey but two breasts and a leg. Which looked a lot but I figured I followed the plan. After that I hit the grocery stores to get the last ingredients and some more drinks. I could have been there a couple hours earlier. It was full, and hectic and I just didn't like it. Also, I hate if stores are so unorganized. I ran round like crazy not finding. anything and had to ask 3 times to find the items…
Back home we ate breakfast (around 3pm). After that I started baking cornbread. I always forget how much I love cornbread. While the cornbread was baking I prepared the stuffings. I had gotten some bread from my last to-good-to go order for this classic stuffing but I also wanted to do something with whole wheat bread and no celery (not a fan and I was scared no one would like it) and so I came up with my own stuffing version. I used the whole-wheat bread, mushrooms and chestnuts with herbs and added vegetable broth. It was very hearty and yummy. The husband was in full cleaning mode and vacuumed high and low and tidied up.
At around 7.30pm I finally sat down and trying to figure out the cooking time of turkey. I had forgotten to ask in the store for recommendations. Google let me overwhelmed. I called my sister – a master chef but she never had attempted turkey and doesn't do poultry too often. She consulted every cook book and send me photos of over 30 pages on how to do that. After that I was still overwhelmed but she said in the end I should just follow the recipe I had. Well, I decided to read it and not just skim through. Take a guess, this turkey recipe gave me all the introduction and guidelines. I wanted to prepare the turkey and add the butter already. I had made the butter Tuesday night already. That didn't really work out so I put all back on the balcony and called it a night. I sat down and set up a sophisticated alarm schedule on my clock telling me when to prepare what and what goes to the oven when for the next day.
Friendsgiving day
Again Saturday I started by reading blog posts and writing posts before I around 10 am decided to get going. Friends were arriving by 3 pm. I cleaned up a bit in my home office and then deep cleaned the bathrooms. After that it was shower time. Just then I realized I had an hour more and I took a long relaxing shower.
The husband was in decoration mode. He put together these lovely place settings, wrote little name tags and put out vases with lavender and eucalyptus and candles. He also tackled our carpet again because it still was not clean.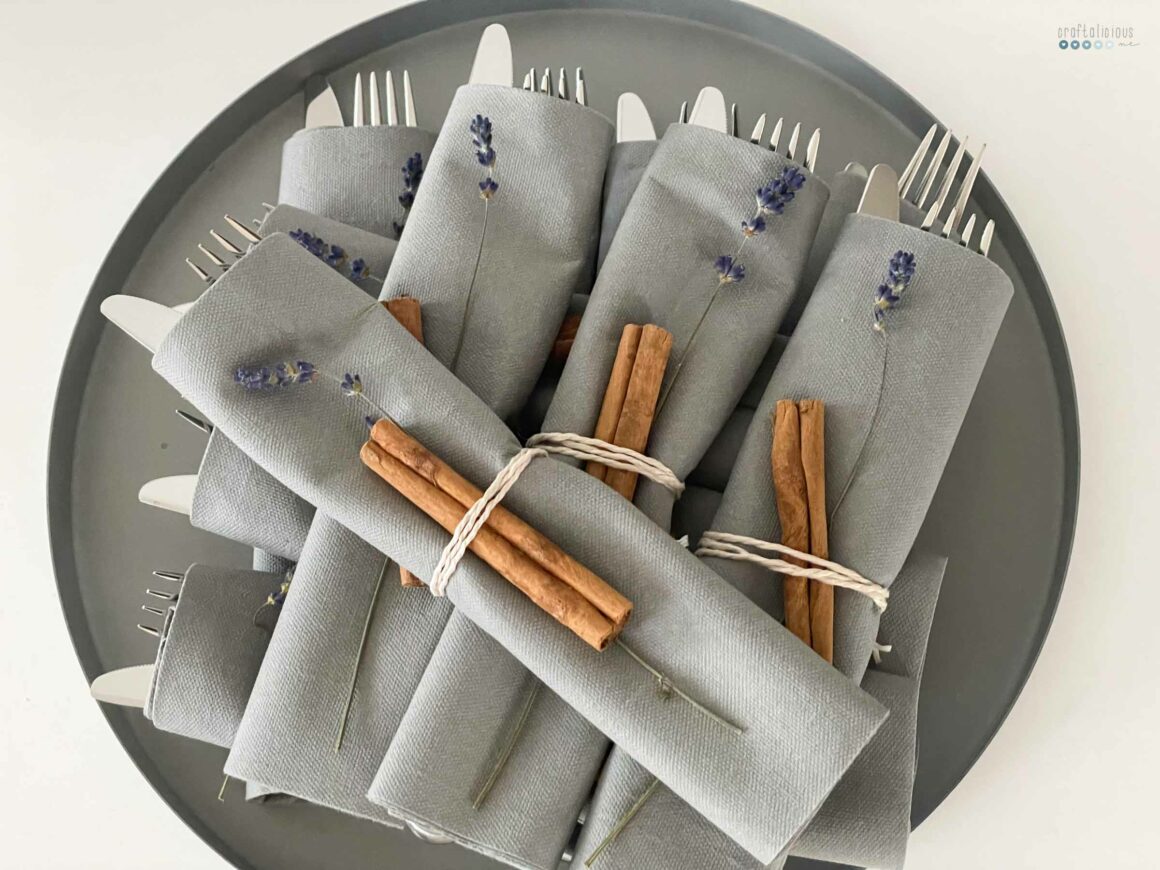 After the shower I started to prepare the turkey. Let's say I was a bit surprised how much it was. I shortly contemplated not cooking it all but decided I could easier hand out left over than having a whole breast in the freezer. The stuffings went to the oven at their dedicated time and the turkey then went in 5 minutes prior to schedule. And then the oven looked like a smoke house… My sister had said this might happen and I should put some sort of pan underneath to avoid dripping. Well the beast was so huge it dripped around and overflowed. I peeked in to let out the smoke. Smart thinking. I now know the fire detector works. I set it of again a bit later but than the smoke was about done. Just in time the first guests arrived.
My cousin and her partner came with all the veggies – green beans, carrots and brussle sprouts. We then chilled on the couch chatting, drinking beer and observing the neighbors Christmas trees getting delivered. Every once in a while peeking into the oven and marveling at the turkey.
My sister and her boyfriend showing up bringing Cremant and crazy craft beers. Of course I had to modle the Idaho can that fit my outfit perfectly. Also they carried Apple pie and mashed potatoes that needed some finishing touches.
A little later my friend Jana showed up with Pumpkin pie and lots of sweet potatoes that we started preparing. I again had a schedule and told everyone one when to start cooking so we hit the 6pm dinner time. At 5.30pm the turkey came out, the sweet potatoes went in. The mashed potatoes were being finalized.
I asked Jana how she wanted to do the gravy and she looked a bit surprised and asked why? I said she put her name next to it on the excel sheet. She said I didn't plan it. I said I have all ingredients here (I had a feeling things might go wrong here) but had no clue on how to do it – or rather I can never get roux right. She said she'll do it. So secretly we whipped up a gravy. We had so many drippings from the turkey that I have at least double in the freezer now.
Simultaneously it was my husbands time to shine as he put out the decorations and set the table. Asking people to step back because everyone was admiring and the food was starting to fill the table.
Let's have dinner
Just when we started serving the last of our friends showed up with aperitif's – which we had to skip – and the cranberry sauce.
We all sat around the table, the turkey was being carved, pictures being taken but more importantly we all dived in and marveled on the perfect dinner we had all put together.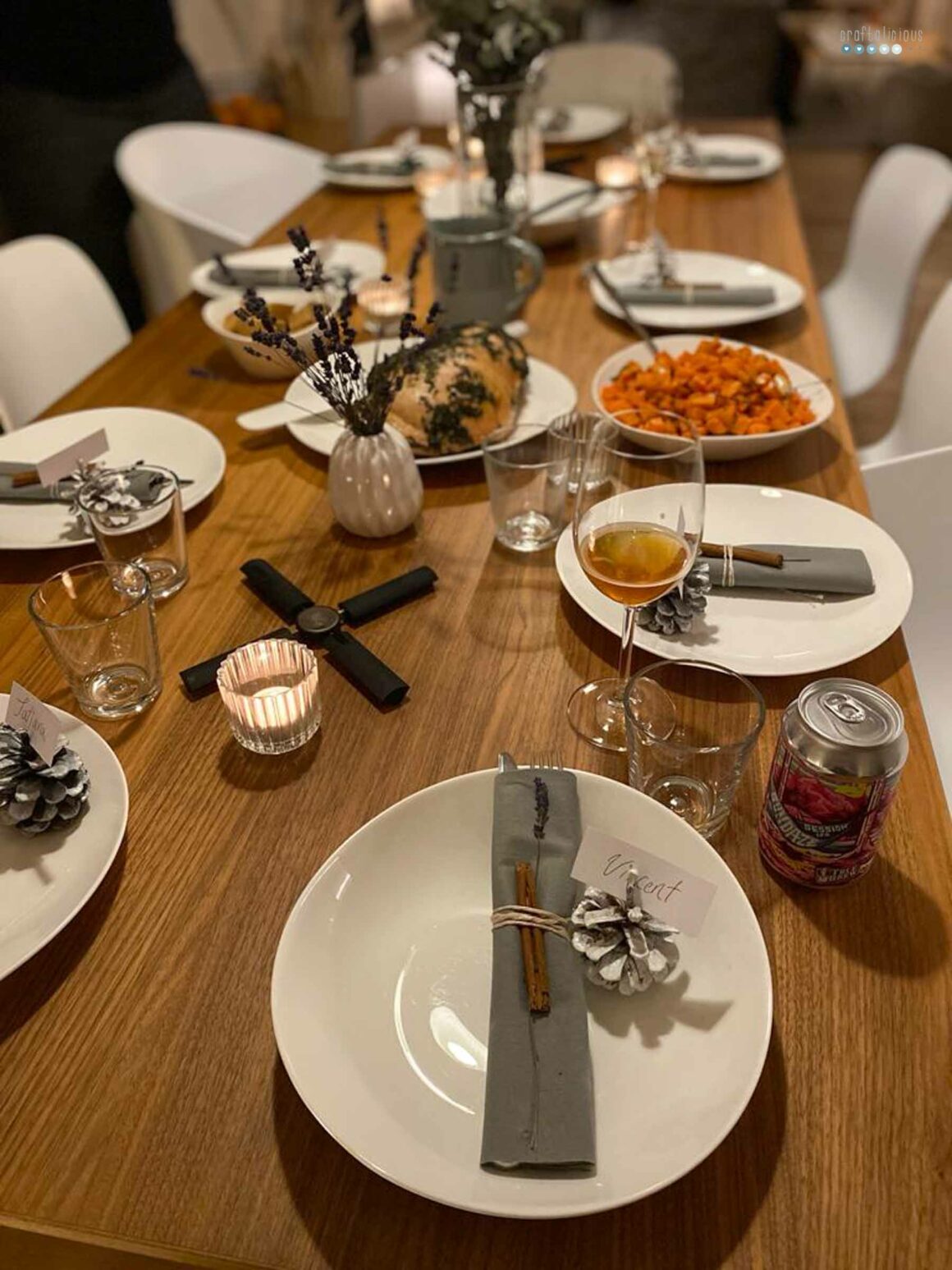 Honestly there wasn't one single thing that didn't taste good. Even the cranberry sauce was a hit – I don't like that much – but all combined just perfection. No one had ever made any of the recipes. I had just googled and put down three recipes for each dish. I couldn't have been any happier.
The turkey was really moist and perfect. Of course we ended up eating only one breast and a tiny bit of the leg and were left with a breast by the end. We talked we laughed and then we digested. Half on the couch, the rest at the dinner table.
We decided to take a walk before having pie. But then some friends needed to leave a bit earlier and so we we served them pie first. My sister had the apple pie baked once before so it would turn out great. And it looked so amazing. Just when we wanted to head out for our walk another friend said she would probably need to leave in 15 minutes to pick up her uncle from the airport. So we waited. And had a gin. At 9 pm we finally were ready to go outside but by then one person of the party was really really tired. However in the end we all managed a 2 km walk for 40 minutes through the tiny house neighborhood.
Pie Time
Coming back it was finally time to dive into pie. The apple pie was so so good. I already told my sister that she needs to do that for every of my birthdays now. She said no way. Too complicated. It was very good. Also the pumpkin pie really good. Specially since it was a last minuted change as the pie filling order was canceled and my friend ended up using baby food to make the pumpkin pie. We had coffee and tea and more chats. Everyone lounging at the couch and on cushions on the floor. Very relaxed. Very at home. Just perfect.
The last people to leave were my sister and her boyfriend close to 1am.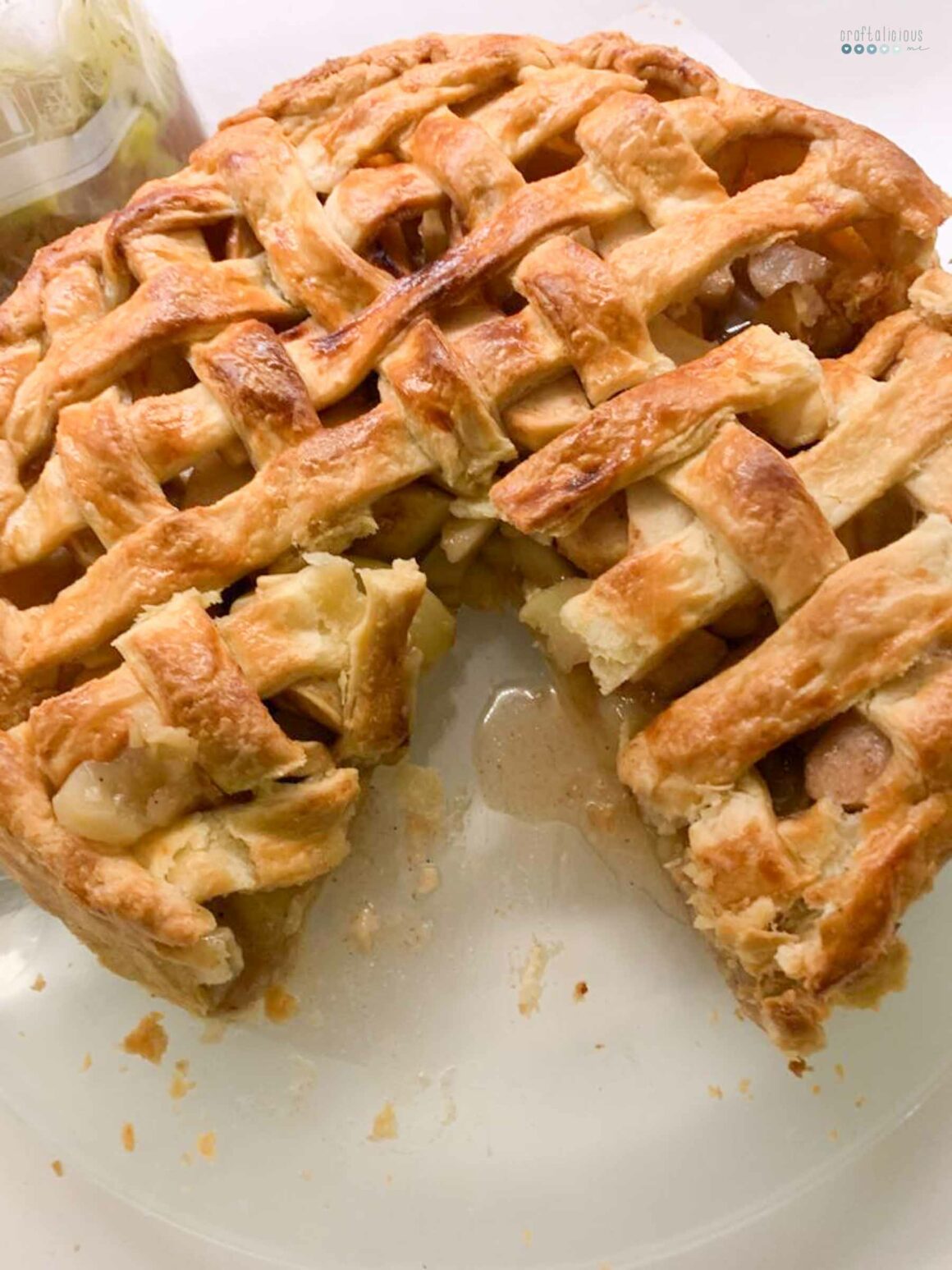 The aftermath of hosting Friendsgiving
Once everyone was gone I looked at the aftermath. It was just a beautiful sight even though I knew it all needed to be cleaned up. I did start one dishwasher and I put away all the left overs. Mr. ♡ is not the biggest fan of leftovers as he doesn't like to eat the same thing the next day. I kept one box of left overs for myself for Tuesday when he is in the office. Everything else went to the freezer. We have about 5 turkey dinners ahead of us. And I passed out as much as I could. One piece of apple pie and pumpkin pie remains. A tiny piece of cornbread and many many drinks.
We are not a drinking group of friends… one bottle of champagne, one of white wine, about five or six beers and lots of water for the number of 9 people…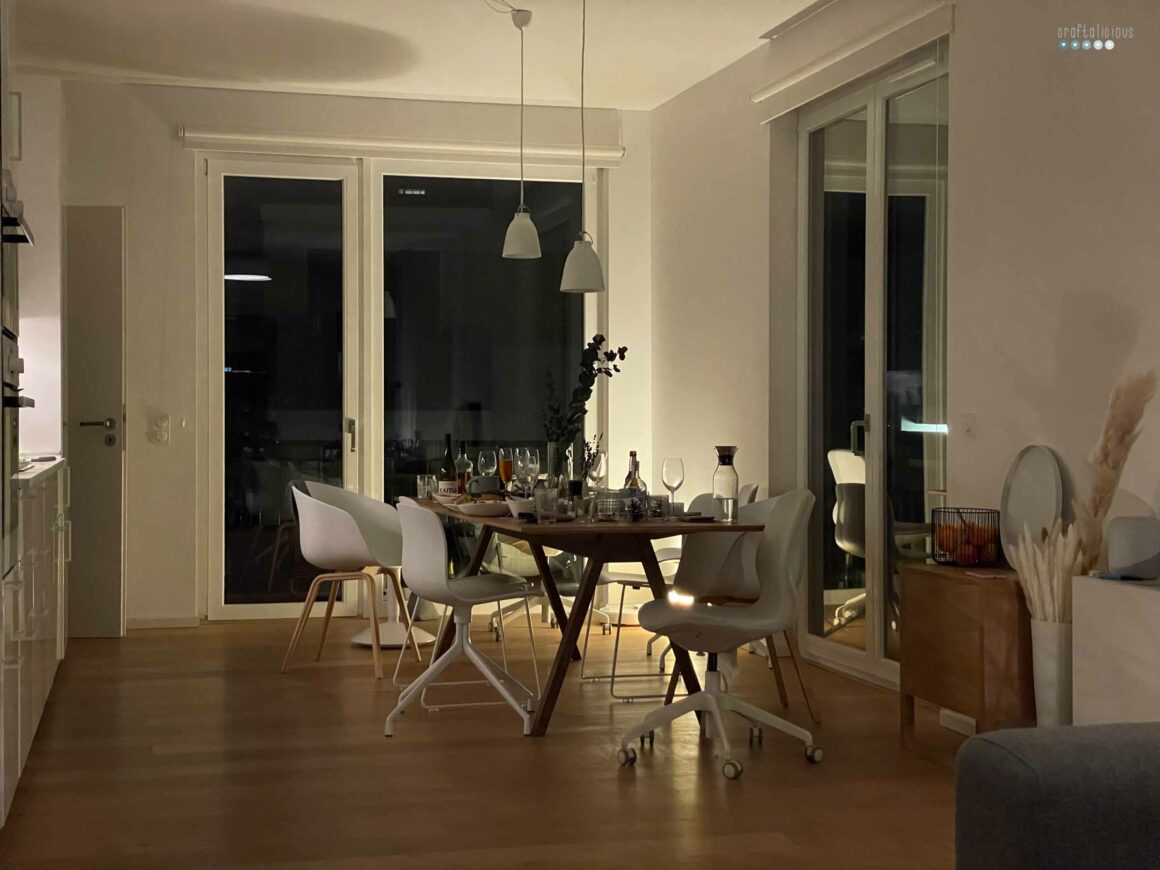 Alright, I think that is enough of me celebrating my first hosting job of thanksgiving. Hope you enjoyed reading along.
Happy Day to you
Tobia
P.S. Since I didn't really take many photos credit goes to my sister, my friend J., my friend T. and of course Mr. ♡.
P.P.S. And since I might be doing this again here is a list of the recipes we used – and maybe that is helpful for anyone. But I know you are all pros in Thanksgiving… so maybe just for me then:
Gravy not sure which recipe by J.
Cranberry Sauce with less sugar
Mashed Potatoes by H.
Pumpkin pie with baby food substitutes
Corn Bread with my host moms recipe