And here we go again. I have not one gift for my family or friends for Christmas but I do have three shoe boxes filled with gifts and candy for three children that are not as great off as I am. Packing my shoe boxes for operation Christmas Child is a wonderful way to start get into the Christmas spirit.
And as some of you already know since 2018 my youngest sister and I are volunteering at the Christmas factory. There are two Christmas factories here in Germany. One is located in the south of Berlin and so we usually pick a day and a time to do a 4-hour shift of helping to sort through all the donations, check the items if they go through customs and to pack it all up so it can be loaded to the trucks.
Our volunteering day is coming up this Friday. We will spend the evening shift from 5-9 pm at the logistics center of the German branch of Operation Christmas child. I guess by now we are somewhat pros. This will be our fifth year doing it. I love this sisterly tradition and we are always so excited when the newsletter is delivered to our mail boxes letting us know that the schedules are out. We then pick a date and sign up.
I usually push to have an early day – preferably in November because then I can focus on other things in December. My sister likes to have it at the start of December so she can be a bit more into the Christmas spirit. We usually find a day. Found that time and we are both happy.
In the past couple of years I have been trying to also put together some shoe boxes for children I don't know. This year I have again done three boxes.
I was a little late gathering some gifts. Usually I buy gifts at the stores when they are reduced and collect over the year. This year however I have tried to not have any when moving. And ever since I didn't really come across anything or thought about it. So a couple of weeks I started buying a little randomness things I figured could fit the box.
And now that I packed it up I am not too happy on how I ended up with one box that has almost double the value than the other. It is not fair in my opinion but I can't really do anything now. I guess it is the thought that counts. But next year I think I will set myself a budget and be a bit more mindful about buying things.
Packing a shoe box for age 5-9
Anyway I decided to pack two boxes for the age of 5-9. I personally dont really like that you need to buy for girl or boy. I am trying to steer clear of the gender blue-pink trap but it is not easy here. Nevertheless I at least managed to have the color scheme a bit more neutral – at least for two boxes.
Here is my box for a little boy.
I packed the following items:
playmobil figurines
coloring book
coloring pencils
candy
wash cloth
toothbrush and tooth paste
bandaids – thank you Elisabeth for that suggestion last year.
mittens
The boys box cost me around 15€ in total.
Here is my box for a little girl.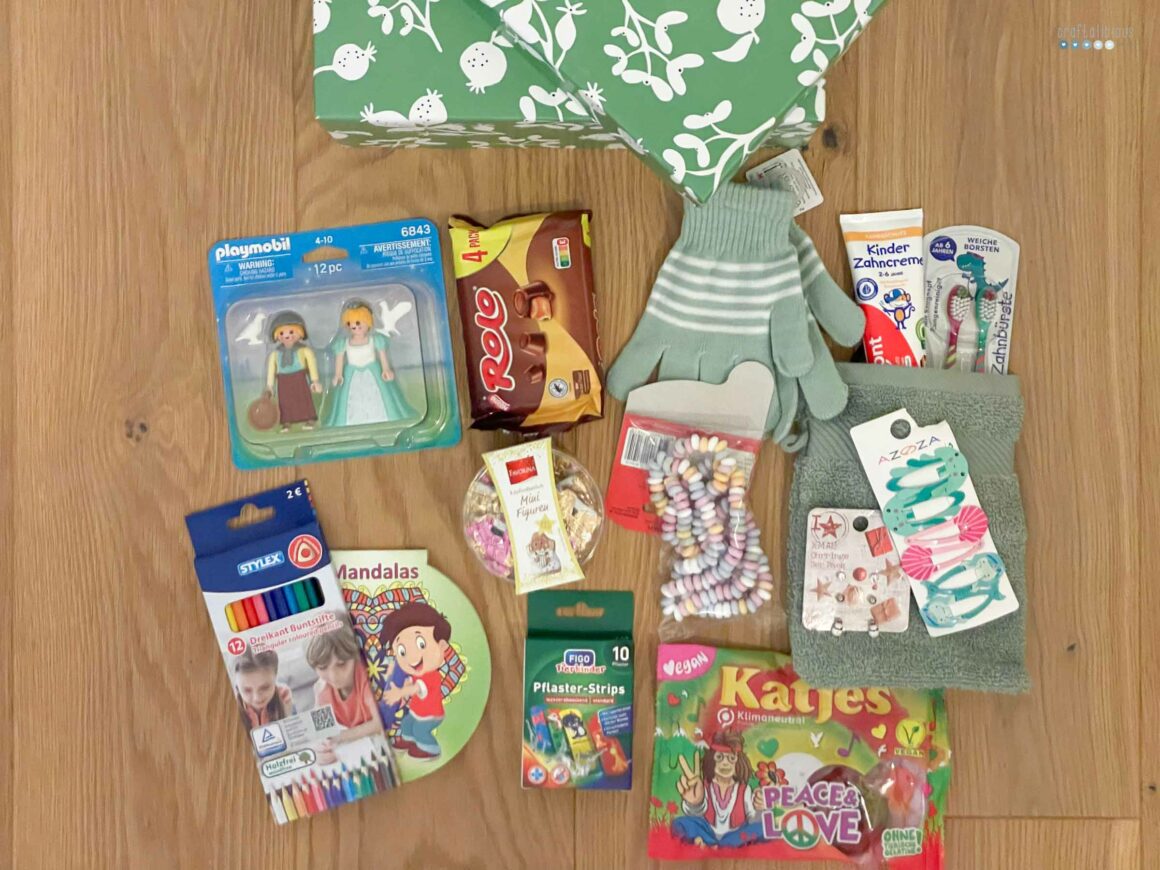 This box included the same items as the boys box with additional:
hair pins
festive earrings
The girls box cost me around 20€.
Packing a shoe box for age 10-14
This year I really felt like I wanted to buy for a teenage girl. I have no idea why. And I went a bit overboard. But it was just fun to put a pink box together. I originally wanted to get a big fluffy scarf but nothing was cute enough and I didn't want to spend too much money. I ended up going with perfume as a major gift. Here is what went into the box:
cosmetic bag
perfume
shampoo, conditioner and body lotion
deodorant
tampons
festive earrings
candy and cocolate
fluffy socks
mittens
coloring book and felt tipped pens
note book
This box cost me around 30€.
Next year I think I am aiming for a box around 20 € each. That should be a nice budget for it. I am wondering if you also pack a box. Do you set yourself a budget? Would you just go and by what you like at the spur of the moment? Do you collect pieces throughout the year?
I'd love to hear your experience here.
For now I say good night. It is rather late and I am tired.
Happy Shoe box packing
Tobia
Previous post about Operation Christmas Child and our volunteering at the Christmas Factory can be found in the following posts.