Mark your calendars: February 13th is the 2022 start of the 100 day project. If you are following a long for more than a year you know I participate in the annual art project on a regular basis. Just recently my friend San asked how much time I spend on the project and what kind of thing she could do. That made me think about all the times I had participated, my learnings and how I prepare for the 100 day project. Today I share my thoughts and maybe by the end of this post you are enthusiastic to join in.
What is the 100 day project
#The100dayproject is a free global art project run by Lindsey Jean Thomas. 2022 marks the 9th year it is held. It is a project artists and creatives around the world are joining. The idea is simple: choose a creative project, do it every single day for 100 days, and share your process on social using the hashtag #The100DayProject. I have also seen people join in with projects that aren't "creative" such as exercising daily.
You can sign up for the project newsletter – I haven't done it – that delivers updates, milestones, inspiration and events to your mailbox. I personally don't need it to stay motivated but I can see that some people might enjoy the encouragement. I also think there is a paid option with even more events and encouragement.
You can also follow the Instagram @dothe100dayproject to stay up-to-date and find like minded people.
How to prepare for the 100 day project
Now that you know the parameters it's time to think about a possible project.
You can do anything you like for the project: paint, draw, dance, knit, doodle, sing, brush your teeth or walk your dog…
I personally consider the following questions when choosing a project or deciding if I actually can participate.
How much time do I have available?
This is a question I found really valuable to consider. If you know the next 3 month will be hectic, you will have a lot of visitors or you have a tight work schedule you need to be mindful of it. It may not matter in the end in participating in the project but there will be days when doing the project is another to-do on you list. It might be too much. You are tired and stressed. So ask yourself how much time am I able to secure for the project. And how much time would I need minimum on a day?
My experience shows the simpler the project the easier to follow through. If you need to set up your easel before painting everyday it most likely will not happen. However if you only need a pen and some paper you can easily get it done. If you have studio with a set-up the easel, painting might be possible. Consider your individual set up. Do you have a dedicated space you don't need to clean up everyday or will your kitchen table be the center of attention.
Will I be traveling during the project?
This is another questions I'll ask myself. Will I be on vacation during the time? Will I have business trips lined up, trade fairs to attend or any other time I will not be at home. If so, what kind of project can be done on the road.
For my #100daysofcraftaliciousdrops for example I decided that I do not need to end up having 100 pieces of art. My goal was to have 50+. That gave me the opportunity to create the basis of my art pieces – the blue water color drops – while being at home and embellishing them with white pen when being on the road. In the end I still had almost 100 pieces but it gave me some flexibility.


What kind of craft or technique do I want to learn?
Doing something for 100 days is along time. So much time that you can actually learn a new craft or a new technique. Maybe you have been admiring a certain technique for a bit. Maybe even gave it a try but then no time to really dive into it to see some progress. Maybe you want to challenge yourself in learning something you always put off.
This often times is my main motivation when choosing a project. Wanting to learn. Wanting to get better. Allowing myself the time to experiment.
My #100daysofcraftaliciousimages was such a project. I wanted to learn new things with my camera. Working on techniques and camera settings that always seemed daunting. Exercises I kept putting off. However I knew going into this project it will require a lot of time. I knew it and still underestimated it. There where days where I spent 3 hours on the project. However I did have the time because my work schedule was very light and I saw this project as some sort of training for my job. Still as summer approached – and as you may know my migraines usually increase – I was not able to continue and finish. At some point the momentum was lost. But I learned a lot. So it was a win. And I still hold hope that I complete the last 20 days. Maybe some day.
My last project #100daysofcraftaliciouslineart was also inspired by learning and honing a skill. I admired those line art artists and I figured I want to learn this. See if it is something I like and if I can teach myself.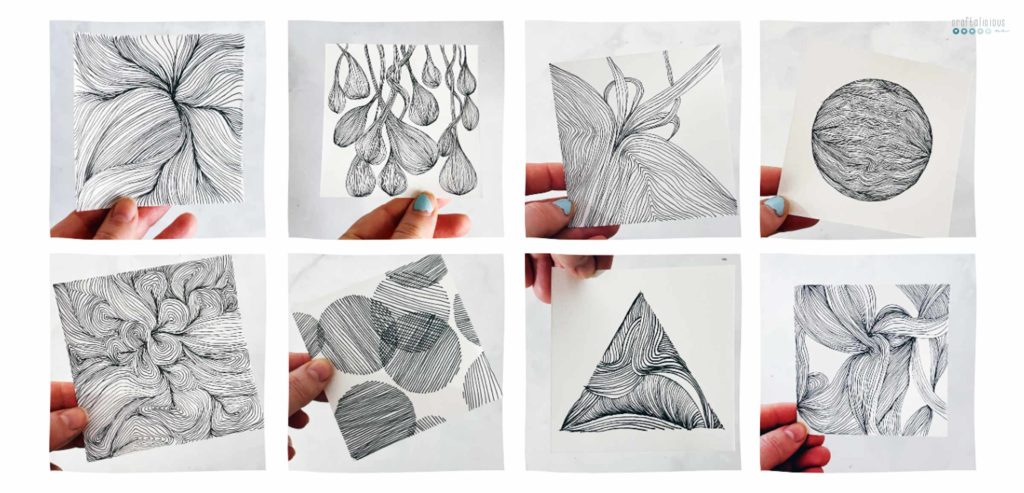 What will keep my interest for 100 days?
Do not underestimate this aspect. In my second year #100daysofcraftaliciousstampin I was eager to learn more about stamp making. Knowing I won't be able to create 100 stamps from scratch I decided to start easy be using stamps I owned and making patterns with it. Experimenting with numbers and letters. It didn't hold my interest for long and it actually didn't look pretty. I lost my interest and the ambition to finish when some family death occurred after 30 days.
Which is ok. I still created 30 art pieces. I still took time to be creative for thirty more days than I would have otherwise. I did learn that stamp making is a nice craft but not my favorite. I still consider it a win and step towards a more creative liefe.
Projects I have done
Before I dive a bit more into the learnings I have gathered after participating in six years of this challenges here is a quick overview of what I have done. Maybe that inspires you to find your own project.
2016 – #100daysofcraftaliciouspatterns
Goal: participate in the project
Materials: pen and paper the size of a business card
Time spent per day: around 10 minutes in average

2017 – #100daysofcraftaliciousstampin
Goal: do great patterns with stamps, create stamps
Material: store bought stamps, rubbers, cutting knives, inks
Time spend per day: 5-15 minutes but because I had no clear idea what I wanted
2018 – #100daysofcraftaliciousdrops
Goal: learn how to create watercolor drops and how to get those cool edges
Material: 3 different inks, pipet, brushes, white pens, papers
Time spend per day: the days I made drops usually 5-10 minutes + drying, the day I embellished took more time 10-20 probably.

2019 – #100daysofcraftaliciousimages
Goal: familiarize with camera settings, exercise certain techniques, hone creative vision
Material: camera
Time spend per day: at least 30 minutes up to 3 hours or even 6 when walking. Usually I shot more than one image then and catching up on prompts
2020 – #100daysofcraftaliciousprojects
Goal: work on all those projects I want to do "one day" for at least 15 minutes a day
Material: use what is available and buy nothing if possible
Time spent per day: I set out to work on the project 15 minutes a day knowing I will not have a "done" project each day
2021 – #100daysofcraftaliciouslineart
Goal: learn how to do line art
Material: pen and paper
Time spent each day: depending on the complexity of work but at least 10 minutes up to an hour
Things I learned during the 100 day project and that are helpful to keep in mind when starting
After six years of doing this project I have a list of things I learned and that I consider when I prepare for the 100 day project.
Keep it simple. As mentioned before the less materials and time you involve the most successful it will be. It is not your day job. Unless it is but still don't overwhelm yourself.
Limitation is key. Decide on a craft or technique and stick to it. You would think having only pen and paper and only drawing patterns or only using blue ink gets boring after 30 days. No it doesn't! You start learning and getting creative when you have explored all the ideas you had in mind when starting out. Now it starts to get interesting! Now you grow.
Don't spend a fortune. I would recommend not going and buying a load of new materials right at the beginning. Use what you have to start and see where you are going. The most I spend. on a project was 30 € and I didn't even use all materials in the end. Granted if you want to learn a new technique it may need some investment but again less is more.
Build in flexibility. As already mention think about how you can be flexible on tough days. Decide from the beginning that you do not need 100 pieces of art. Have a few days where you can prepare and do basic work. They count too.
Allow yourself cheat days. Don't give up when you missed one day. Do twice the work the next day. However, I can only advise to keep those days to the bare minimum otherwise you loose momentum.
Keep yourself accountable. If it helps to announce that you are doing the project on social, do it. If you find a craft buddy go ahead. If you only need yourself also fine. But decide that you will do it and do. For me it helps to know I want to see all pieces in a final collage or a product such as my printable calendar.
Join the community. The project is most of all fun because you cheer each other on online. Take time at the first week and scan the hashtag, follow people whose projects inspire you and can connect to. Show up daily and comment and encourage. I usually find 2-5 people I keep a close eye to.
If you read until now I assume you are really interested in this project. I would love to follow you along.
One last tip I want to let you know. Start the project. Even though you decide on day two this isn't for you, you spend one more day being creative, enjoying yourself and learning something. I'd say that is a win in itself. And maybe you make it to day 30, day 50 or even day 100. Whatever you do, do it and decide to enjoy it.
Happy creative day to you
Tobia