How are we already writing May in our dates? I really don't know where time is going these days. Lots of work, lots of lawers, lots of mind troubles. When you don't sleep well there is no real passage of time. It all blends into each other. On top I have been sick for two weeks. But what does it help to complain. Here I am. In May. So lets just check if there was any magic April…
How I incorporated my word MAGIC in April
Let's see where I came across main in the past month.
I found magic in my morning walks.
I enjoyed the magic of new books. Not one, not two, no eight.
I found magic in watching Next in fashion to wind down at night.
I saw magic when driving through meadows filled with spring flowers.
I created magic by making caramel ice cream and a braided marzipan easter bread.
I have magic in my marriage and the current troubles seem to bring us closer.
I was gifted some magic with an unexpected zoom call with an old colleague who may turn into a friend.
I experienced the magic of a seven hour sleep after many rough nights.
I have enjoyed an almost magical migraine free month.
I spread magic by selling many items on eBay.
I enjoyed magic by taking myself out for lunch and tried the Bali Bowl place. I had a hot chick pea curry which was delicious.
I soaked up the magic of family during our family reunion – the first since 2019.
I spread magic by commenting on blog posts.
A magical image
I was either lucky and skilled enough to capture the magic of the moment my self or I share an image that really spoke to me.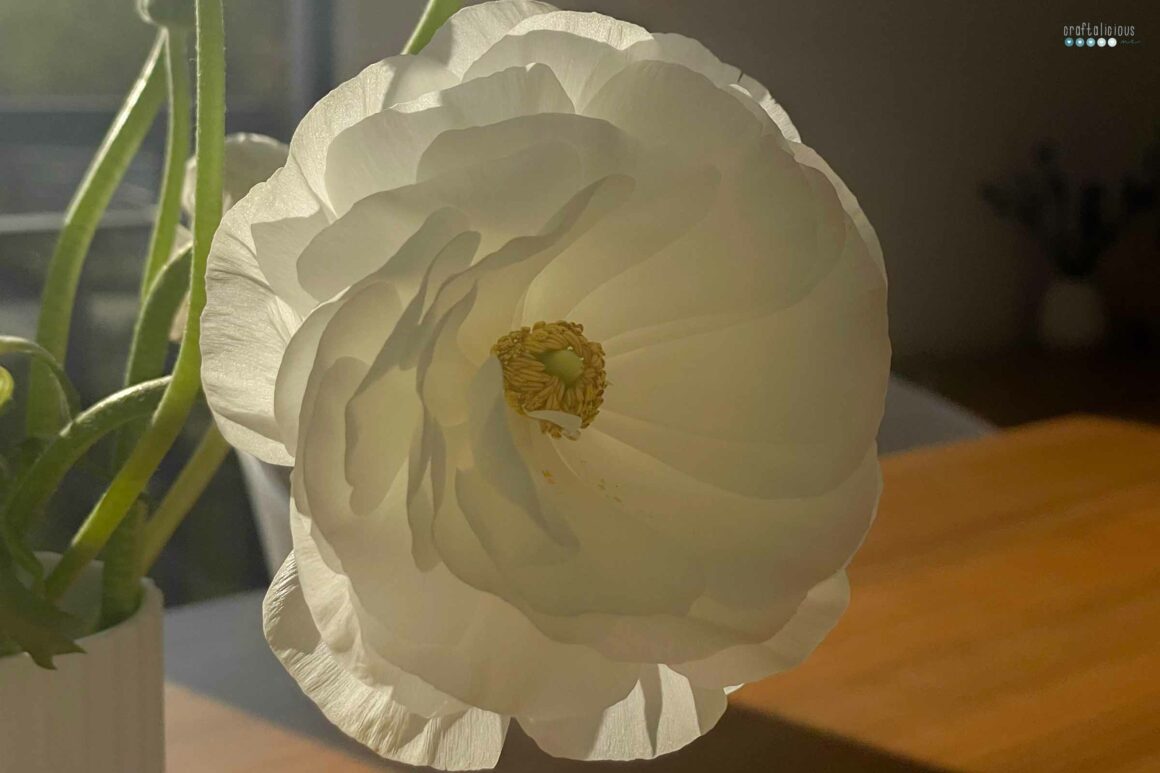 I bought myself these flowers for easter and I loved how the sun cam through the different layers of petals. Shadow play is always magical.
How I will experience MAGIC in May
I will find the magic in new beginnings.
I will create a list of magical things to do in the new neighborhood.
I will enjoy the magic of comfort food.
I will enjoy the magic of books.
I will spread magic by doing a little surprise for our friends small wedding.
I will thrift myself some magic in the antique store.
I will take myself to lunch.
What was magical to you in April? When have you had the last family reunion? What food always screams magic to you? Do you enjoy going out to eat by yourself?