I know I keep repeating myself but where is time going? The months just fly by and I hardly know how to do that living thing people talk about. Ok, that may be a bit over dramatic but I really don't know how we ended up in July already. June was actually eventful with the husbands and my birthday. So there has been some living. But I still have the feeling I am behind on everything. I still haven't caught up on blog reading and I feel I am doing a really bad job in staying in touch with my online friends. Please forgive. I appreciate that you still stop by to read here. But let's have a look about my magic June –time fora recap.
How I incorporated my word MAGIC in June
Let's see where I came across magic in the past month.
I celebrated magic by having a wonderful time on my birthday. Cake for breakfast, a visit to an art museum (Die Brücke), drinks on the terrace and dinner with family at the river Havel.
I kept celebrating the husbands birthday with a gathering of friends at the terrace.
I celebrated the magic of having a new family member. My cousin just gave birth to her first child.
I enjoyed the magic of our online book club. It wasn't my favorite author we talked about and I am not sure I will read more of Curtis Sittenfeld but it's always great to talk about books.
I found magic by talking to people and stepping out of my comfort zone. I am really making an effort to connect to people in the new neighborhood and it does wonders for my feeling at home here.
I created magic by getting back into finishing my 100 Day project. Only 14 days left.
I learned about the magic of herbs and wild plants by listening to a few talks on an online Herbal Medicine Congress. Gotta love free resources.
I found magic within the foods and a few plants for my tea collection. I am exploring and trying to remember where to find what so next season I can be at the right place at the right time. But I did manage to find elder before the blossoms were gone. Same with some linden. I also found wild raspberries and a few patches of black berries.
I felt magic one morning when I decided to give myself 15 minutes to stretch and do light yoga in order to battle a severe migraine attack. It feels so good. I just need to make it a habit. I did oder a mat.
Magic found me in form of an amazing opportunity – I tell you more in my plans for July.
I enjoyed the magic of the first dip into the water this season.
I felt the magic of catching up with an old friend and while doing so realizing how lucky I am my life turned out the way it did.
I enjoyed the rare magical sensation of feeling attractive.
I enjoyed the magic of nice talks with the husband, a few laughs, some loving touches during random life stuff.
I created magic by making myself some healthy bowls for dinner.
I discovered magic by exploring the woods.
A magical image
I was either lucky and skilled enough to capture the magic of the moment my self or I share an image that really spoke to me.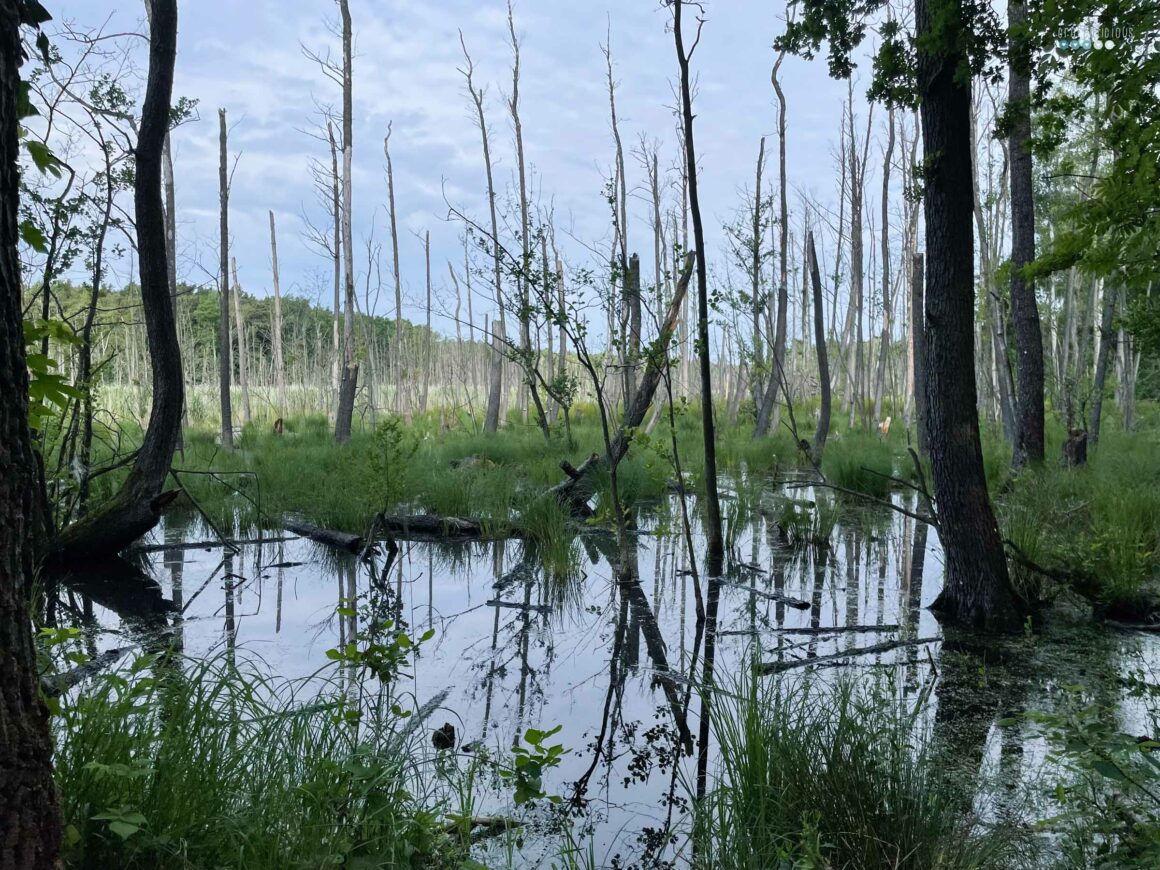 During my morning walk I stumbled across this swamp and was greeted with a lot of noise of croaking frogs.
Magical Mid Year – a Check-in
Half of the year is over. Time for me to add another section to this month post as I want to check in on how my magical year is coming along. So let's do a quick update:
Create Magic
I think I am doing a pretty good job here with my #100daysofcraftaliciousbookart. I also have been able to create a lot – like a gazillion – photos and videos for work. For my birthday my dad got me some artist chalk and I am hoping to get some use and experience. I am also thinking about taking a drawing class at the community college. So we'll see.
I still want to create a magical sweater that I have all materials for and prepped but haven't gotten around to because of the move.
As for writing I am doing ok I think. I haven't written that short story or any of the magical posts. I may save them for NaBloPoMo?!
And I really have not attempted the magical photographies. No, wait, I did create one but with my iPhone. So not sure if I count that.
Find Magic
I think I am on a good path when finding magic in the daily life, in books my closet and exploring. I am not so much doing a good job in the magic in transformation department. This is something I need to focus on a bit more in the second half.
Spread Magic
Mhm, this is going okayish… I have written a few cards and I know at least one was really important and rightly timed. I haven't been great in blog reading. I did offer to be volunteering at the new church. And I think I will sign up for accompanying some blind people to service. We'll see.
Hope for Magic
Well, this was mainly regarding the apartment situation and that is solved. Not to our liking. Although, I am not sure if that is still true. I am starting to love the new place.
As for sleep, it is getting better. I guess the whole living situation had a bigger unconscious say in my sleeping.
I consider this mainly done. But that you can't hope for something you anticipate…
Learn Magic
Never not learning about herbs and plants. On a journey here.
I haven't been able to pinpoint any great resources when it comes to learning about the history of magic, different practices such as voodoo or others. If you happen to know a good (more on the scientific side) resource, book, website please let me know.
Enjoy Magic
I guess this is a never ending task to a happy life. At times I do good, at others I am loosing focus and need to find a better balance. I will – as the days get colder enjoy a bath or too again. I will continue to declutter and sell on eBay. I will also celebrate every.single.day.of.no.migraine! Believe me I will.
How I will experience MAGIC in July
Ok, so let's get to some actionable steps for July.
I will learn the magic of speaking another language by continuing my Duolingo course. If I am overambitious I throw in a fish-up in French.
I will find epic magic by reading books with 500+ pages in the month of July and August as part of the #dickesbüchercamp challenge.
I will hopefully hear about the magic of another family addition – this time good friends of ours.
I will spread magic by writing letters to my god child and my penpal Jana.
I will experience the magic of travel. I was given the opportunity to photo document a river cruise through southern France. While I won't get paid for it all expenses are being covered and I get to practice my photography skills while seeing lots of places in France. I am excited but also anxious as it is a lot of work still and I am always expecting myself to be perfect. Best thing though, my oldest childhood friend is organizing that cruise and will be traveling alongside and I hope we have some nuggets of time to catch up. Should I write about it here?
I will learn the magic of Lightroom presets. Something I've been putting off too long.
I will create magic by finishing up my #100dayproject. And I also have some ideas on how to extend and elevate the project…
I will explore the magic of yoga. I am serious. I ordered a mat.
What was magical to you in June? Do you try to learn a new language? Howmany do you speak? Also have you ever visited France?