Welcome to my annual wreath celebration. I just checked and it is my elevens wreath idea I share on this blog. So I have done a lot of new interpretations within the last years. After last years recycling idea I felt more natural this time around. That is why a modern natural wreath with acorn hats was created in some hours of labor.
When I was walking in the park in fall I kept coming across the acorns. You all probably know that the hats keep on falling off even when you manage to find an intact one. As kid it always bothered me. Of course you can glue them back on but it is not the same somehow. Anyhow I had a closer look at the hats and found they are a beauty in themselves. So I collected a few and carried them in my pocket. Through the next days I kept touching them and sometime I came up with the idea that they should be the star in this years natural wreath.
Prepare to make a wreath with acorn hats
As I mentioned I found my supplies in the near by park. If you are not so lucky you may have to search for the perfect oak tree. However oaks are almost growing in all climates and vegetation so it shouldn't be such a long search. Then get collecting the tiny hats. I recommend doing in on a dry day and sometime around noon. The hats will be much drier and you won't find too many critters hiding underneath foliage and acorns. I always prefer using the same raw materials. So I had to make sure I didn't gather different hats as there were a few trees on the same ground. It just looks better. Once you have a good amount of hats – rather have too many then not enough – you need to dry them. I just had them in a cotton sack and had them sit near the heater for a few days until I had time to craft. Just to warn you – most likely you will have some critters. So if you can dry them outside probably best.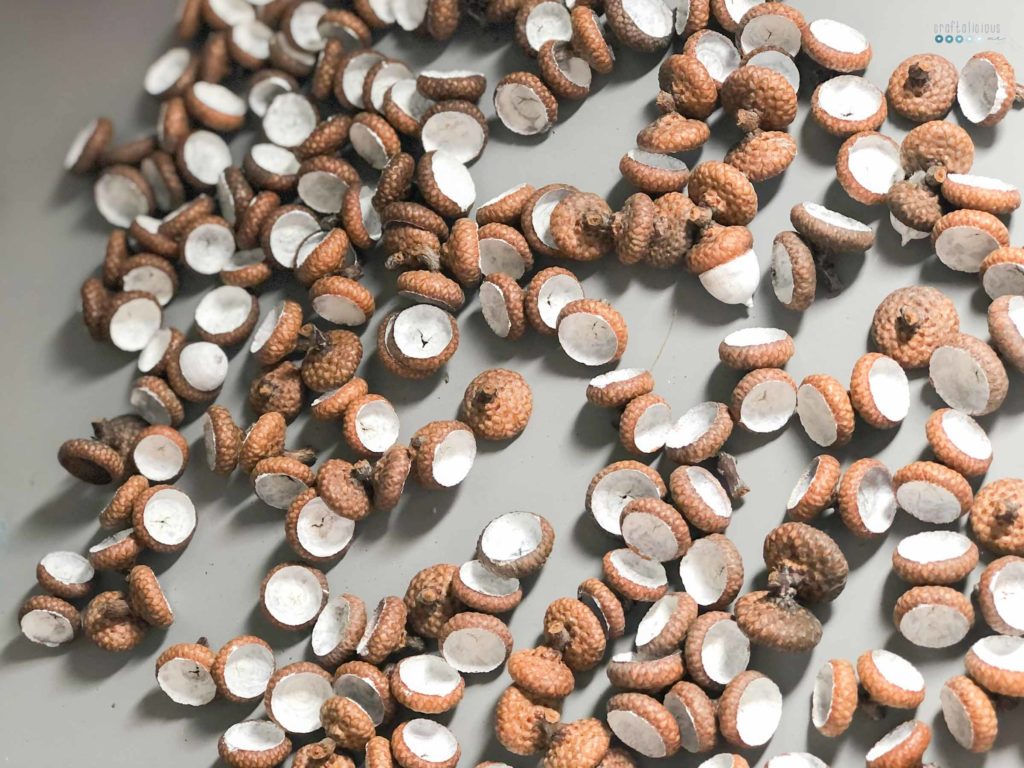 Get creative with your wreath
Once the hats were dry creative time starts. I simply used some white paint and a smaller paint brush and colored the insides of the hat. It is a work of diligence. But at the same time it is very meditative. I have watched webinars and tutorials while doing it. Also some audiobooks. I didn't do it all in one sitting as you need to dry them and I didn't have enough space.
I liked mine just with the simple white that gives it a modern almost Scandinavian look. But I guess you could use all colors of the rainbow. Maybe even some glitter. I guess that would be pretty too. What color would you choose?
Assemble your wreath
Now lets put it all together. Here is a list of what you need:
wreath form – I recommend a straw one as styrofoam is a) not organic and made of plastic b) glue eats through it due to the heat.
optional: some brown cloth
glue gun and glue sticks
candle holders
candles
Instructions are rather simple. All you have to do is glue it together.
On a more detailed note it may be helpful to cover your wreath from with a brown cloth. I found at times the form is still visible after glueing such tiny thing onto it. It is a bit disappointing when your are done it looks amateur. So I often do that, an old t-shirt works well. Also some sort of ribbon is a good choice and easier to adjust on the round form and you just have to wrap it around. Once you have wrapped it you start glueing.
I always start on top and then go down to the inner and outer side. The result will be a bit more even if I do it this way. I have done wreath were I started on the outer side and somehow it didn't look so great. Of course you can do as you fancy it is just my experience and what works for me.
Also sometimes it is a good idea to indicate where you want to place the candles while working. Depending on your candle fixtures it might otherwise be a bit uneven. Here with the hats I left a tiny hole so the holders could snuggle in.
If you make your own version of this wreath this modern natural wreath with acorn hats I would love to see it. Feel free to comment here or tag me on Instagram @craftaliciousme.
Enjoy your crafty time
Tobia