I have written about my love for writing Christmas cards a few times on this blog. But I do not think I ever mentioned that it is always handmade Christmas cards I am sending out. It all started in 2001 I think. Well, maybe not started but when I got more serious and consistent with it. Christmas cards and the family newsletters have a tradition in my family. After I came back from my year I the U.S. I felt like I wanted to stay in touch with a few more people not just the godparents, gavotte aunts and grandparents. Hence the handmade Christmas cards production started.
The first cards were inspired by the common US senior pictures. And so I pursaded my little sister to go out and take some photos of me. I remember vividly the first one that we took. I was in a tree or leaning in one in a red coat and my sister took photos. Pedestrians were looking strange. This was a time pre-selfie and influencer. I felt so stupid hopping around in front the camera but I wanted my friends across the ocean to have a photo of me. And I knew my grandparents would like it too. I continued this practice for many years. I think the last one photo of this handmade version was taken by my husband. Later though I started to feel too old, too conscious, too unhappy with myself to send anymore photos of me. And that is when I started to craft handmade Christmas cards.
Handmade Garland Christmas Cards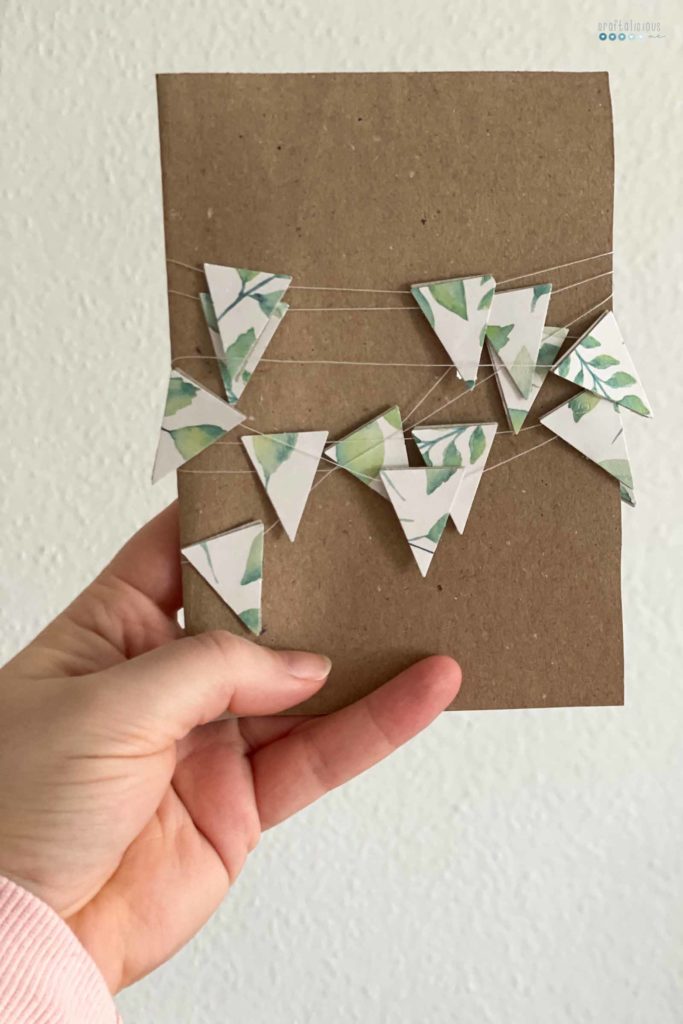 These cards are really fun and I have used this style for many occasions not only for Christmas but also for birthdays and celebrations. It is all about the paper you use. I usually recycle old Kleenex boxes for that. They come with a pretty pattern and the cardboard is sturdy but still workable with my punch. I admit I often buy the ones with the best prints and according to what kind of garland I want to create.
The mai thing to do here is to punch the triangles. If you do not have a punch you can go ahead and cut by had either using succors or a cutter but I recommend a punch. Once you have it you will use it for everything. I wrote a post o how to make the garland already.
Once your garland is done and about 1-2 meters long you can are basically done. Get your blank card – that may also be made from recycled packaging – and write your text. When you are done, close the card and wrap around the garland. I fix it in the back with some matching washi tape.
Needed materials:
Sewed Christmas Tree Card
I love this little idea I came up in 2020. Can you take a guess what kind of paper I am using here? I bet you don't figure it out.
Ok, I tell you. It's the paper bags from Amazon fresh delivery. Yes during the pandemic we have cording our food through amazon. Could do better but it is very convenient.
Anyway as for creation of this handmade version of a Christmas card you need a sewing machine. It made be a good project for beginners too or even older kids. But first you need to cut yourself a triangle that fits your cards. leave about 1-2 cm of space on the bottom and on top. Cut your triangles from the paper. Thread your yarn to the machine and figure out what kind of stitch you want to use. I have tried a few different ones but ended up using the very common one. It found it looked best.
Another thing I have figured out is that sewing from top to bottom actually looks better than from left to right. I wanted to have my thread/lights going around the Christmas tree initially but the edges never really looked good and I didn't like it. So up and down I went. Doing it this way also also left me with the ends. On top they make a perfect star and on the bottom with a knot they work as a stump. I was happy how they turned out.
Needed materials:
Christmas Cards with Art Work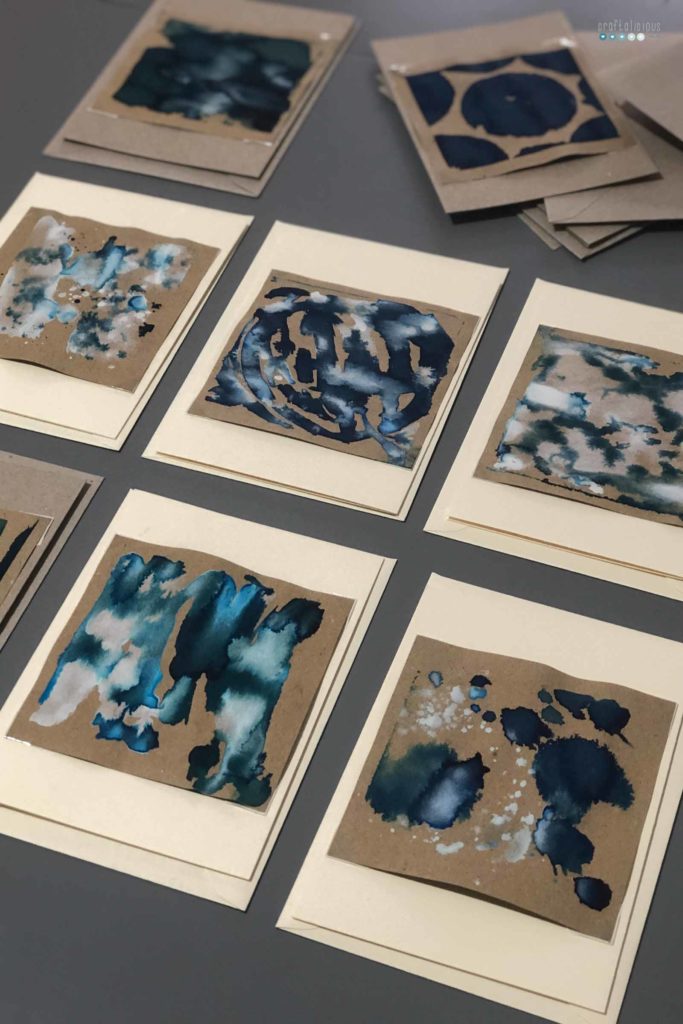 If you follow along for a bit you know I try to participated in the annual 100 day project. I have chapleted a few drawing challenges such as #100daysofcraftaliciouspattern and or the #100daysatcraftaliciousdrops. The ink drops also used as my Christmas card. When I had it all hung up at my wall and had admired for a bit I wondered what to do with all the little pieces of art. I am not that renowned that anyone would buy them. HA. But maybe someone found them fun enough to look at for a bit. And so this Christmas card was born. It is a really simple thing too once you have the art work. Just stick the photo corners on your blank card, assemble the art work and voila. Done.
This might also be a good idea if you have kids and the "produce" a tonne of pictures and your fridge door is already covered. You could recycle that and make others smile. If the pieces are too big you could choose a fun square and cut. I think that would also be a fun activity to do together. But then I don't have kids and maybe they fid it boring.
Needed materials
Triangle Christmas Tree Card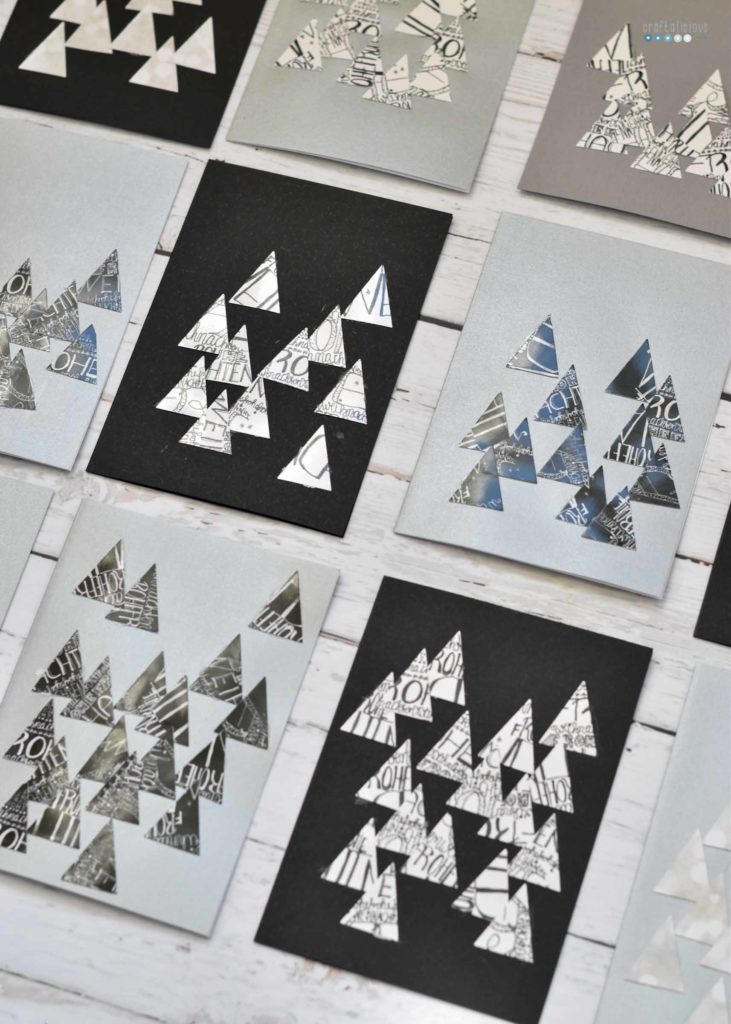 I am so happy how they turned out. I recycled some old cards from 2015 which I printed. Unfortunately only after I had them sent to lots of people and even tried to sell at Dawanda (used to be the German Etsy version) my dad pointed out the spelling errors. I ended up with hundreds of cards I felt I couldn't throw out. So I stored them for many years – and still do. As I said hundred…
Until 2019 when I figured I use them in my Christmas cards. Again my best friend here was my little triangle punch. It's a wonderful activity while watching the latest Christmas movie. It's mindless multitasking. Once you have all your little triangles is just a matter of puzzling and glueing. I tried to think of a winter forest when I arranged my little Christmas trees. I think this is still one of my favorite cards so far.
Needed materials:
As you can see I always try to re-use materials already at hand when it come to creating my Christmas cards. If you look closely lots of papers, wrappings and packaging material is actually pretty. I try to put them in new shape and make it festive. What material have you been using for creative ideas? And if you have some more ideas for Christmas cards let me know. I am still pondering ideas for this years version.
Happy Christmas card crafting
Tobia
This article contains Amazon affiliate links. If you purchase the material through this link I will receive a small percentage and use it to keep this blog running.