I had this great plan today. I saw myself sitting in a fancy coffee shop and taking some time for myself to blog and write and read. And of course sip a wonderful fancy coffee. Well, I am writing this with a coffee by my side. The first one today at 5.10 pm. I am totally exhausted, a migraine is creeping into my brain and all I want to do is go to bed.
I am wondering if post pandemic I am just not cut out to be spending the entire day with people and in society. So exhausting.
This morning I hopped into the car with the husband to drive into town with him. I had yet another appointment at the Apple Store (the second this month) to figure out some issues with my contacts app. Well long story short and 45 minutes and two chat support sessions later the verdict is – no one really knows but I should reset the entire laptop. Fun. It all points toward me ordering a new laptop since the other issue is a hardware problem which is about a quarter of new laptop. So yeah…
This was't too successful. After that appointment I wanted to stroll a little bit around and then go to that coffee shop and just work a little until my lunch date. Since the coffee shop was full and I didn't feel like walking to the. next one I just kept walking the streets and window shopping.
I was in eight different stores. And there was nothing that really appealed to me. Did that ever happen? I don't think so. So I am wondering: Am I just overwhelmed? Am I grown up enough to not buy when I don't need anything? Am I just frugal? I have no idea. It was always the plan to spend this morning doing whatever I like and not feeling guilty about it. But man it did feel a bit like waisting my time. I didn't really enjoy it.
At 1pm I was picking up the husband for lunch and we went to an Indian restaurant. That was a wonderful hour we spend and the food was really good.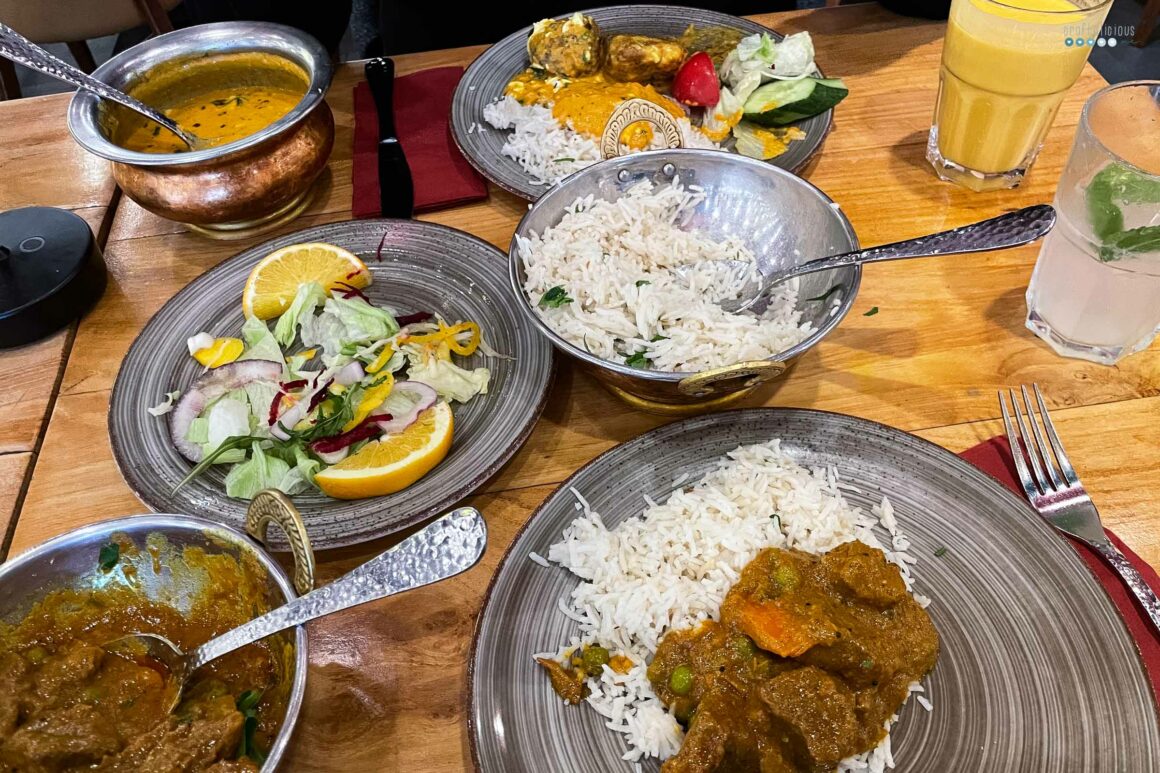 After that I called my dad as I was planning on meeting him. Well, he forgot about it and was at the other end of town. I told him l'll be going home because I had to run some errands on the way and it already felt long.
When I entered the bus it was so loud. Lots of kids screaming and fighting and yelling. It was this one component too much for me. I was exhausted had not really drank anything all day and the migraine was looming. Add in noise. Sigh… Well I did run my errands which was to pick up some coloring books at the dolor store for my shoeboxes. I also found some good card sets for making Christmas cards. And I snatched a bottle of whit paint which I need for the lamp.
After that I headed for the pharmacy. My migraine meds came in. When I called yesterday they were not available but the pharmacy managed to get them directly from the producer. I was already fearing I won't get them. So once I finish this post I will go do the shot. It is something I really don't like doing. It doesn't really hurt doing it but doing it every month it starts to build up this fearful anticipation. It is really weird.
Anyway… this post is a bit all over the place. And I am sorry. I think I wanted to say that I am really exhausted running around town today but it doesn't feel like if have accomplished anything and just came home with a migraine.
Do you have those days? Everything you do needs double the. energy? Do you have an idea how to handle those days?