Last two years I wrote a post about all the foods I had during the year. It is a wonderful way to document my eating habit – a diary of sorts. And so here we are another year later and with a new post of my foods of the year 2023. Because it's been so fun the last time.
A little note because you may wonder. I usually don't eat in the morning. I have a cup or two of coffee before 9 am. Lately not even that as I like my coffee with oat milk and I am trying this intermittent fasting. So at times it is black coffee, sometimes tea and others just glass of water. Then I head into my office (I work from home most days) with a jug of tea. Around 1pm is usually the time I eat a breakfast/lunch.
Breakfast Options
I am sticking to my habit of having two versions of breakfast. Weekday breakfast and weekend breakfast. On weekdays where my husband is in the home office it is usually traditional German breakfast with bread and cold cuts. Some slices of apple and that's it.
On weekends we have Brötchen (rolls) to go with our cold cuts. Most of the time I have some fancy meat cut like pastrami or roast beef. Sometimes we add scrambled eggs and lately usually some sort of fruit.
When the husband is in the office I usually eat differently. Lots of fruits and yoghurts, granola and porridge. Specially during the summer time.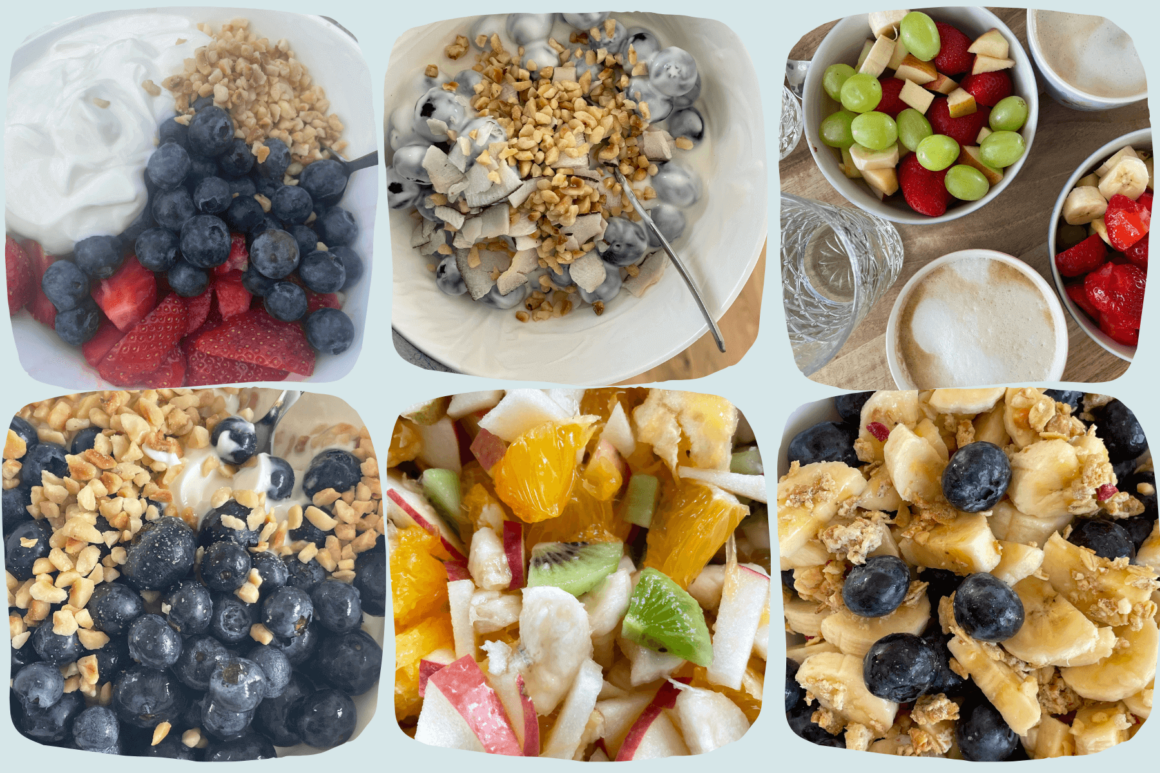 Some times though I need more savory foods especially when I feel a migraine is coming up. Then it is lots of carbs and eggs.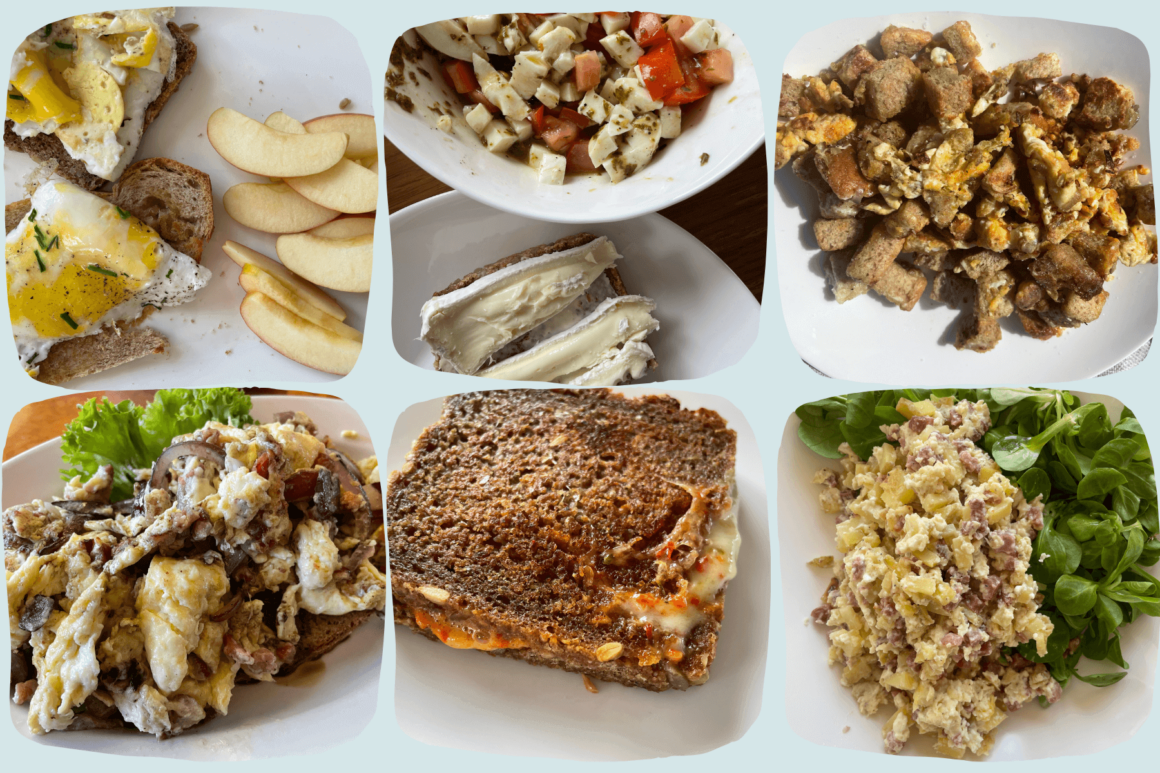 Or I have to satisfy my sweet tooth or need comfort food that is rice pudding (left side) , Quarkkeulchen (middle) or semolina (right side).

Dinner Options
Ordering in
Even though this year was again dominated by our move in May we didn't order in as much as we did last year. For one I started preparing. for the move by freezing dinners ahead of time so we didn't have to rely onto many take out and unhealthy food choices. And secondly the new place we live is not having. many option for delivery. Mainly just pizza and sushi and burger. I am not aaa fan of pizza. Mr. ♡ doesn't eat sushi.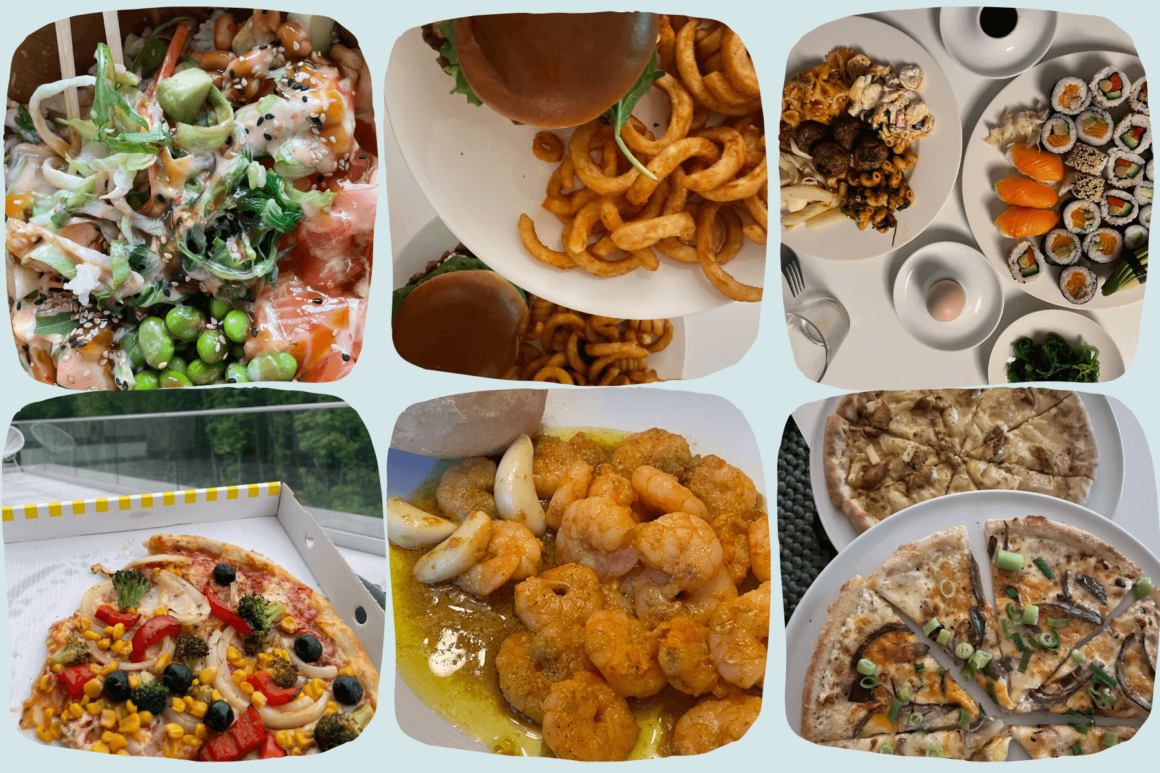 In the above picture I sneaked in one meal (bottom middle) that I had at my dad's. As I said we didnt order too much take-out and I was short of images.
Home cooked meals
And even though I am not a fan of cooking it is the job that falls to me (the husband does most of the laundry). I try to make it healthy wish is not always working. We eat a lot of ground beef and about half the time it is a vegan substitute. I made chili (top left) this year which we didn't have in years. I made a dish of grilled veggies with meat balls (top middle) which tasted good. We also had many vegan Schnitzel which I usually serve with mashed potatoes and carrots and peas but during asparagus season it is asparagus for me (top right). I made the Finnish hot dog sauce a couple of times this years and we had it with noodles and potatoes (bottom left) and of course about every week its pasta day.
As I said we also tried to eat a bit healthy. One new dish we discovered – thanks to the husbands TikTok addiction – was the pan tortillas (bottom middle). It's a sort of grilled cheese with tortillas and it's done in 2 minutes. I sometimes add some veggies and we season with pesto. I serve it with a side salad and sometimes a few fries. I also tried my hand in some sort of bbq platter (top middle) without owning a bbq. A staple in our house hold are fish finger with mashed potatoes and cucumber salad (bottom right)that we have often on Fridays especially during the summer. And the husband's signature dish omelet with salad (bottom left). He is in charge of frying as I am too inpatient. But I am the sous chef cutting up and preparing everything. I love that dish because it is time spent together.
The pita with fig and goat cheese (top right) was an idea we had when shopping together and is roughly inspired by the favorite sandwich the husband had a decade ago in Vancouver. It was delicious. One of Mr. ♡ favorites is Spätzle and cevapcici (top right) which I rarely do as I find it boring. But with the added carrots it was ok.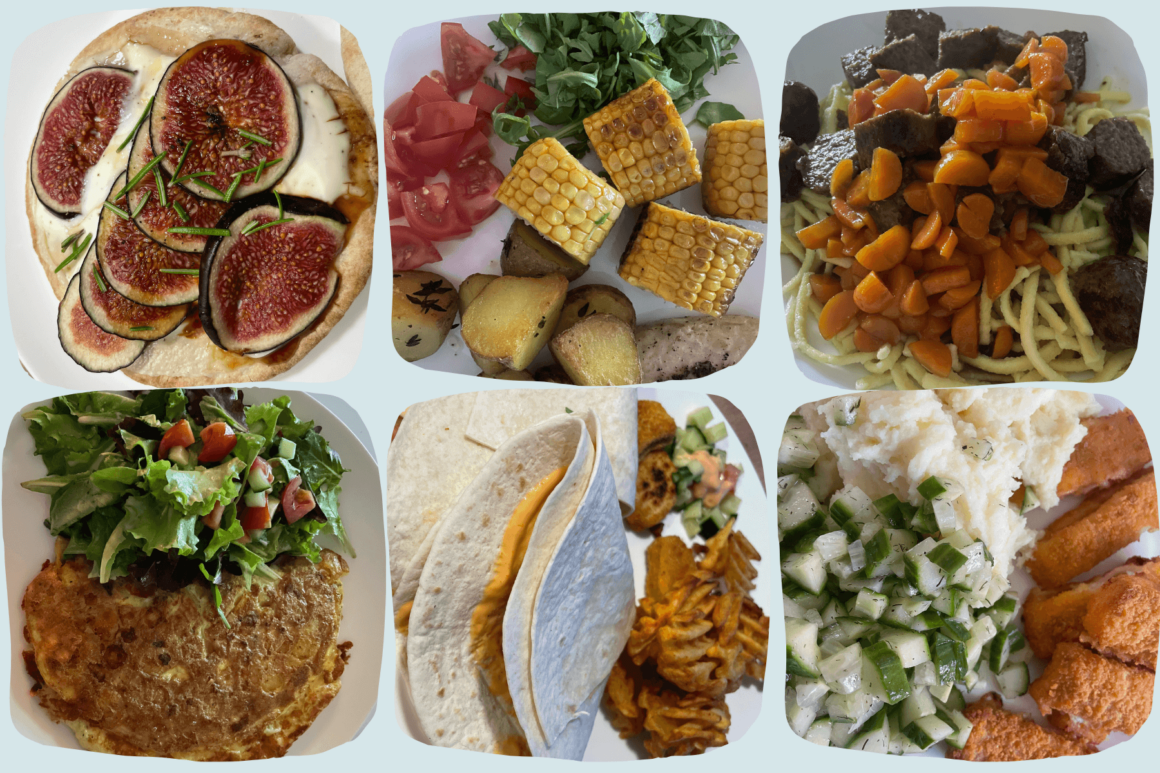 As I mentioned earlier the husband is in the office at least three days. Those days I am eating my own dinner. That usually looks much different from the dinners I cool for us. Lots of salads (top left and right) and bowl kind of things (bottom middle). Pasta with lots of veggies (bottom left) or I try my hand in a curry (bottom right). Often I also eat veggies form often toped with feta cheese or goat cheese (top middle).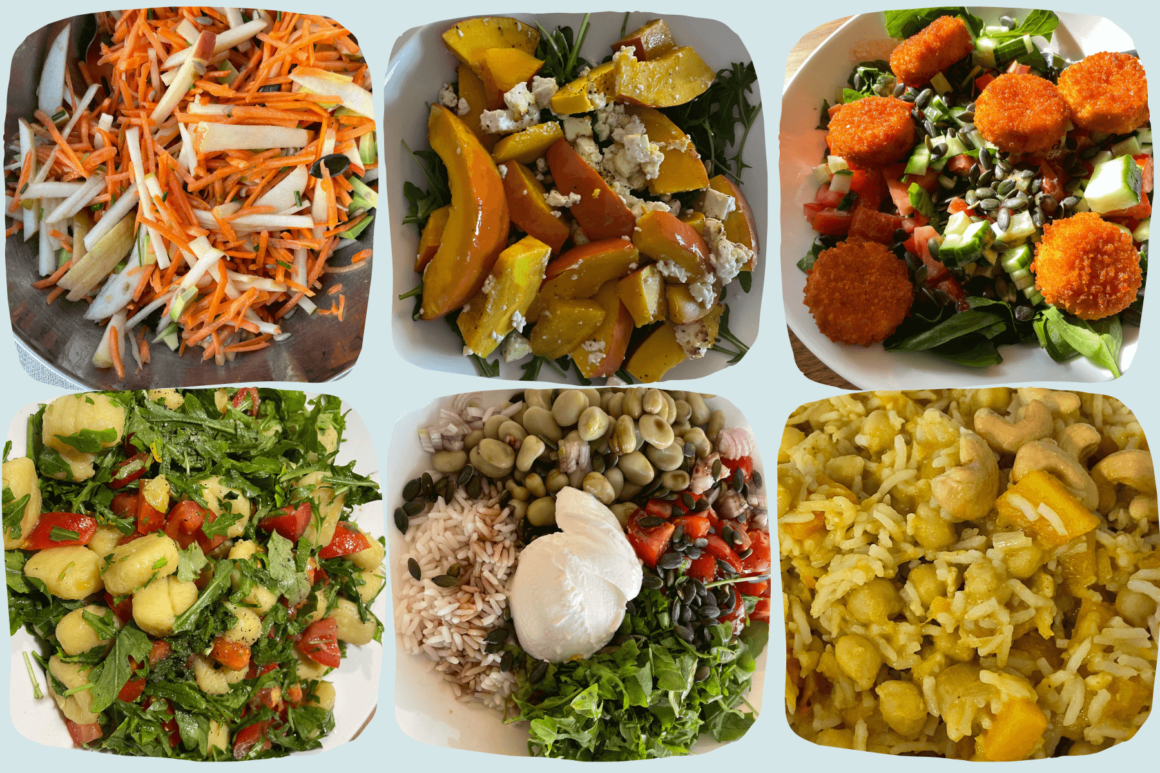 In the image below I share some of the more traditional German dinner options. Not all are homemade (top left, bottom middle & right are restaurant dishes). I shared my German potato soup recipe (bottom left). And I tried two new dishes Vinking Dish (top middle) which I loved but was very heavy. And the I made Kassler (top right) and called my mom too learn how to make it. It is a dish she often made and I never tried before. It is rather simple as the meat can be bought cured/brined (?) and just needs to be heated.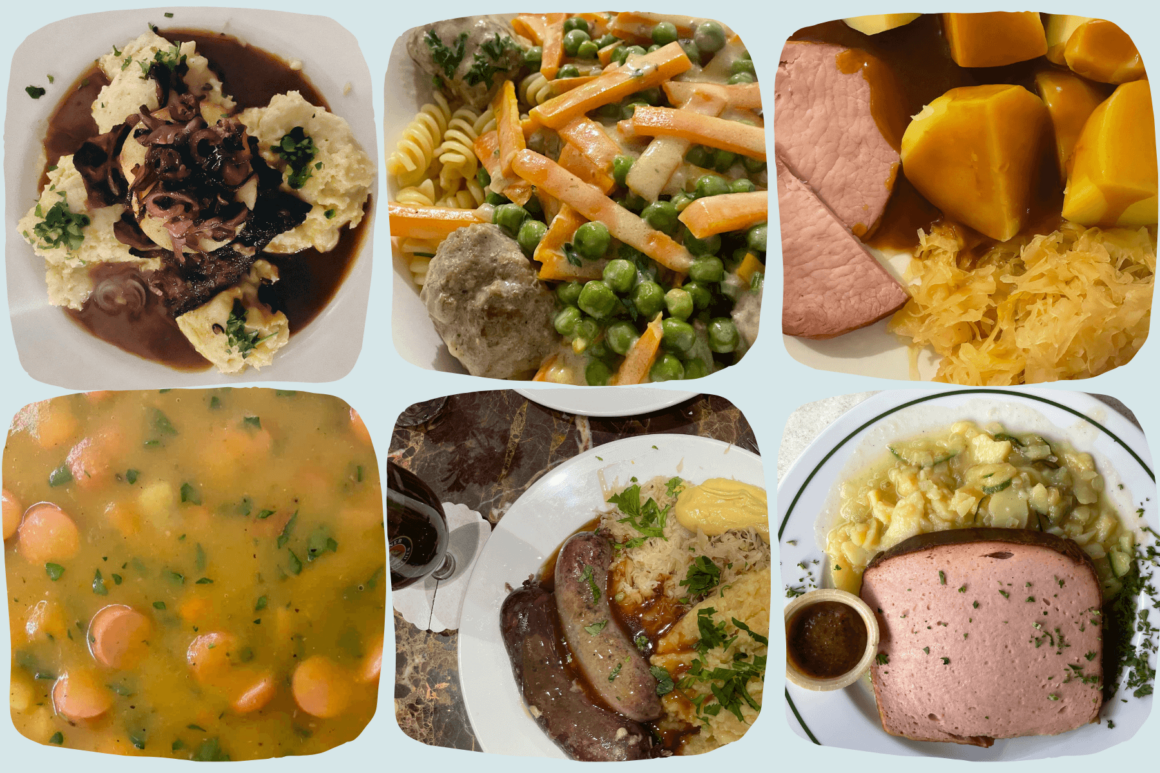 The eating out options of the German dinner are Liver with mashed potatoes, apples and onions (top left) a very traditional dish from Berlin. Then another dish I loved as a kid and which I didnt have for a while was Grütz- and Leberwurst (bottom middle) which translates to blood sausage (the red brown one) and liver sausage ( the tan one). The Leberkäs with lukewarm potatoe salad (bottom right) may be something you have heard as it is a staple in Bavaria and often served at Oktoberfest.
Eating Out
We did eat out a lot this year. I even more so since I was in France for 8 days I shared those foods so they are not included. Also not included are the dinners during our Mallorca trip. Below you see some go the dinners and lunches I had when mainly meeting friends. I love a kumpir (top left) which is a baked potato filled with delicious stuff. I some horrible ramen (bottom right) when I met a blog friend and she liked so I wasn't saying anything but I think it was the worst I had in Berlin ever. A favorite and I nearly ever go there now is the asian burger place /top right). A birthday dinner is included (bottom left) at the restaurant right at the faery overlooking the water. The egg sandwiches (bottom middle) were amazing and something I checked out with my online friend and avid pen pal buddy now real life friend since she moved to Berlin.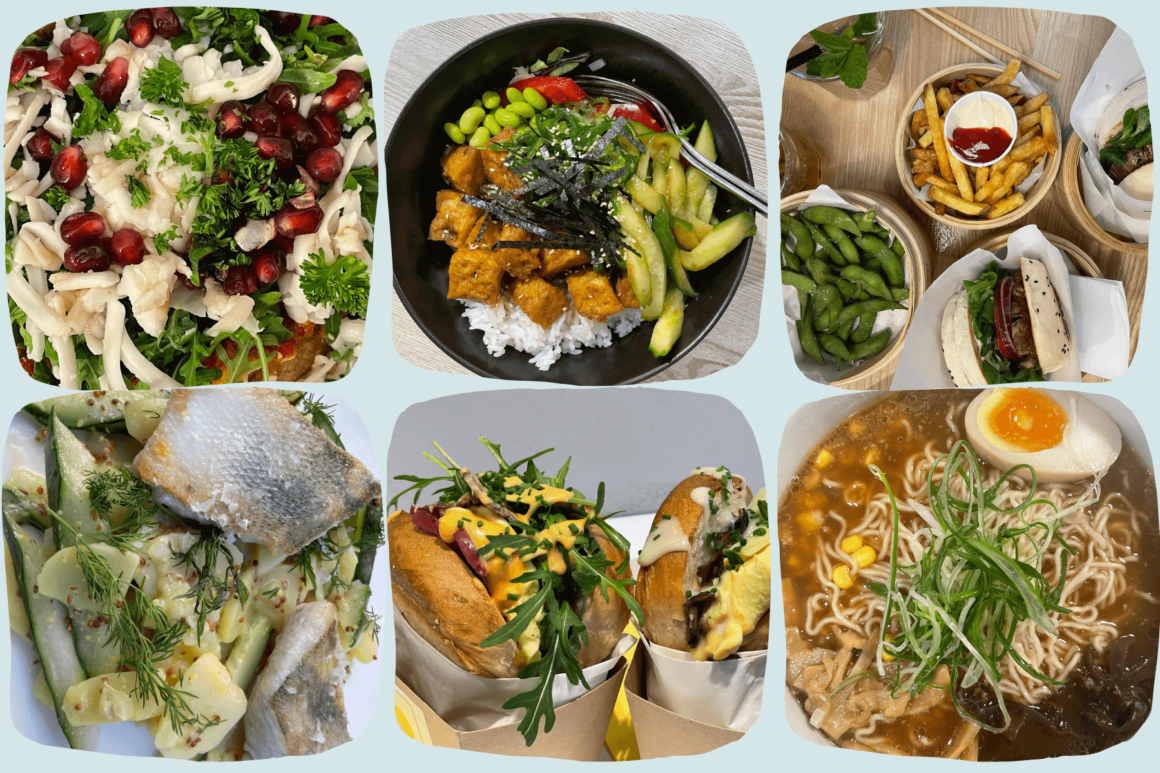 Alright you turn: What is the most delicious looking dish you can find in the images? Is there something you would never touch? One dish you would love to try?