This weekend in the spa was so much anticipated. And so much needed after a ten day constant streak of work. It been turbulent. And I feel the toll on my mental health, my body and my well being. And this trip more or less is my only vacation away from home this year. So yes, I was looking forward to it. A lot.
This weekend in spa was a gift from my mom to my 40th birthday. And I loved it the moment I got it. And a bit ahead of time she asked if we want to spend another night because Monday was a holiday. And so we did.
We started on Friday. I was pondering taking the car but in the end decided we go by train. This way I wouldn't have to concentrate and it already was a little adventure. I headed out at 11 am. Hopped on the train where my mom was already seated. We had to switch trains at a little station – we almost missed it as we got some pizza and then didn't find the right platform. But then an old lady helped us out.
We arrived not an hour later and took our trolleys and strolled to the hotel. I said we'd just use the signs leading us there and keep the phone navigation in the pocket. We almost managed.
What we did
Friday
When we arrived at the hotel first order of business during check- in was to extend for one night. Then we sat in the lobby and sipped our welcome drink. I never really drink champagne because it can trigger a migraine but I did. And I am glad because it was really good one.
We went up to the room to drop off our things. Unfortunately the room was a bit underwhelming and smelled of old smoke (which we only pinpointed later that night otherwise we might have asked for an alternative). We decided to take a little stroll and stop by a store to load up on drinks and snacks. And while we were there also some face and foot masks and other spa things.
The town we stayed in Neuruppin is famous for being the home town of novelist and poet Theodor Fontane. But we weren't here for education but relaxation. And so we just wandered the streets of crooked houses, marveled at the farmers market and then headed back to the hotel. To finally hit the spa.
We got changed and the went over to the adjacent spa. First we wandered the facilities to get and overview: two steam saunas, a hamam, a bio sauna with 60°C, a finish sauna with 90°C, a sea view sauna with 80°C and an ice grotto, foot bath and a salt water pool. Lots of areas to relaxe in comfy chairs and loungers. And a sun deck overlook the sea. This was great. We started with the high right the sea view sauna and then just relaxed until around 8 pm when we quickly went to the room to change for dinner. Dinner was great and we were starving. After dinner we took a evening walk along the lake which was nice.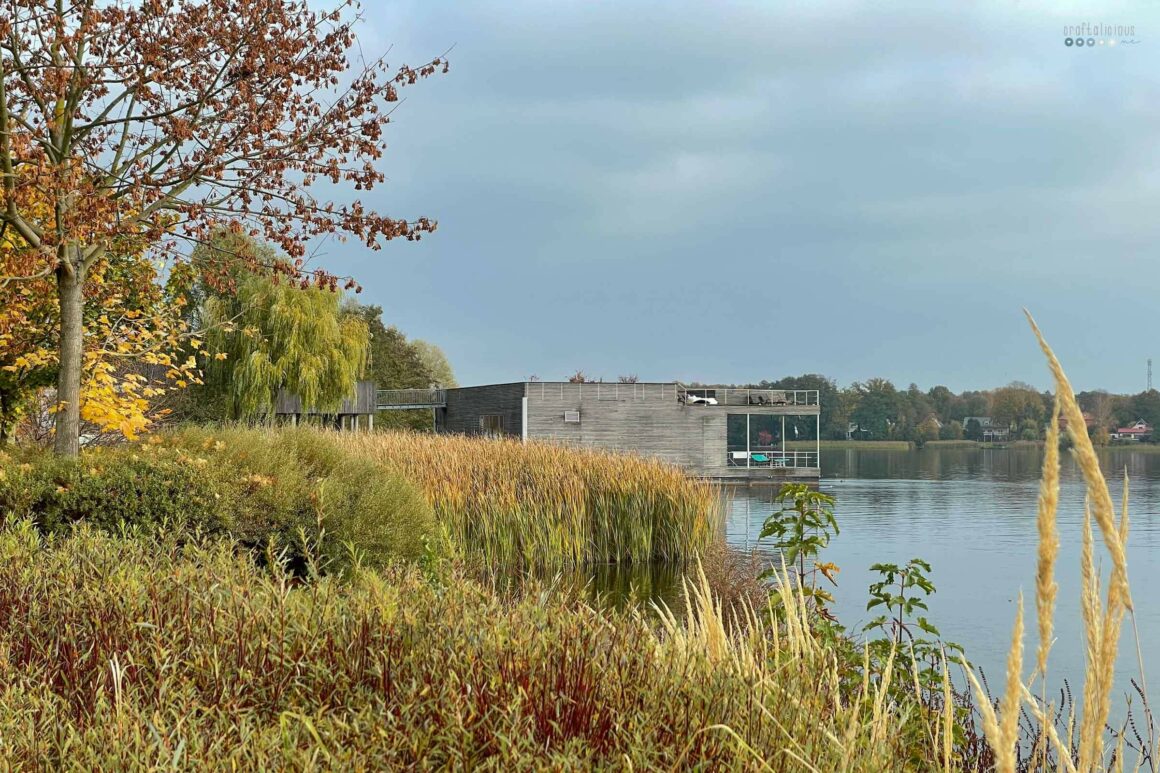 Saturday
I started the day with a bit of reading in bed. But not for long because I wanted to get down to the pool and swim for 20 minutes. I can't find much time and energy for exercising during my days but I have come to enjoy the pools in hotels and try to swim when having that option. And I started to actually like swimming. so off I went. At times I had the entire pool to myself. And the view with the rising sun was spectacular.
After my swim I soaked up in the salt water pool for another 20 minutes. It's supposed to relaxe all your muscles and I much needed that. When I got back up to my room my mom was awake and reading. We headed down for breakfast a little after 10 am. Breakfast was great. A great selection of meats and cheeses, jams , fruits and sweet bakery things. And a amazing selection of yogurts, granola and corn flakes. Lets just say we ate more than we needed and I already new it's going to happen for the rest of the stay.
After breakfast we decided to take another stroll around the town and along the promenade. But before we stopped and booked ourselves some massage for the afternoon. Then off to town. My mom even bought a new sweater on a whim and then we enjoyed the little houses and the views. But we didn't walk to far as we were eager to get back to the spa. And so we did.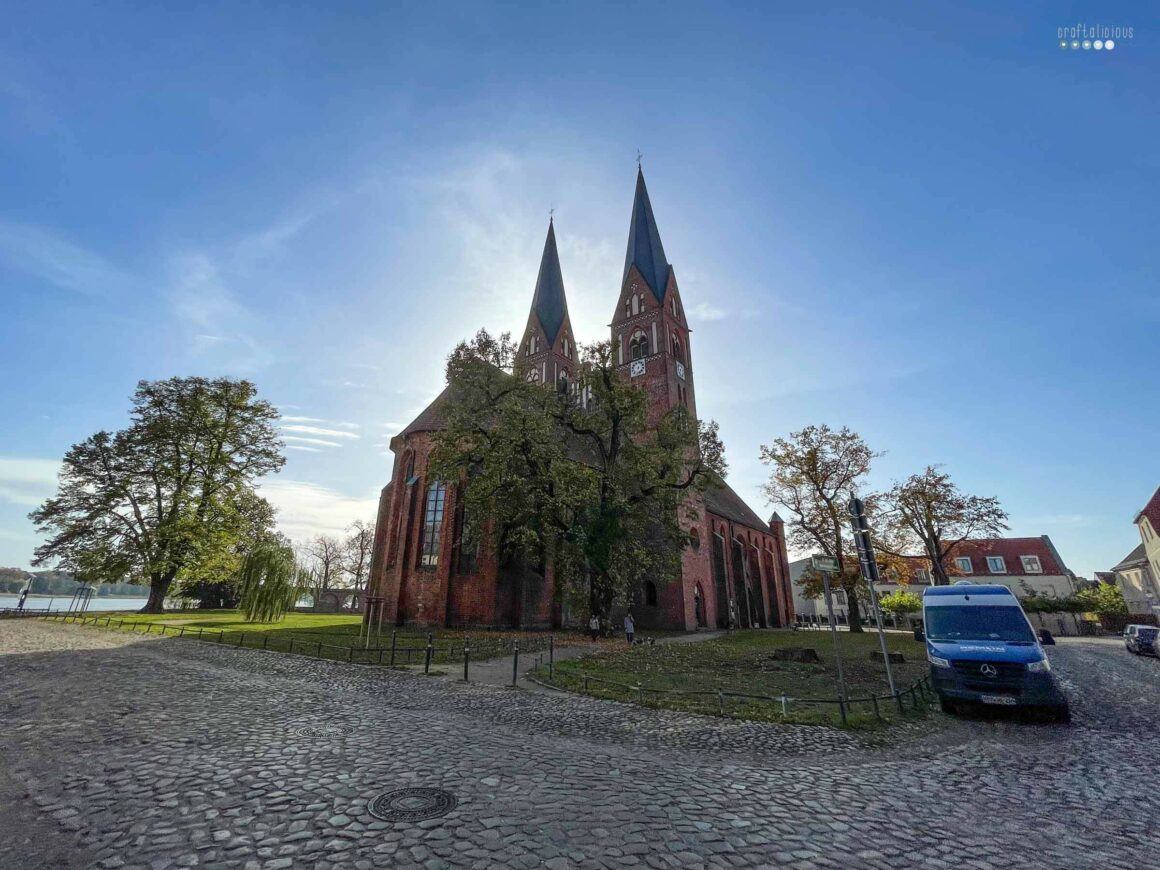 I think at around 1pm we were back in our bathrobes. Throughout the day I was a bit anxious. I couldn't really pin point why. But I was not really able to relaxe, sleep or calm down. We did read a lot and every ones in a while hopped into a sauna. At 4 pm I had my massage and lets just say if I ever become rich I think a daily massage would be a luxury I delve in.
We went to dinner at around 8.30 pm and it was great again. We had pumpkin soup and deer and veggies and all the great things.
After dinner we briefly pondered if we go for another evening walk but both opted to continue readings. And so we stayed in the hotel lobby got ourselves some hot tea and read the night away.
Sunday
I can shorten this day as it more or less was a repetition of Saturday minus the massage. And more aches on my part because I slept rather badly and the massage was very intense.
After breakfast we again wondered if we should walk a little but our books for so exciting and so we opted for a another hour or to on the hotel terrace. It was so hot though that we had to move at some time because we were burning up. So we moved our reading session to the spa onto the sundeck above the lake were it was a bit cooler.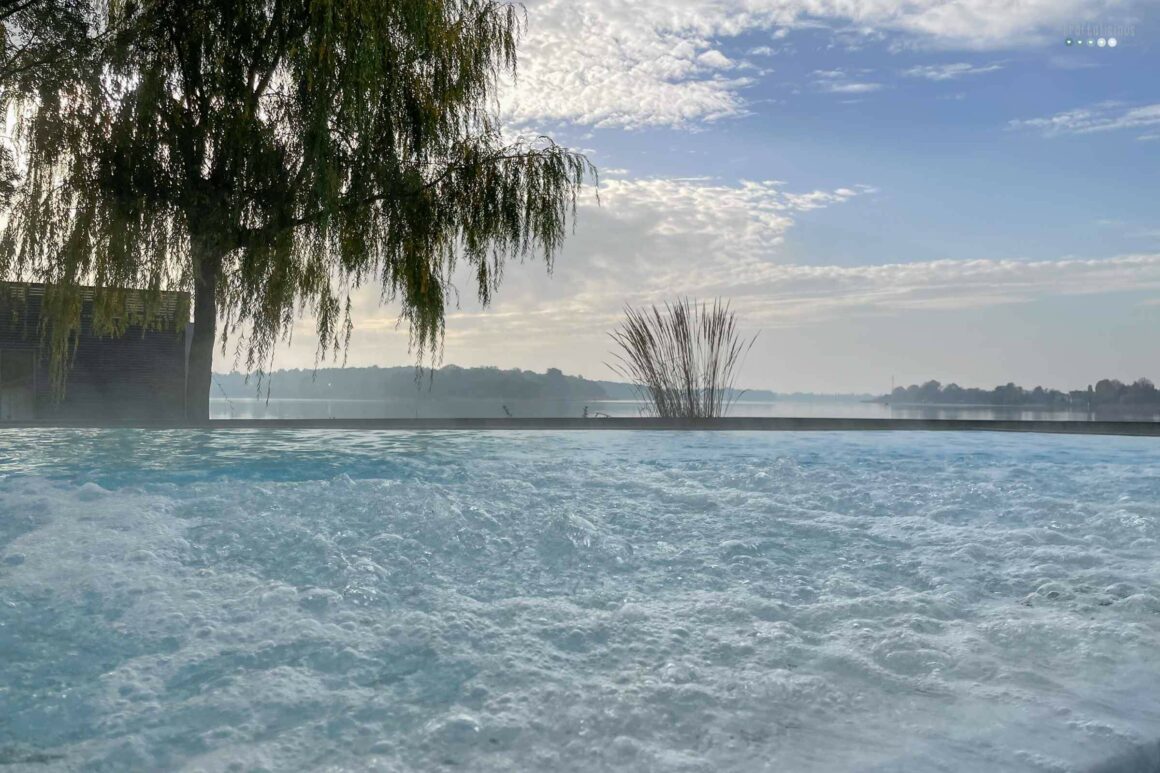 I had a short breakdown in the afternoon when we wanted to go into one sauna closely before there was a sauna infusion happening. Suddenly there were a ton of hectic people trying to secure a spot. This stressed me out instantaneously. I sometimes hate people. It was so overwhelming, too much and I am just not used to bigger crowds anymore it seems. I had to hide for a bit and my mom decided to skip the sauna and wait with me until the rush of people were gone before we went in. That was a weird experience to be honest as I didn't expect it and it hit me by surprise.
The rest of the day went smoothly and was focused on reading and relaxing and I did a pretty good job. Dinner again was great and I had lamb and and applestrudel besides all the other little side dishes. We ended the day with a reading session in the lobby again. But I was so tired around 10 pm that I went up to our room and didn't even manage to stay awake util my mom came up a few minutes later.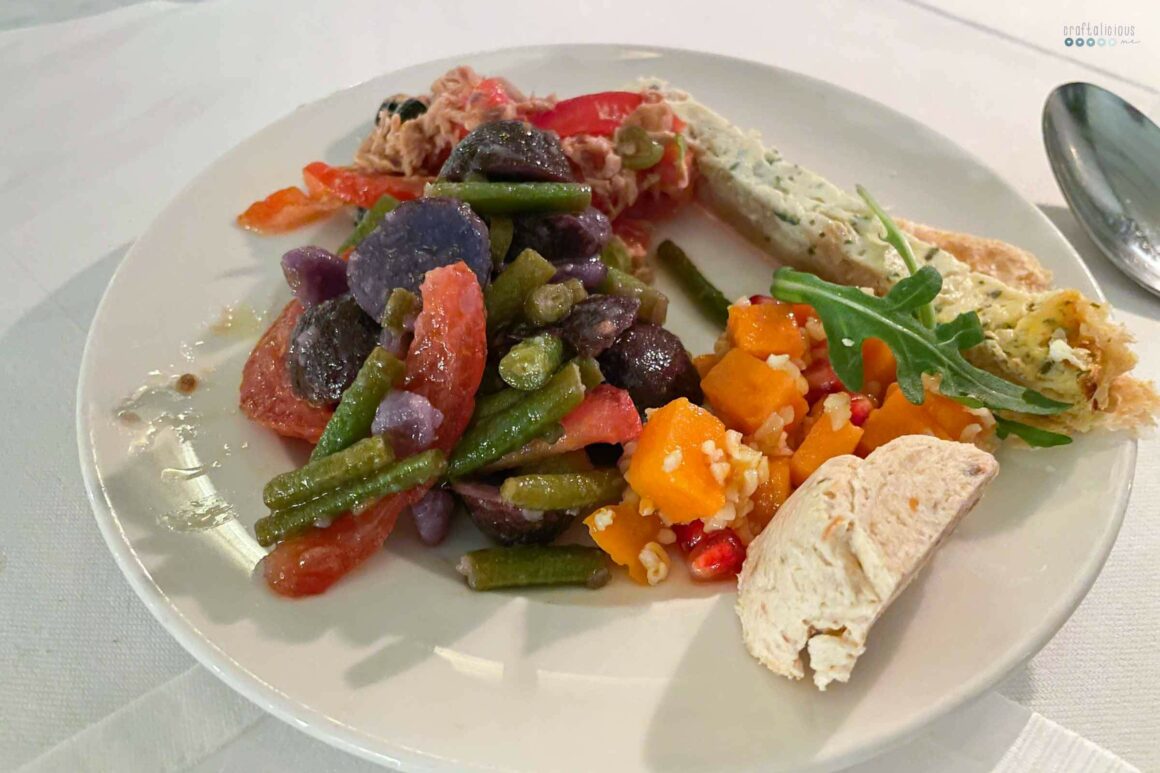 Monday
I finally slept really nicely and so waking up felt like I finally arrived in the universe of relaxation. Of course it was our day of departure. Again I went downstairs to take swim as I had been doing for the past days. I even managed 30 minutes of swimming and then another 10 just hopping and stretching in the water. Followed by a 50 minutes soak in the hot salt water pool with some dips into the cold pool (12°C) which was fun.
And all this while it was so foggy and atmospheric. It became gloomier by the minutes. When we went to breakfast we were not able to see the promenade outside the window. Which had us readjust our plans. We originally wanted to end the day with a 1 hour boat trip before leaving. Well that would have been a waste of money and so again we opted for a reading session. If you ever wondered where Ive gotten my reading genes you know by now.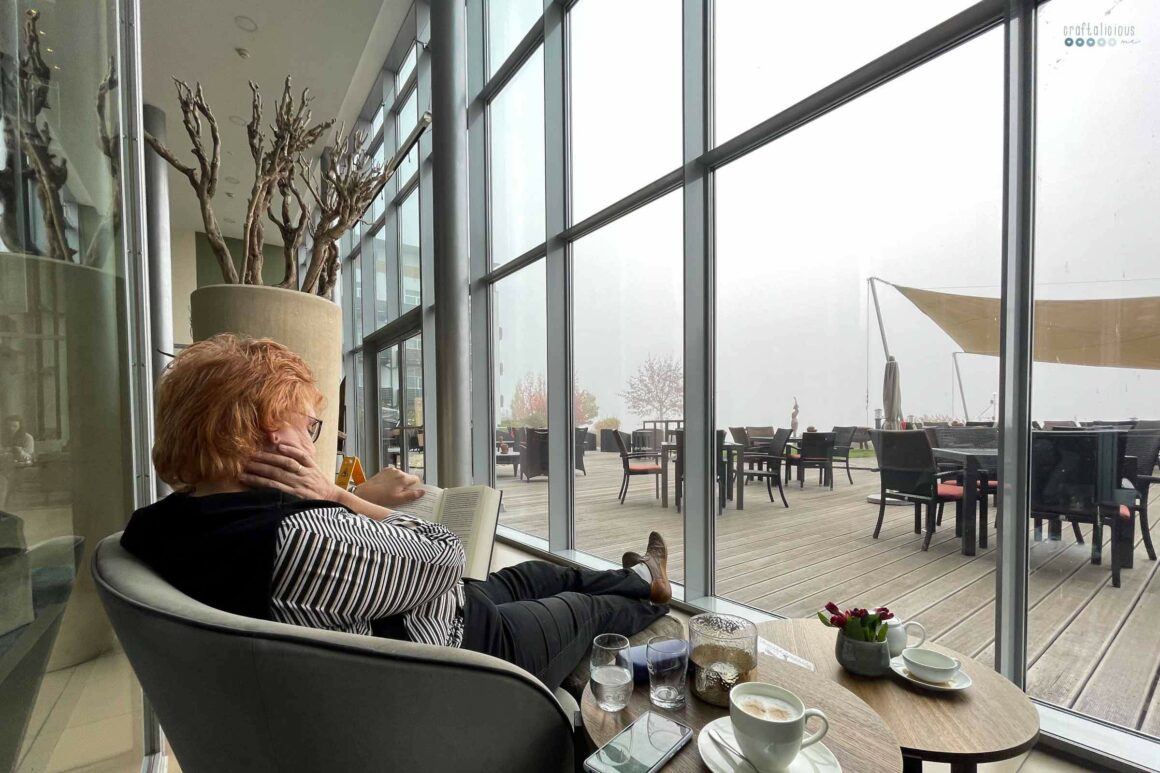 We decided to take the scenic rout back to the train station at 2 pm. in the end we started late because our books kept us occupied. We hopped onto the train only to continue reading. Every once in a while I peeked outside and marveled at the foggy landscape.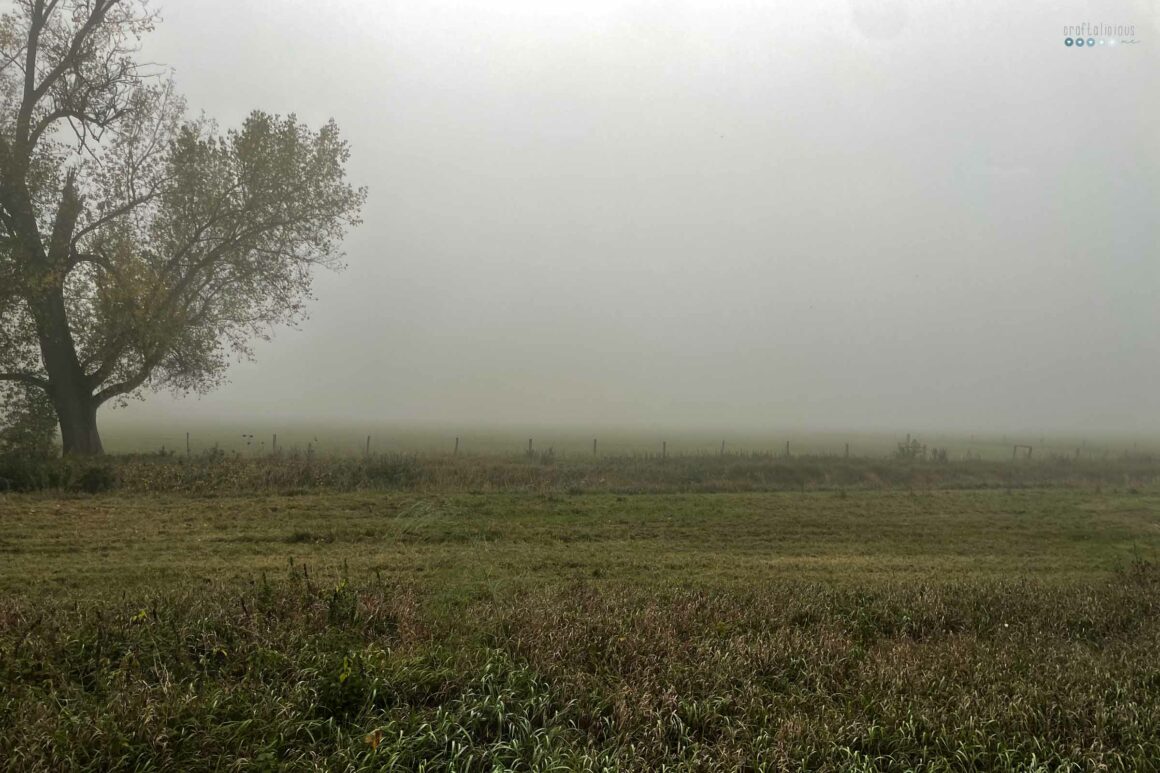 We parted ways at 3 pm when I arrived at my station. What a wonderful weekend. I stopped at the orthopedist on my way home though since my shoulder pain was growing even after three days of spa and gentle movement. Luckily I was given an appointment for the following day.
At home I ended the day with finishing two books. What a wonderful weekend it has been. In retrospective I realized we didn't talk that much as we had planned because we both stuck our nose into books all the tie. But still it was a much needed vacation and one of the best birthday presents ever.
Where we Stayed
Now you may wonder where stayed. It's a Resort in the town of Neuruppin called Resort Mark Brandenburg. While I enjoyed the spa immensely and think its been one of the top 3 I have ever been the rooms where a bit underwhelming. Very dated, very stuffy and run down. We saw that they started renovating the rooms. You can book the spa without staying in a hotel I think that would be a great option too.
And this was my weekend in the spa – a mother daughter trip finally happening. I really enjoyed it. And while temperatures above 20°C didn't really comply with our weekend it was still wonderful.
Have you ever taken a mother daughter trip? And if what did you do?
Happy day to you
Tobia