Today marks the day I first set foot to the United States – destination was Boise, Idaho on September 14th 1999. A few more miles and I ended up in a tiny town called Horseshoe Bend. Never heard of it before? So did I. But I did loose my heart in this town and a piece is still there.
How it all began
I am not quite sure what initiated my idea to do an exchange year during 11grade. I only remember that I've been very driven about it and really needed to do it. My initial plan was to go to Australia. For financial reasons and not adjoining class schedules this was not possible. So the option was either UK or US. UK was not far enough for my taste though.
The whole process was very time consuming, exciting and nerv racking. I had my first interviews to secure a spot on the program, I had to fill out application papers in a language I'd hardly understand and I had to get acquainted with the thought of not seeing friends and family for a year. It all shadowed compared to the excitement of seeing and living in a new country and new family.

Unfortunately they did not find me a family in time and so I had to go back to school here in Germany after summer break. It was aweful. My mind had me already in the US and everyone here in Germany thought I chickened out.

When my acceptance fax (yes, a fax from those paper rolls) came in Friday September 10th I was more than ready. Departure was scheduled 4 days later the 14th. But I was ready to go – my suitcase was packed for days, I've said good bye to my grandparents multiple times and I just wanted to get going.

The fax told me my host family, with four kids and a dog was located in Horseshoe Bend, Idaho. I had no clue where that was. I got out my atlas and tried finding the city. No such luck. After a bit of searching I found Idaho – until then I had no clue it was state in the USA. Many people would think how can you go there but I was happy. I always pictured myself living with Jewish cattle rancher in the middle of no-where to get the ultimate experience out of this trip.
The journey
On September 14th early in the morning (flight departure 7.05am) I was standing at the Tegel airport with a huge suitcase, my family in tow and lots of feelings. Saying good bye was hard. And at the same time there was this thrill of anticipation. My travel took me 23 hours with transfer in Frankfurt and San Fransisco. I don't remember much besides crying all the way to Frankfurt and a very tired layover in San Fransisco. In SF I had entered the US and all my luggage was handed to me. Conveniently I marched through the US resident gate and therefore was quickly done. Now had I had six hours to kill. In Germany it was midnight to 6 am and I was so tired but didn't want to fall asleep in case someone steals anything. So I bunkered near a security guard and hoped he would keep and eye on me.

My last flight to Boise Idaho (arrival 6.30pm) and I fell asleep immediately. I remember the descent and all I saw where yellow hills and thinking: "I am landing in a desert". Only minutes to meet my new family.
A local rep from the agency picked me up in an old car with red velvet. It felt huge and more like a bed. We stopped at a parking lot and I was greeted by my host parents and witched cars. The 30 mile drive to Horseshoe Bend felt long and there are not many memories preserved.

What I remember is the landscape. So much different from what I called home. Yellow hills as far as I could see, tumble weed blowing across the long road. Right there and then I lost the first piece of my heart. And then we came down a hill and nestled in the horseshoe curve of the river was my new home – Horseshoe Bend.

Living the American Life
Within the next 11 months I lived life to the fullest.
My family had nine kids and were active Mormons. Very different from what I was used to. I loved getting a peak into how they work as family and what is important to them. I am very grateful for them and will ever be to have taken me in. Only a few weeks earlier they moved to the town and when they heard an exchange student need a place they didn't think twice. The little kids helped me tremendously in learning vocabulary in a playful way. My older siblings challenged me sports, thoughts and games of rummy.
School Life
I found it very interesting to learn in an American Highschool. How differently certain topics are taught, the focus that is put on some things. I loved classes the German educational system might consider. I had economics where I learnt to fill out a tax form, bought stock in a online game with participants all over the US, we bought a car and had to set up contracts. In biology we took water samples to determine why the salmon population wasn't living in the Payette River anymore. I had computer class and learnt to type and hit certain word per minutes, learnt how to program macros in excel and how to set up ppt presentations. I loved art class were we only drew and painted and I wonder if the school mascot I worked on is still at the gym wall.
School and social activities
And of course I was able to participate in all the activities one only knows from movies. It started out with homecoming dance and flag football. All tose themed days in school to dress up and have fun. I took a ski trip and went to prom. Worked in the concession stand, participated in cake raffles and sold candy bars to raise money. Went to game days and had team dinners and gym sleep overs. But I also ran into a butchered deer, went hunting and fishing myself. Spent many hours outdoor driving four wheelers and hearing rattle snakes and saw a (dead) porcupine and many hyenes. It was a blast.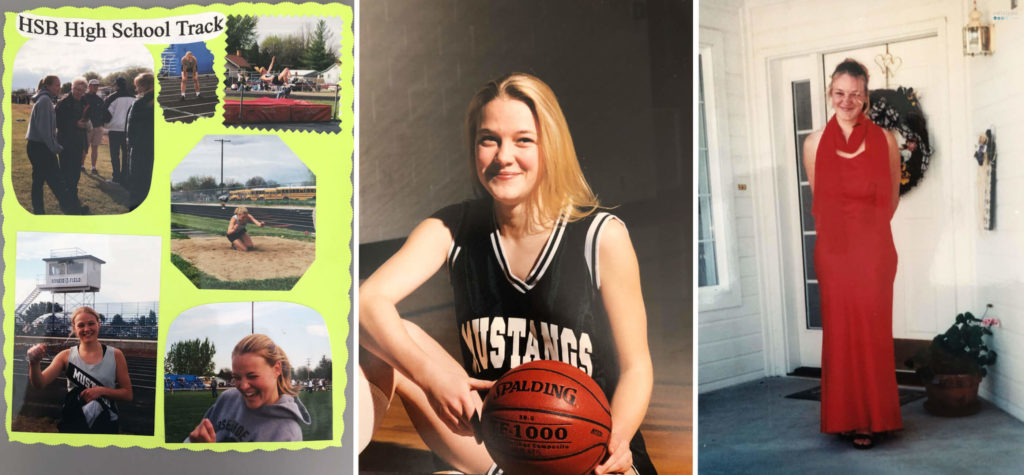 Going to State
But most of all I loved the sports program. I had signed up for volleyball immediately. Admittedly I was a bit disappointed when I only made junior varsity since I played in Germany and wasn't all to bad. But standards were much higher. In the beginning that was all I felt like doing but was challenged to try-out for the basketball team. Having never played before and making junior varsity was a huge success. And I loved playing games so much so that I even played summer league. And then came track season. The plan was to not sign up because I hate running longer than 100 meters but (luckily) I lost a bet and so I was on the track team. I tried high jump long and triple jump, ran relays and medleys and went to State in triple jump and the 4×100 relay and medley.
Along the way I learnt what commitment is – training sessions at 5am before classes, I learnt about team spirit, and how to fight through losses and disappointments. And I gained muscles and could it all the muffins, cakes and treats without a thought.
I didn't end up on a jewish ranch. But I came close of what I dreamed off. I wanted to be in the middle of no-where – check, I wanted to live with a family much different from mine – check, I wanted to experience a different faith – check, and I wanted to live and feel the American way – check. Until this day the year in Idaho is in my top 3 favorite experiences.
Living with memories
20 years later I still have friends in Horseshoe Bend. I write annual Christmas Cards and don't want to stop anytime soon.
I have been back three times. In 2001 I spend my entire summer break of 6 weeks there and made it out of the country days before 911. In 2008 I took Mr. ♡ to show him around and we had a blast and in 2012 we went back to attend a wedding. I hope another trip is in the books with my best friend. And in summer 2002 I had C. come to visit for 5 weeks.
I connect on Social Media with a few fiends and classmates and even though I am not chatting much I know how they are doing. And I also follow Instagram accounts to see a bit of #idahome.
On my playlist I have Cliffs songs and also it's not quite fitting my musical taste I love listening and supporting from afar. However my musical taste has been much influenced during my stay. After only hearing country for 11 months in the radio I left the States 2000 with a Dixie Chicks CD and am not put off by it today.
Also I still prefer using my host moms recipe when baking cupcakes and co. and blessedly I don't have to import all ingredients any more. However I will always find a bag of chocolate chips in my packages I receive.
And every burger I eat is rated against the Mushroom Burger at the Riverside.
I am grateful daily for understanding, writing and speaking English so well now.

So this tiny town of Horseshoe Bend had an impact in my life. Who would have thought when first receiving a 10 meter fax…
I know it's been a long post but I hope you enjoyed it. Have you been part of an exchange program? How was your experience? Love to hear it.
Happy 14th of September
Tobia