Dying with natural colors is nothing new to me. Every year our Easter eggs are done with onion skins in a deep warm reddish brown color. I love them. I also remember my mother dying clothes with black tea back in the day. Coming across a lovely pinkish shade on Pinterest I was hooked. When I discovered that my white dress shirts had some rose colored stains matching the natural dye color of avocado I had a reason to try. Here is my take on easy avocado dying at home.
First of I ate quite a few avocados. I read in one tutorial that skins and pits can be frozen until needed. That is how I did it. Another lady suggested keeping them in a jar covered with water.
I have not taken any progress photos as I was too lazy and I did it at night. But Louise has done a great job so check out her tutorial as I followed it rather closely.
I cooked the avocado for about an hour or so before breaking up the pits. Then I let it sit a while before I reheated again for about another hour. After that I let it rest over night.
The next morning I drained it all through a cloth to only have the dye and no more residue of the avocado. Be careful as it is rather dark dye and can stain the clothes you wear or the surface you work on. Also make sure you really get all the avocado parts out of your dye liquid. If it stays and settles on your dye project it will get stains.
Then I added one piece of cloth – the one with the most staines and which one I wanted to turn out darkest. You are supposed to stir rather consistently so it is evenly dyed. Of course I was a bit impatient with this part. I walked by the pot every once in a while also had my mom stir and I also had it simmering hoping the heat and the water movement will work it's magic. It was in the pot for about 3 hours. Then I added a second garment and let it sit for another 90 min. Unfortunately I realized it was dyed unevenly.
Being a bit hesitant on how to continue my mom suggested to put it all in the washer. Of course! We always dyed this way and I did so many time I am not sure why it didn't cross my mind.
Add all your WET garments in the washing machine ( I added two more) and then close it. Fill in the water as you would fill in the detergent (the little drawer thingy or if you have a top loader just dump it all in). Make sure to use the longest possible program without pre-washing. I think I set mine to 60° C.
Let it do its magic. Once its done you could fix the dye with some store bought product. I didn't have any at the time and decided to do it later, which I never did. The color holds and I even wash with other colored clothes and haven't experienced any bleeding. But I could just be lucky.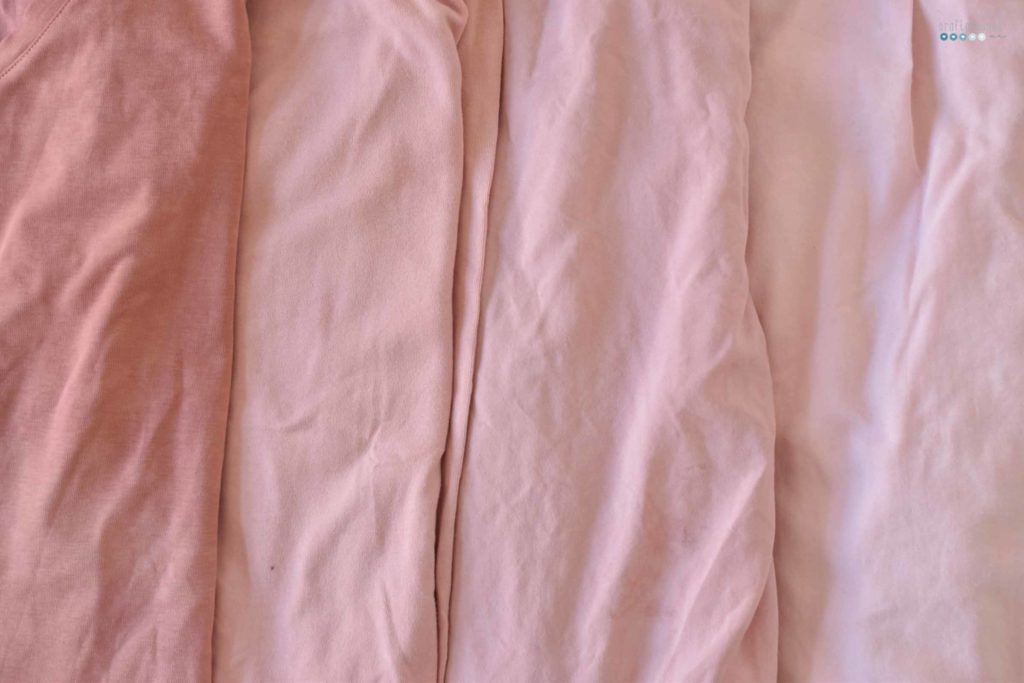 Anyhow unfortuently the dye was not as even as I wished. Specially the two stained shirts show exactly where the fabric previously had been stained. I believe because it was vinegar and oil stains. The almost new and 100% cotton shirt took the best color. I dyed it only in the washer.
So what is my take away:
only use new and pre-washed garments for the best color result
check your material of garments – cotton is taking color pretty good. The shirts made of viscose are not as rich in color. I read that linen and wool are best for natural dye as their firers are having rough edges compared to cotton or viscose.
prepare a rich dye with lots of skins and pits
dye in washer for the best result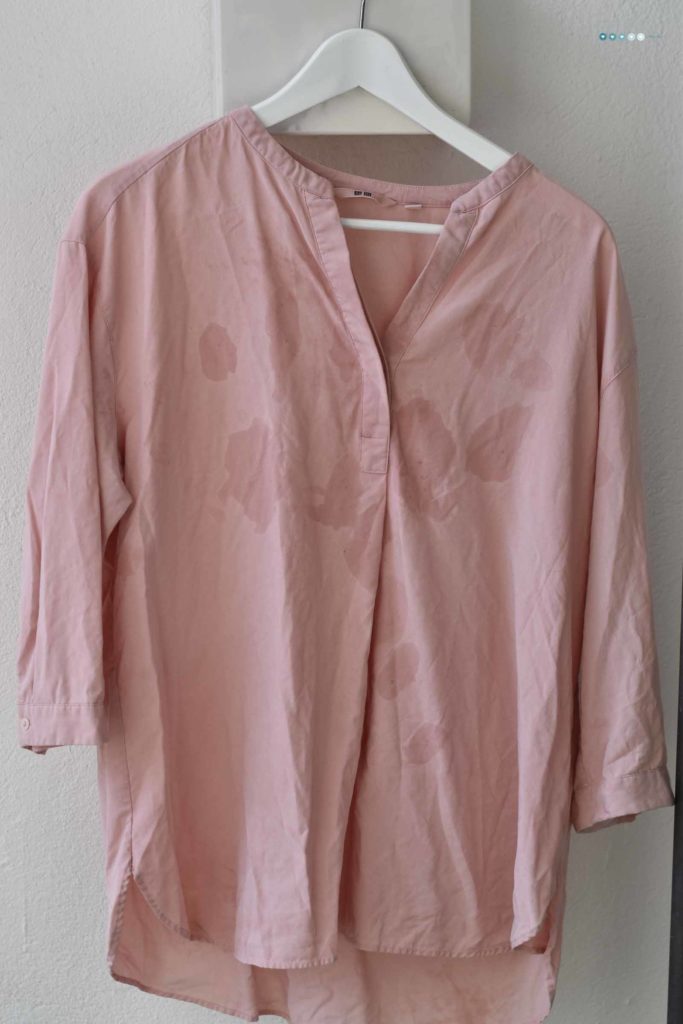 Even though the two dress shirts are not wearable anymore I would again try this easy avocado dying at home. I am still holding on to the dress shirts though and wondering if I could refashion the one shown above. Maybe stitch some sun rays onto the stains and making it part of the design. I have no experience with stitching so it would be a project and I would still don't know if it is wearable after. If you have any suggestions here I am all ears.
If you have any more tipps on dying with natural dyes I'd love to hear about your experience.
Happy dying
Tobia