I finally realized a project last weekend which I have been thinking about for the past years. As you may remember I usually round up some printable calendar freebies end of November. When I search the net for possible candidates to hang on my wall I always wondered what I would create if I knew how. Well, have a look at my printable pattern calendar 2021 a freebie for you as a way of saying thank you for stopping regularly. And for everyone else stumbling in HI I hope you stick around.
For me it was important to have a calendar you could print in black and white. Not everyone has a color printer and it is also much more environmentally friendly, right? As a freelancer I often need week numbers as clients refer to them quite often. So I did. All patterns were created during my #100daysofcraftaliciouspatterns back in 2016. Ever since this idea is floating around. All of the patterns have a meaning or some sort of inspiration. Would you have guessed some?
January Calendar Page
Felt scattered when creating this one. My thoughts were all over the place and I really couldn't focus much. This pattern is the visual of it.
February Calendar Page
This one was bubbles for sure. Bubbles in a hot bath, bubbles in my drink, bubbles rain is making in puddles…
March Calendar Page
I saw a print on some pillow or textile in a magazine and that is what inspired this pattern.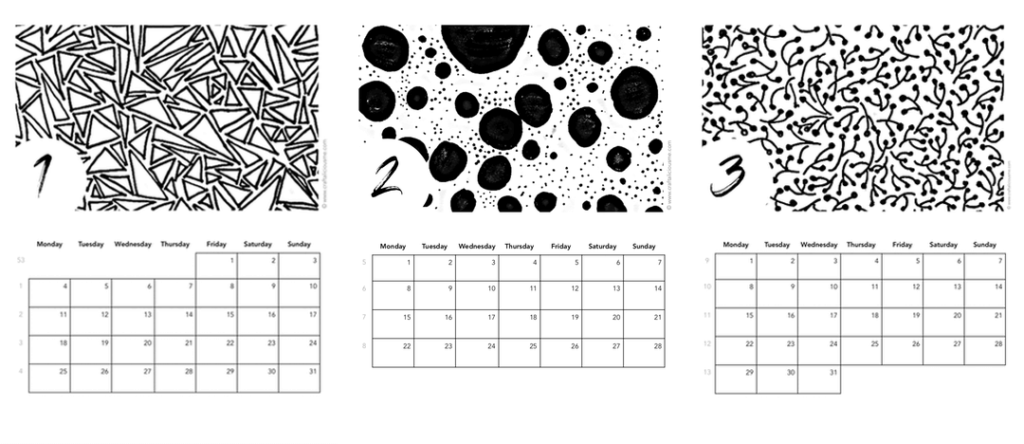 April Calendar Page
This piece was created by my mood. I felt like all was going in circles. Or maybe it was all about focus. Not quite sure.
May Calendar Page
This one was inspired by an artist I followed on social media called Åse Balko. She is a master in patterns.
June Calendar Page
Starring the Milky Way and the night sky. I watched a show on Creative Live about night sky photography that day and felt very Milky Way.
July Calendar Page
Sunbursts and the feeling of the sun kissing you face – that's the vibe that hopefully comes across.
August Calendar Page
Do you know this blue eye stones from the orient? This! However someone said it looks like a sea of boobs.
September Calendar Page
This is inspired by a volleyball net. The day I created it I was at a volleyball games with my sister which we both enjoyed as former players.
October Calendar Page
This one was just some mindless doodling and very relaxing.
November Calendar Page
Stacking up some lines to make a pattern. More or less started out with the five counts you do.
December Calendar Page
What better pattern for December than some fireworks.
And here you have it. If you like this calendar you may download for free. Personal use only and no reprinting for commercial gain. Be fair.
Now before you leave let me know which is your favorite pattern in this calendar?
Happy Sunday
Tobia
---