I love eating. I love to try out different things. I rarely order the same things when I go to restaurants. But I still eat a lot of the same foods too. I mean with 365 days and then 3 meals a day it makes over 1,000 dishes. Imagine you had to actually cook them all. I didn't that is for sure. We ordered a lot this year. But I also cooked. When we go on vacation we realized we always want to remember what we ate. We consciously try to take pictured or our meals. Because it is fun to look at and remember the taste, the texture and all the memories with it. So why not do it for the food we eat at home. Here are some of the foods this year.
Breakfast Options
There are two and half different ways I have my breakfast.
There is weekend breakfast which I apparently never took a picture of. I will start doing that. Weekend breakfast is the traditional German breakfast with Brötchen (bread rolls) and cold cuts like cheeses, meats and smoked salmon. When it comes to the eggs for breakfast Mr. ♡ and I always disagree. While for him scrambled egg belong to breakfast and hard boiled eggs are a dinner thing I grew up with the opposite. Boiled eggs for breakfast and scrambled eggs with onions and tomatoes for dinner. I happen to go with the scrambled for breakfast. I am flexible. And then of course all the jams and honeys and such things.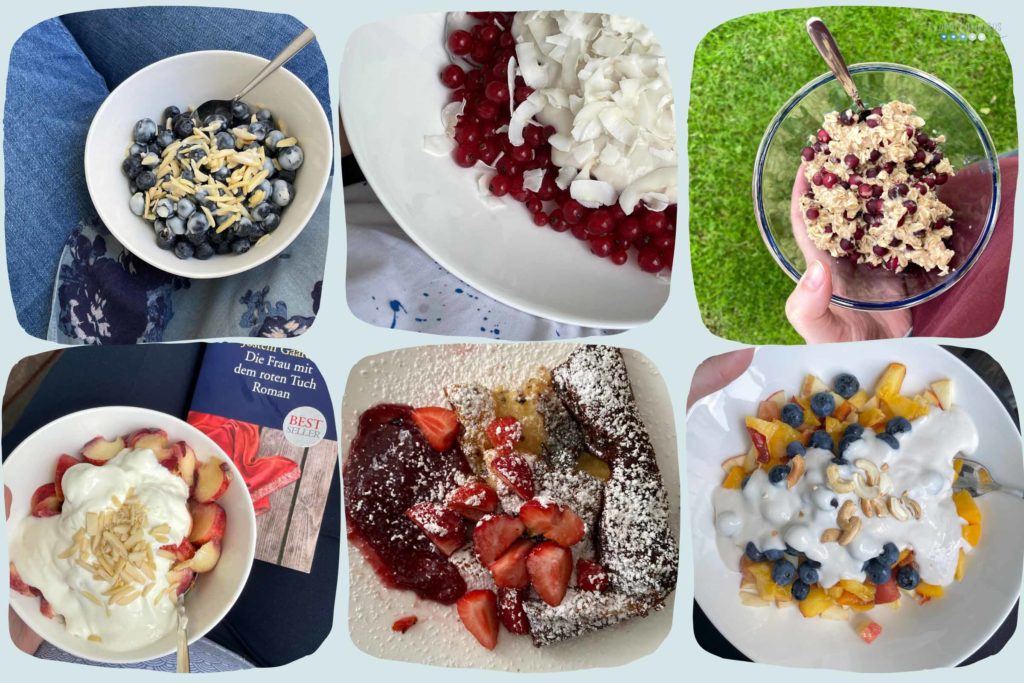 For weekday breakfasts and when I am alone at home it is usually a bowl of cereal. I shared all the different versions previously on the blog. You see the rock pear option I had for the first time this year (upper row right) otherwise it is more the traditional apple cinnamon oats. Sometimes I do blueberry or red currant oats. During summertime it can be just a bowl of fruit – most of them in the picture above. Photos just look so much better than oats. And then every once in a while I get fancy for breakfast and make myself waffles, finnish pancakes (bottom middle) or regular ones or I have hot semolina.
Dinner options
When it comes to dinner I like to make it quick. Often times we order out and during the pandemic and after the first lockdowns I was really annoyed with cooking so much. This year we have often ordered burgers. We have often picked up take-out at the local asian place a block away. It's a really good place and we've been going there for the past 16 years. Also we pick up Döner (Kebabs) every ones inn a while or order pizza. We used to have a delivery for Mexican food but they don't deliver in our region anymore. Unfortunately. And I also love the Syrian food but we hardly order there because Mr. ♡ is not too fond of it.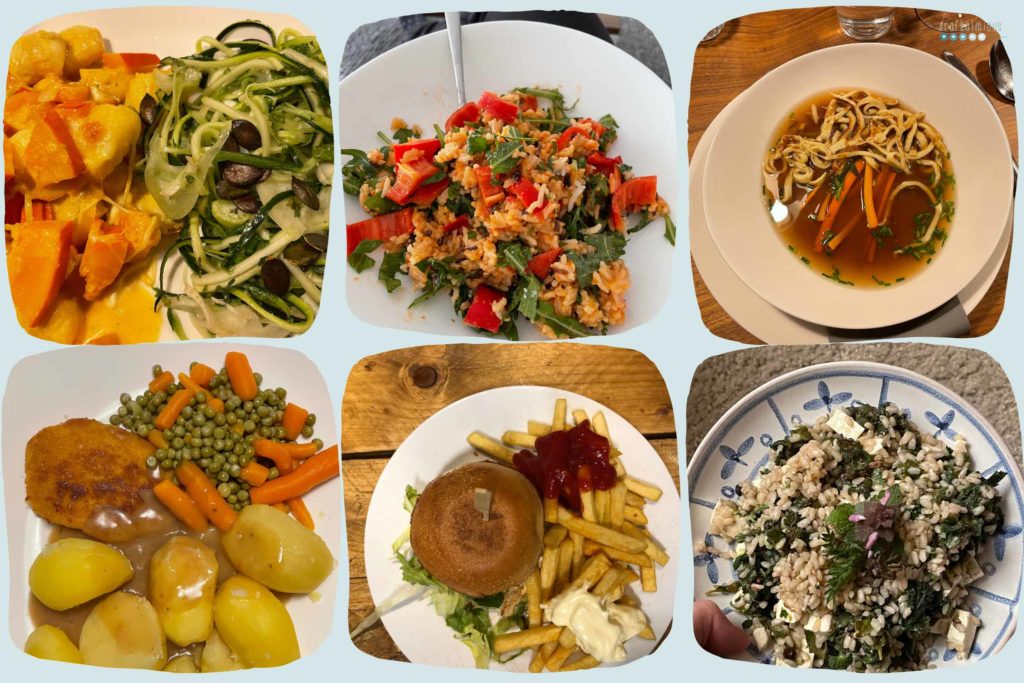 And then of course I cook. Since the pandemic I have started to try my way through all the vegan meat options that are now available at the stores. We have had vegan Schnitzel (bottom left) many times and it taste really good. Also vegan burgers, meatballs and casseroles. We have a lot of fish fingers – which you know if you read my Corona Diaries but apparently I never photographed that. Lots of soups are making it on the table when I cook only for myself. I love a good soup. I often eat rice or noodles with a lot of salad and greens.
And of course favorite dishes such as my traditional Schmorgurken – my favorite summer dish all vegan and yum. There were other traditional German foods like "Königsberger Klops" or "Quarkkeulchen".
Every once in a while a dish turns out awful. This happened when I wanted to make a risotto with self gathered herbs and plants (bottom right). I ended up throwing it all away after picking off the feta cheese. Either I had gathered something untasteful/poisonous so that my body signaled me stop or I combined things that didn't go together.
So much about my food. I loved seeing it all neatly next to each other. Maybe I need to make it an annual review thing. What you think should that be a link party?
Happy cooking
Tobia