Hello my dear ones!
I am back. I am back in real life, woke up from my personal fairy tale and I am back as a wife (now that does sound old and dusty…). Anyway I have a bit of a hard time adjusting and embracing the everyday and work life and all that. I know you are super excited to see some wedding pictures. Let's start off with something simple. A quick DIY.
When planning my wedding I had big plans on what do DIY and what I wanted and on the other hand I really didn't have a clue. Well for my hair I always knew it needs to be an up-do. However I wasn't sure about the accessory. I was secretly wishing for a tiara but everyone kept telling me it's cheesy and if I wanna be a princess and stuff. So I settled on a sparking simple hair comb I wanted to DIY. I got the supplies in January but didn't do anything by mid/end of January. Being at my tailor for one of the final dress fittings we came to talk about accessories and she told me I could order some with her. So we looked into the catalogue and there it was. My dream hair thingy. So I figured why stress, just order. And while I was at it I figured: You only get married once whats the greed? Get a tiara as well and decide on your wedding day what to wear. Oh I was so happy with that decision.
But then on my last dress fitting about 10 days before the big day I learned that my order was undeliverable. Wedding accessories are only available starting in March. Hello? What about the winter bride? I know the wedding seasons high peak is in summer but really what is that? I was able to talk my tailor into giving me some sparkling ribbon thing and I got to do my DIY in the end. Here it is my sparkling hair accessory for a winter bride or any other sparkling occasion:
You don't need many supplies (1). Cut two rows of ribbon the length of the comb (3). BUT add two more rhinestones to the length. This will give you a better edge finish (4,5). Then you basically you just glue everything on the comb. I started with the bottom line of sparkles and then added the top row. This way you can angle the top row a bit so it looks neater.
It is very simple isn't it? And while I was at it I figured: why not make one for my dear readers.
So here it is – my very first Give-Away. Leave a comment and let me know what you would love to read on my blog, what you miss or why you come by. I am so curious.
I will pick a lucky winner on March 16th. Good luck to you.
Cheers, Tobia
Oh! And you probably wanna see how I ended up wearing it, huh? Well here we go: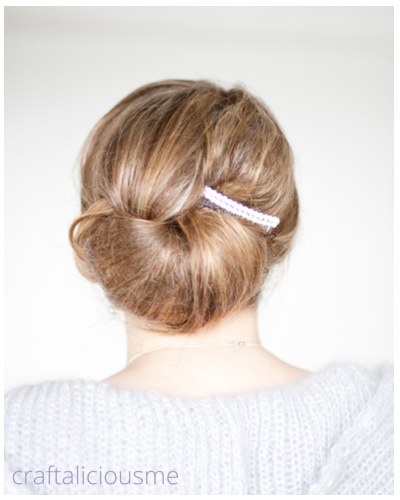 Last photo taken by Anja Schneemann
Entered for the Creadienstag Roundup