Wow now that caught us unprepared, no? It started last night with this mucky weather and sleet but that I will wake up to a white covered ground and that the snow will stay all day I wouldn't have thought. Not after having temperatures of 12°C the last week. Well anyhow it is still winter meteorological speaking.
Da hat es uns ja ganz schön kalt erwischt, oder?
Gestern Abend fing es ja schon mit Schmuddelwetter und Schneeregen an aber das ich noch einmal zu einer weißen Schneedecke aufwache, die dann auch noch den ganzen Tag liegen bleibt hätt' ich ja ehrlich nicht gedacht noch den 12° C letzte Woche. Nun gut, noch ist meteorologisch gesehen tiefster Winter.
So what is better than being all cozied up on the couch, leafing through a magazine and sipping yummy chai tea latte? Well I could do that all day. Isn't there a need of professional chai latte taster? I would volunteer.
Was gibt es also schöneres als eingemummelt auf der Couch zu sitzen, durch eine Zeitung zu blättern und dabei einen leckeren Chai Latte zu schlürfen. Also wenn es nach mir ginge, ICH könnt das tagtäglich machen. Gibt es nicht Bedarf an professionellen Chai Latte Testern?  Ich würd mich bereit erklären.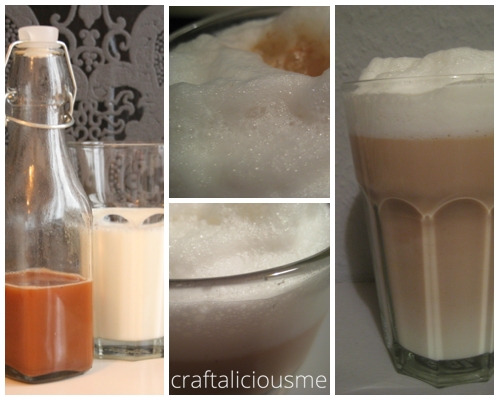 Todays sipped latte has been inspired by cadooh's recipe.
But as always when doing homemade stuff you are left with a lot of ingredients who than clutter cupboards and pantry. So what to do? Throw it out? No, no. How about getting prepared for the next cold front. Or serving a friend a hot cuppa. Or maybe in need of a last minute present? All of the above if you follow the tutorial.
Bei meinen heute geschlürften Chai Latte habe ich mich von cadoohs Rezept inspirieren lassen.
Wie das meist so ist, bleibt aber doch etwas von den ganzen Einzelzutaten über und fliegt durch die Küchenschränke. Was also damit tun? Wegschmeißen? Nein, nein! Vorarbeiten und für die nächste Kältefront vorsorgen. Eine liebe Freundin spontan bewirten oder schnell ein Geschenk aus dem Hut zaubern. Geht alles mit nachfolgendem einfachen Tutorial.
Fill all ingredients into a paper tea bag.
Alle Zutaten in einen Teebeutel füllen.
Now sew a decorative seam and leave a long piece of thread on one end. Here you tie the instructions and you are all set. Easy peasy and homemade.
Mit einer hübschen Naht zunähen und an einer Seite einen langen Faden lassen. Hier die Zubereitungsinfos anknüppern. Fertig. Total easypeasy und selbstgemacht.
Here the recipe for about 1 liter of spicy chai latte:
8 pepper corns, black
10 cloves
6 cardamom seeds
2 pieces of cinnamon
6 star aniseed
3 tsp Earl Grey Tea
700 ml milk
2 tbsp honey
cinnamon to taste
And that's how it's done:
1. Boil spices in 500 ml water.
2. Add 500 ml mil, tea and honey and boil. Reduce heat and let simmer for another 5 minutes. Heat and foam remaining milk.
3. Strain tea-milk mixture.
4. Fill in glasses and top with milk foam and add a bit of cinnamon. Enjoy.
Hier noch einmal das Rezept komplett für ca. 1 Liter Gewürz-Chai Latte:
8 Stück Pfefferkörner, schwarz
10 Stück Gewürznelken
2 Stange Zimt
6 Stück Kardamom, Kapseln
6 Stück Sternanis
3 TL Earl Grey
700 ml Milch
2 EL Honig
Zimt
Und so geht's:
1. Die Gewürze mit 1/2 l Wasser in einen Topf geben, aufkochen.
2. Tee, 500 ml Milch und Honig zugeben und nochmals kurz aufkochen. Von der Platte nehmen und 5 Min. ziehen lassen. Übrige Milch erwärmen und aufschäumen.
3. Tee durch ein Sieb gießen.
4. Sofort in Gläser oder Tassen füllen, Milchschaum darauf verteilen, mit Zimt bestäubt servieren.
Happy Chai Latte drinking,
Tobia