Heute bin ich mal wieder über unsere gesammelten Amazon-Leer-Kartons gestolpert. Also eigentlich habe ich was gesucht und danach musste ich ne Runde Live-Tetris spielen.
Irgendwie bewahren wir die ganzen Kisten immer auf – man könnte ja was verkaufen, oder versenden, etc. Und eigentlich sind wir nur zu faul das Zeug zum Altpapier zu schleppen.
Aber das hat mich dazu inspiriert aus dem ganze Verpackungsmaterial noch etwas nützliches zu machen.
Heute Recycle Quick-Tip #1
Eine alte Klopapierrolle in eine kleine Geschenkverpackung verwandeln.
Dazu einfach das Verpackungspapier mit Klebstoff faltenfrei auf die leere Toilettenpapierrolle kleben. Mit Masking Tape verzieren. Fertig. SuperEasyPeasy.
Das passt super für kleine Leckereien, Schmuck, Gutscheine und was euch sonst noch einfällt.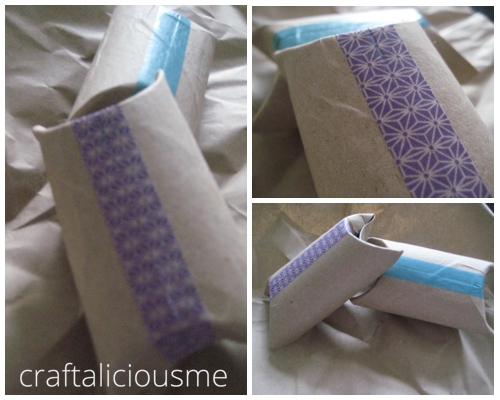 Ich hab darin kleine Fähnchen für Cupcakes & Co verstaut.
Habt einen schönen Mittwoch!
0
Click and leave a ❤︎ if there is no time to comment.