I know I know we are right in the middle of summer and no one wants to read about winter. But those DIYs are simply made for any wedding no matter the season. And I still wanted to show you a few more things I made for our special day back in February.
We've put a lot of effort in our save-the-dates & invitation. And we started out with two languages (German & English) for all the overseas friends & family.
So obviously we've ended up with tons of spare ones due to minimum purchase quantaties. You know me by now – I hardly through anything out so I was trying to come up with things to do out of those spare cards and what the hubby-to-be would agree upon.
I already mentioned the tissues at the ceremony.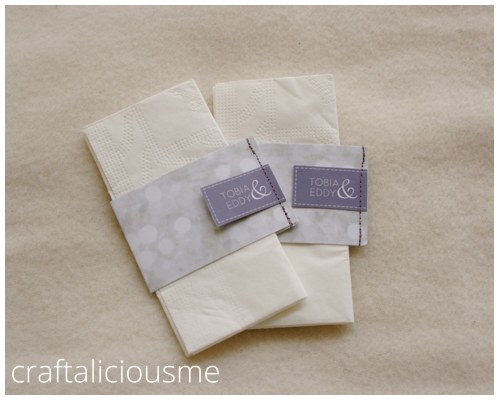 I just cut strips out of the sparkling paper. Then cut out our logo and sewed everything together so that the tissue had a pretty little band. The whole project only took me about 1 hour once I figured out the look. Well of course it depends how many guests you've got.
The next thing I used those cards for. I just glued a nice part of a card to the cover of one of the bigger match box.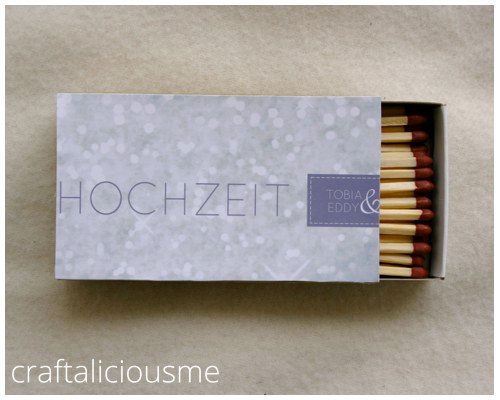 I figured I like it better than just the ugly store bought ones. However we never really used them. No ice lanterns and the tea lights we wanted to have in a star shape outside on the patio instead had to be removed because of heavy rain. So I am not only having matches on hand but over 60 unused tea glasses as well…
I also punched a quadrillion stars out of the cards but hubby thought it was cheesy so they never made their appearance… But it's another idea. We were planning on getting this photo but simply forgot to shoot it.
The next one is a bit more time consuming. I looked all over for those cute shoe stickers that are quite common in the US. However in Germany it wasn't really possible to find any and if the price was outrages. I actually would have payed but: how come that the fonts are always different for bride & groom? Or why are they mostly blue? This really bothered me so I just did them myself – a day prior in our hotel room. All you need is rhinestone stickers, a pair of tweezers, a steady hand and shoes, obviously.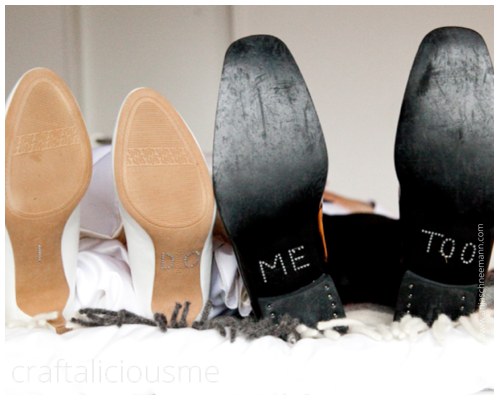 And while I was setting up my craft lab in our tiny hotel room I also finished up our Best-Day-Ever-Garland (see header). A project I found a couple days before the wedding on Pinterest and we both suddenly needed urgently in our wedding. Here you see me working hard: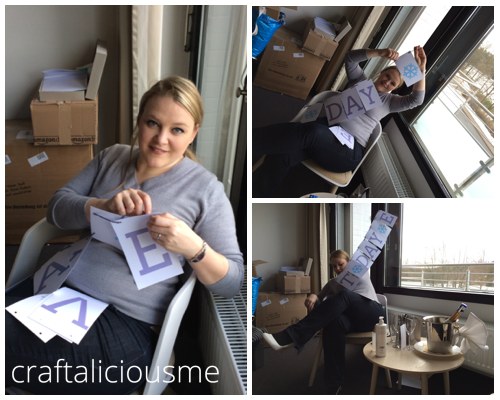 And one last one I have. I've had a really really hard time finding shoes. Either to small, to tight, to expensive, too cheep, not white white and matching my dress… You get the idea. And since I needed two pairs (inside and outside) they also had to have the same hight. In the end I gave up and got myselfs some plain white pumps I could easily spend the day in and figured I make myself some wedding-theme-matching shoe clip.
This project actually took more time than I anticipated due to the (old school) pom pom making. But I used the yarn my mom made my cardigan of. So all worth it. Once that was done I just glued them on the shoe clip*
, attached it to the shoe and tada, done.
I hope you've found some inspiration for your big day. And I would love to see what you've done, so leave a comment and I come visit.
Cheers, Tobia
Some of the pictures were taken by our wonderful wedding photographer Anja Schneemann.
*affilliate link (more information here)