Every year I throw an anniversary get-together here at my internet home. And I always serve some Finnish food. This year join me in devouring a traditional Finnish winter salad called rosolli. It is usually served for Christmas and is finely diced. The husband once spent the holidays in Finland and he kept telling me about the diced food. When I served Rosolli a few weeks back he finally knew what he was eating.
If you are new around here you may wonder why I am talking about Finnland all of a sudden. In 2014 when the husband and I got married and dreamed of a perfect winter wedding it was becoming clear that even through we did all the research on precipitation and temperatures it won't be a white snowy wedding. And since with all the planning we had no clue where to on our honeymoon a few weeks prior my parents took a risk and booked us a honeymoon in Lapland, Finland. Amazing surprise. Wonderful vacation. Even though I was sick as a dog and couldn't eat anything due to the antibiotics I was taking.
So every year on our anniversary I am celebrating that amazing trip by serving some Finnish food and reminiscing in this experience. And today we are making some traditional salad.
Here is what you need to make Rosolli
2 cups/300g off diced, cooked beetroot
1 cup/150g diced potatoes
1 cup/150g diced carrots
1 apple
1 diced onion – preferably red
1/2 cup/75 g diced pickles (-> I used a bit more)
1/4 teaspoon salt and pepper
1/4 cup /60g plain greek yoghurt – alternatively heavy cream
1 teaspoon apple cider vinegar ( I used homemade chive blossom vinegar)
1 teaspoon sugar
1/2 teaspoon beetroot juice – optional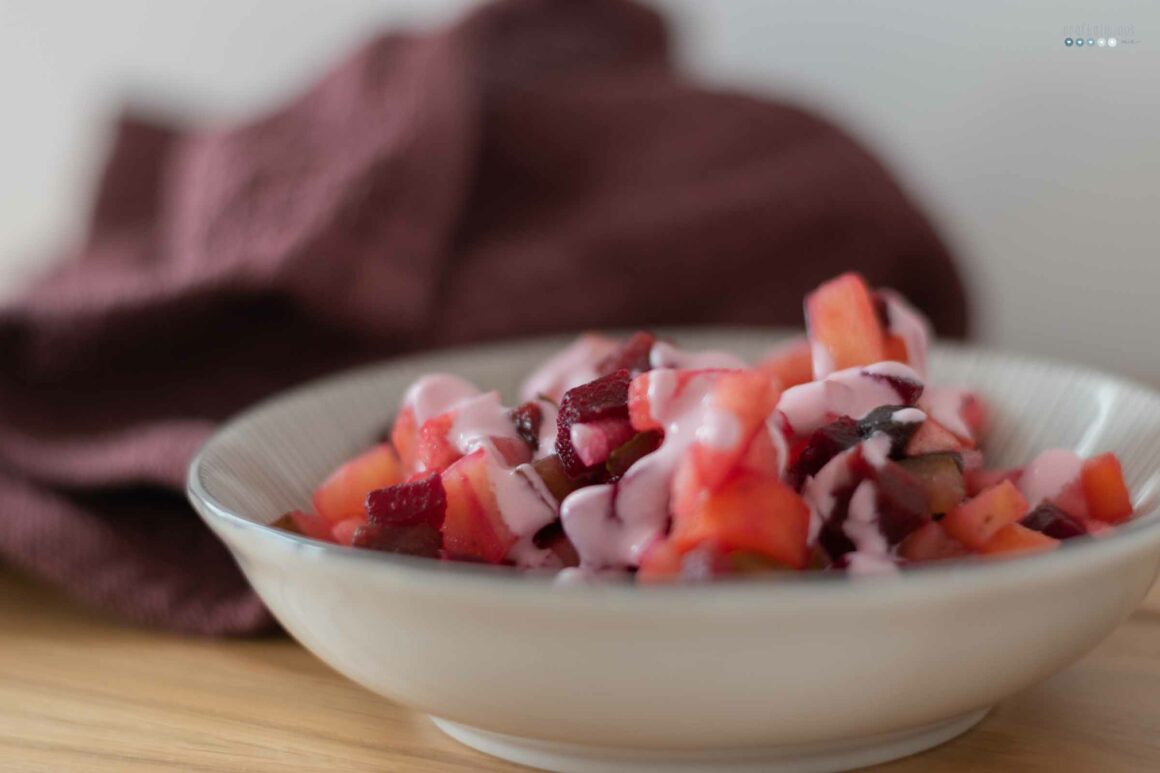 Let's make some Finnish Winter Salad
This salad includes a lot of cutting so I would suggest get yourself an audiobook and start dicing. Start with the potatoes and the carrots. Once cut boil them until soft but noch mushy. Drain and let cool.
Pro tip: keep the vegetable water you cooked the potatoes and carrots in and use as base for a soup. I made an amazing mushroom soup with it. I hope to re-create and share the recipe at some point. Until then maybe you find some inspiration at my Soup Sundays.
Use the time it cools down to make the dressing: Mix together yoghurt, vinegar, sugar and beet root juice in a small bowl.
Dice the remaining ingredients (pickles, onions, beetroots) and add together with potatoes and carrots. Season with salt and pepper.
Shortly before serving add the dressing and mix well. You could serve the dressing on the side but I think it's better when the entire salad is coated.
When we had the salad I felt like something is missing though. Don't get me wrong it was a nice texture and great flavors and wonderfully colorful on a gray dark winter day. However I did a bit more research and learned that some people add pickled herring. And I think that it a flavor that would really make it even better. I think next time I do try that version.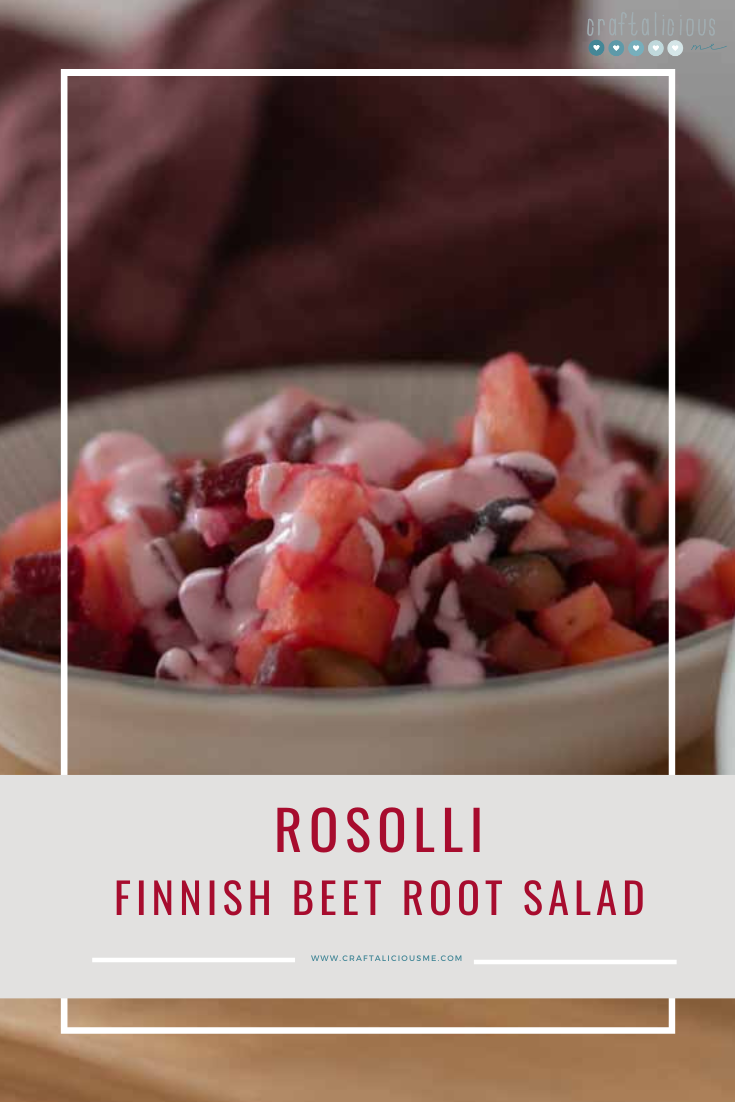 If you are interested have a look at the previous Finnish recipes I shared to celebrate our anniversary. 2015 – Kermakakku, 2016 – Panakakku, 2017 – Lohikeitto, 2018 – Kuuma Karpalomehu, 2019 – Porkkanavesirinkelit , 2020 – Omenakakku, 2022 – Nakkikastike.
I am wondering: Do you ever re-create food you had on vacation? Do you do something special for your anniversary? Did you go on a honeymoon and if where did you go? How long have you been married?