Wow now this post has been one year in the making. No, no it doesn't take a year to make but it's been sitting in my drafts file for about a year. But when I wanted to go take some pictures I had to realize – all gone. Nada… And since I believe some things are seasonal I just didn't make another batch. And you had to wait until 2014 to have the opportunity to actually read about this great lemonade… But now lets get started:
I have to make a confession. I kinda love the United States. Surprise surprise.
By now you probably have read that I lived in the U.S. for a year. And after I tried all the different drinks I realized – they are actually too sweet for my taste. Of course I still love some Mountain Dew (never ever pour it into a glass – it looks like poison!) or a Dr. Pepper. But ALL THE TIME? Not really. I really don't like plain water that much either. So I was kinda happy when I realized Iced Tea is nothing like Ice Tea we know from Europe.
But it was a new love when I had my first pink lemonade. I was in heaven. (And I don't want to know how much sugar there is in one drink. No really don't want to!)
By now there are stores you can get Mountain Dew, Dr. Pepper or even Snapple but I've not come across pink lemonade. (Ok, now that's been a year I've seen some but they are not great, way too much sugar!) So all this lemonade making from scratch started when I was looking for some homemade lemonade recipes. It took me a while to realize that grapefruits are the basis of pink lemonade (duh me!). Then it was simple to get my recipe:
You need:
♥ 3 grapefruits (approx. 500 ml juice)
♥ 125 g sugar
♥ 125 ml water
First the boring part: you need to grate all the grapefruits so you end up with lots of zest. This may take a while (to be precise 2 episodes of CSI NY). But it's essential for the intensive flavor. Then press all grapefruits.
Pour juice, water and sugar into a pot and start boiling. Let simmer for a while. Still hot pour into glass bottle (make sure to rinse with hot water before), screw tight, turn upside down (to seal the lid with vacuum) and you are done. So simple, so yummy, so refreshing on a hot summer day.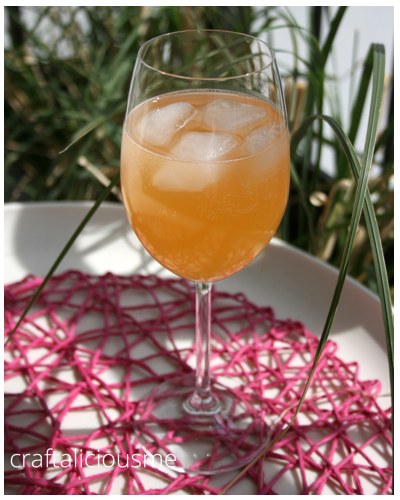 Have you ever made lemonade yourself? What's your secret recipe?
More lemonade cravings? Follow me:
♥ Rhubarb Lemonade
♥ Mint sirup
♥ Homemade ginger ale
♥ Cucumber lemonade