My dear friends. I usually am not into Christmas spirit before December. I am vehement about that. So much so that I can ignore the beloved Dominosteine the husband had already bought. But that doesn't mean I can't think about Christmas yet. That I can't make plans yet. That I can't get prepared yet. When we had our move earlier this year and had to pack up the basement. While doing so I realized my Christmas stuff was – not as I had thought in those two boxes – but I kept finding bits and pieces at random places. I had no patience to organize things then. But now is the time to be sorting Christmas.
And while doing so I also want to reduce a little. Give some decorations away. Let's see how much I am able to say goodbye to.
Sorting Christmas – Christmas balls
When we first started having a tree we obviously had to start from scratch when it came to Christmas tree decoration. It was quickly decided that our tree will be white and silver. And so I went in search of some Christmas balls. Luckily I came across a box at the discounter with real glass balls that cost me 12,99€ for 24 balls. I bought a box. I realized quickly I could use some more. So when the following year the same box was again available I bought two more. Making it overall 72 balls in three shades – matted white, matted silver and shiny silver. Those balls have been hung to the tree for nine years. One of the boxes for ever untouched…
Then we got married and my aunt and godmother gave me one of my greatest gifts ever. As you may know we had a winter wedding. And she decided fitting for that would be some snowballs – aka white Christmas balls. What a thoughtfulf gift. Right? Ever since we have those hung on the tree. While their quality is much higher – handmade glass ornaments from a traditional local company – the shade is not quite white enough for our taste. But I can live with that. The meaning for me trumps the right color shade.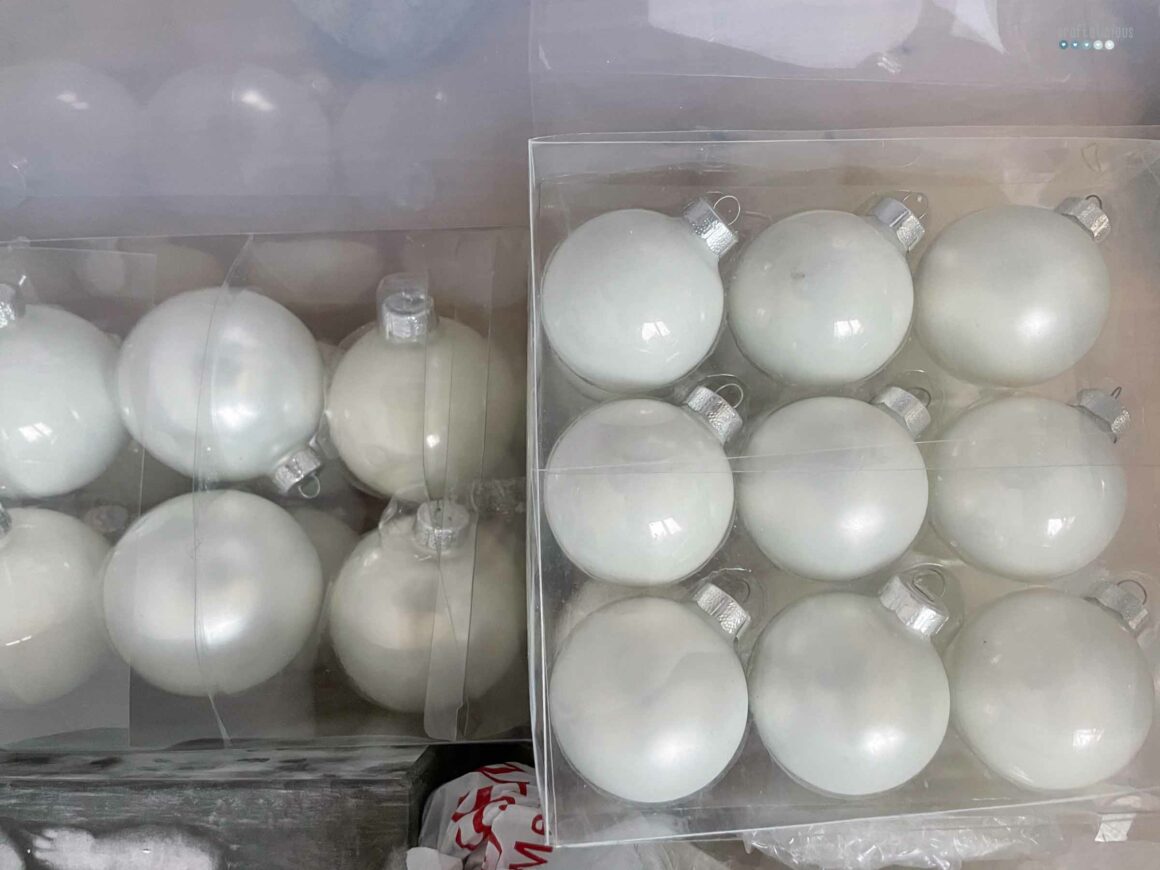 Storage options – for Christmas balls
But I digress. When I started looking into sorting my Christmas stuff and decorations I mainly meant my Christmas balls. I wanted to have a case where I can put them. Honestly I haven't found a good solution. All systems I had come across use a sort of paper try. Not a fan. Or the box system would only have this one specialized box and no further options. Also not a fan. In the end I decided that the sunware system would hold the most options for storage beyond the Christmas stuff. (I have more things in the basement…)
So now I am wondering. Should I use the perfect box from my old balls and put the wedding balls in? But that would only work for the smaller ones. For the big balls there is simple no option available besides leaving them as they are.
Sorting Christmas – an ornaments collection
As I said earlier when we started out with our first Christmas tree we had nothing. After getting the balls I decided to make some ornaments myself. Over the years I have added to that ornaments collection. Would you like a peak in my – now newly sorted – boxes?
Ornament collection – handmade little gifts
These little gifts are the oldest ornaments I have. And have been on my tree for 15 years. I recycled some chocolate boxes – I did mentioned that I save every odd thing for crafting reasons *sigh*. All I had to do was wrap them in paper and add a ribbon. Voilá and done. After so many years though they need an update. I plan on doing it this year. Maybe add a more festive ribbon.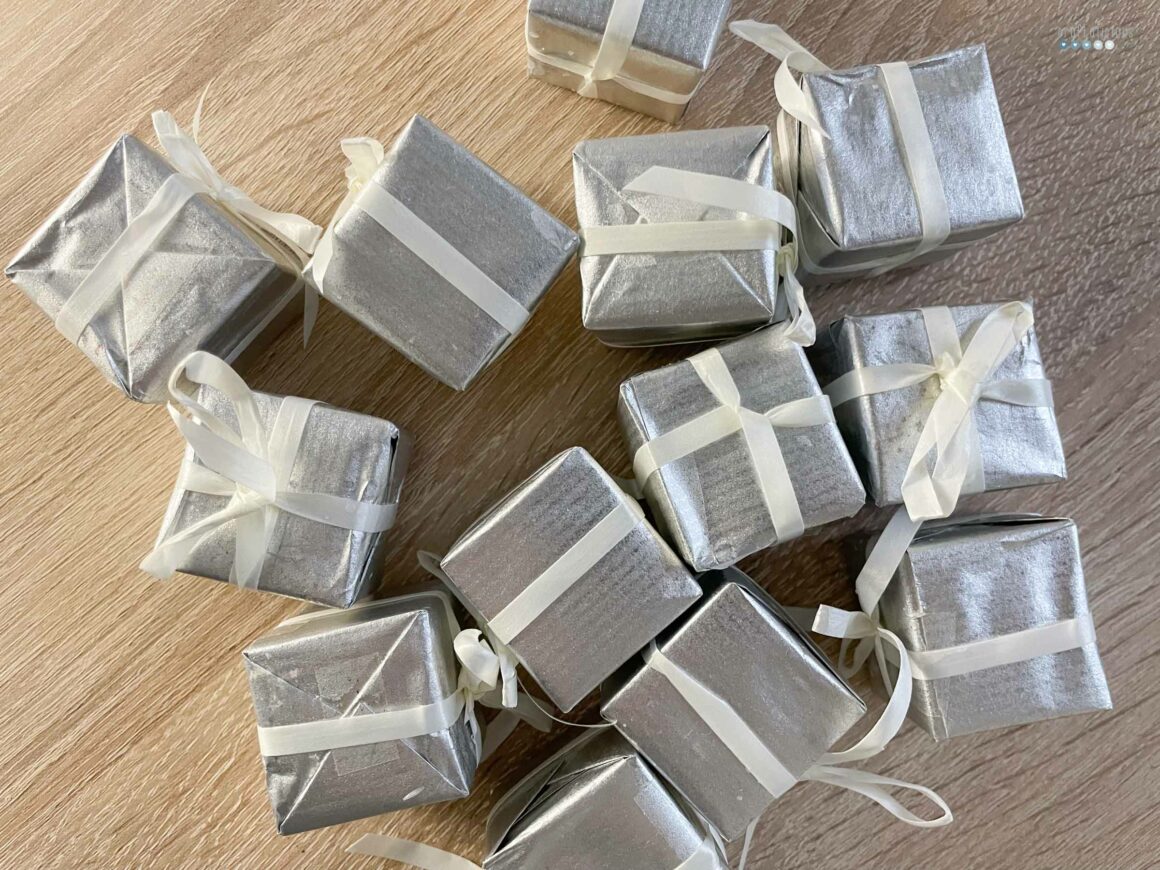 This ornament was originally crafted in 2006.
Ornament collection – handmade Fröbel stars
If you have been a blog reader for a while you may have realized I am somewhat obsessed with making Fröbel stars. One year I made over 300. Actually I just realized I never have mentioned it here let alone shared results or a tutorial. (But I did multiple times on Instagram here, here, here, here) Nevermind. Fröbel Stars are made of paper and use a sort of origami technique. I tend to make them from gift ribbons. I have them in various sizes and shapes but they all fit the white, silver, sparkling spectrum. I could sure update that collection by making a few hanging ornaments. As of now I just put them on the tree spruces like sprinkling snow.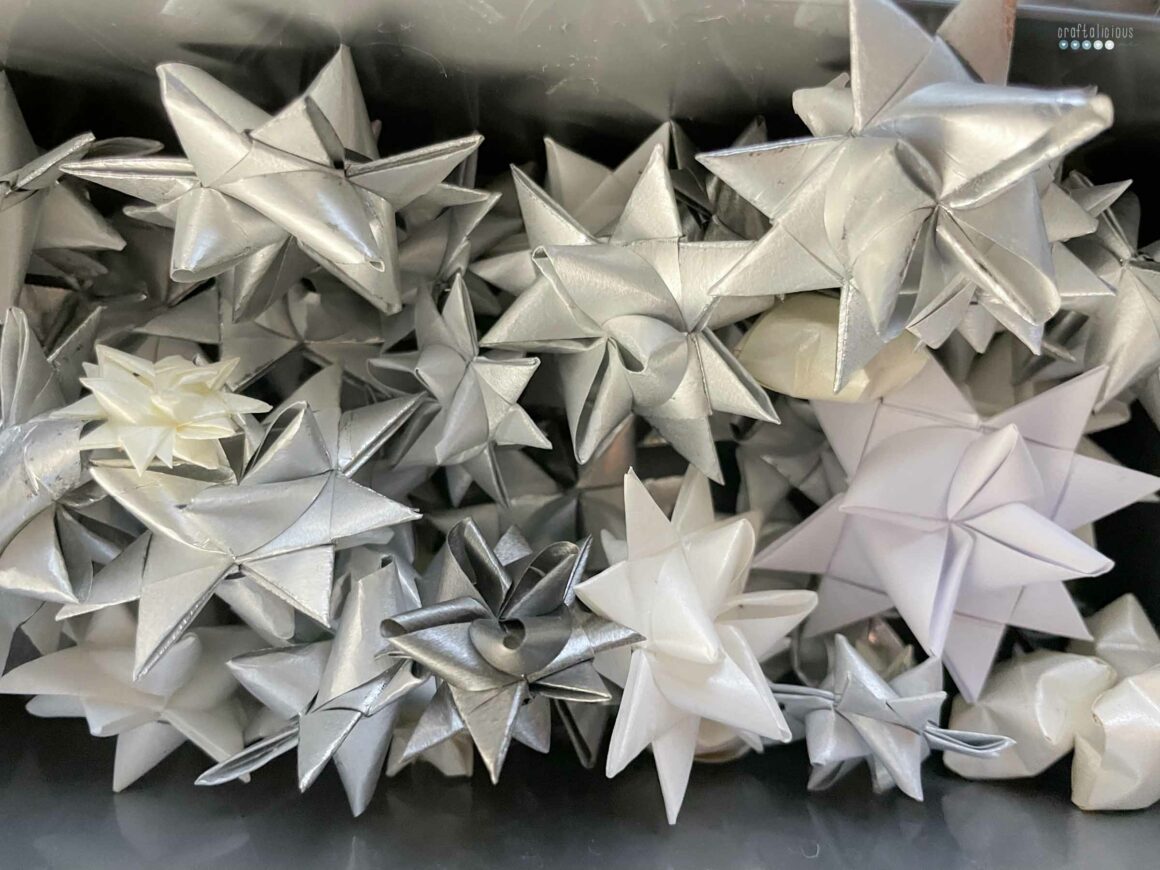 This ornament was originally crafted in 2006 and additional stars have been added to the collection constantly.
Ornament collection – handmade sparkling apples
As I said we have a color scheme. These apples used to be red and the decoration of my first apartment. I got them on sale for 1-2€ at the hardware store. After having them hidden away in the boxes for several years I decided to spruce them up. I added white paint and when I found some sparkling pearls in the seasonal discounter section this idea was born. It is not entirely perfect as those tiny pearls come off every time you handle them and are all over by the end of Christmas. I love them though since they add some texture to my tree.
This ornament was originally crafted in 2013.
Ornament collection – handmade plaster stars
This ornament was an idea I had for Christmas gifts. That year all of my family received a set of 12 stars. Some were to hang on the tree and some have been without a ribbon and just as decoration for the table. Can you guess how I made them? I used an ice cube tray and poured plaster in. After that I painted them in red. For myself I planned on painting them white but ended up not doing that as I liked the grayish rough finish. The red stars in my collection are actually my gift my grandma received and was returned to me after her death a few months later. I haven't used them ever since but don't/can't really part with them.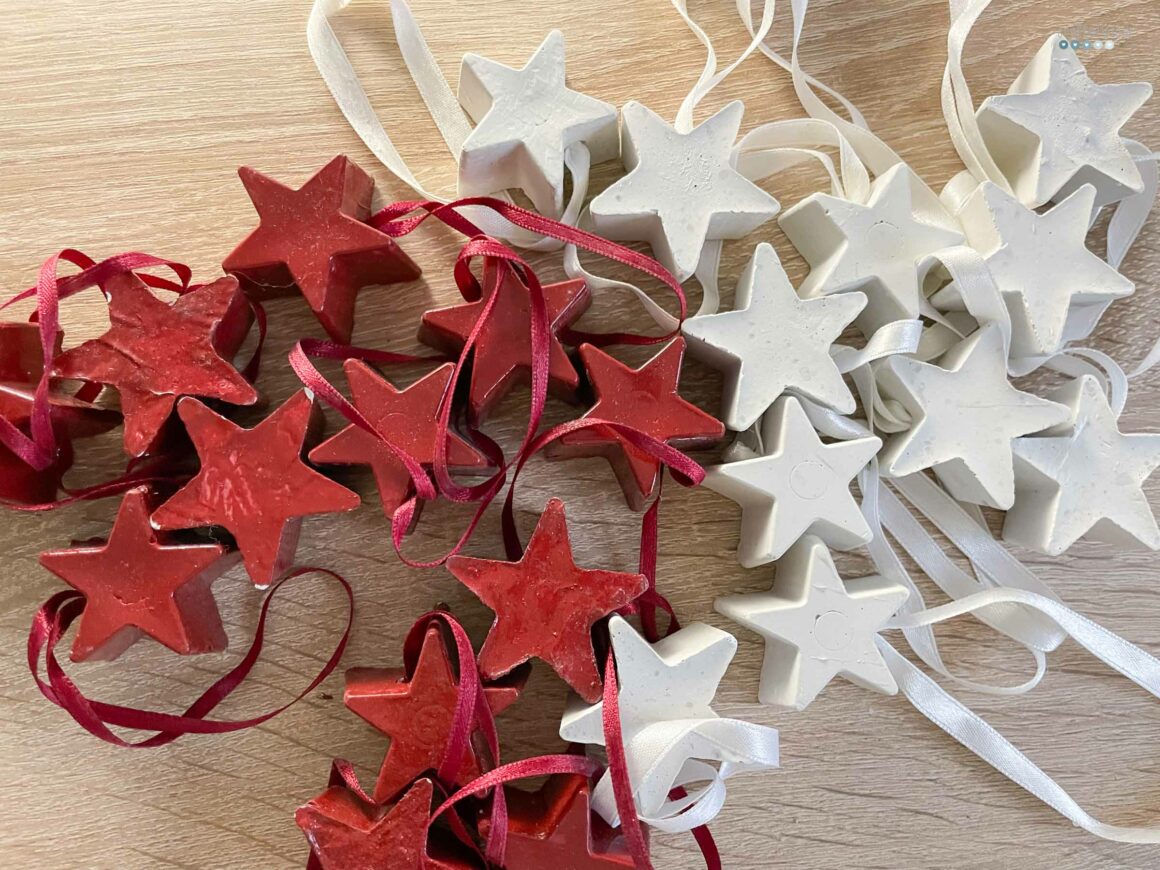 This ornament was originally crafted in 2017.
Ornament collection – handmade clay ornaments
These are the only ornaments in my collection that were given to me by my aunt. She is also a crafty person and has a kiln in her basement. One year she gifted these little bell Christmas trees to some family. As she knew mine all needed to be white I got a special set. Couple years later I got the three bells. They were somewhat of an "order". I had three silver bells for years on my tree but then could not find them anymore. Every year I was heartbroken because I just didn't know where they were. Knowing I didn't throw them away. Well sorting Christmas stuff helps. Found them a couple days ago in the box with the old Christmas bells that I didn't use anymore after the wedding (so for the past 8 years.)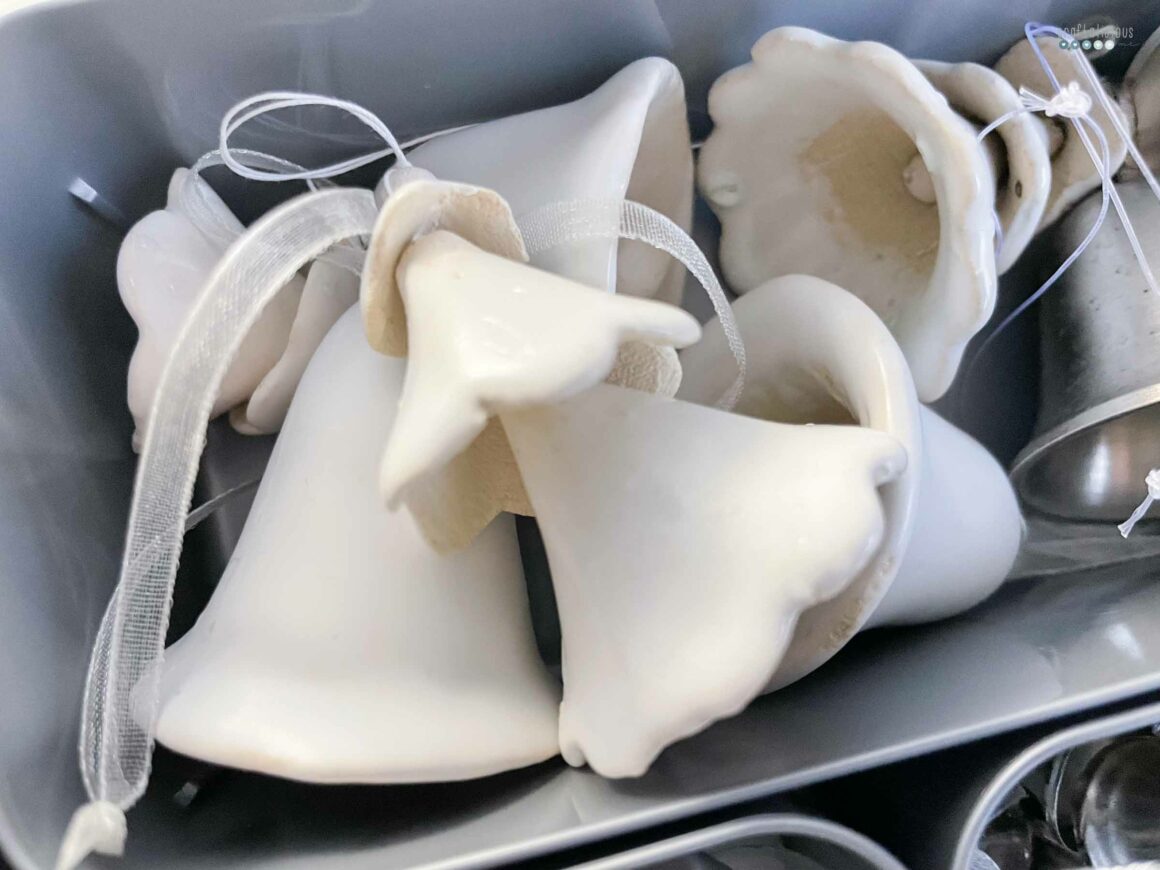 This ornament was given to me in the past couple of years.
I have a few more items in my Christmas box. All of them sparkle joy. So after going through them all I really don't know how to downsize. I guess it will just be sorting and not minimizing. Sorry, not sorry.
I am happy with the sorting tray I have purchased. I am waiting for a few more boxes to put the clay stars and gift ornaments in. Overall I downsized the space my Christmas boxes used up by having a system. I am happy with my efforts.
Now let me know what your favorite ornament is in your Christmas box and which one you would steal from me.
Happy sorting
Tobia