Last year I wrote a post about all the foods I had in 2021. It was a post I had not planned. It just came to me and it was so much fun seeing all the foods in a photo collage. It is a wonderful way to document my eating habit – a diary of sorts. And so here we are a year later and with a new post of my foods of the year 2022. Because it's been so fun the last time.
Maybe you are also struggling with what to cook for dinner daily. Maybe you are also a bit bored by the same choices all the time. Maybe you need to challenge yourself and venture out a bit. That is why I decided to make this post a link party and I hope you will join me in sharing your foods of the year. I bet it would be such an interesting thing to see the different kinds of foods. And hopefully we get inspired for the next cooking adventures. Will you join?
A little note because you may wonder. I usually don't eat in the morning. I have a cup or two of coffee before 9 am. Then I head into my office (I work from home most days) with a jug of tea and a granola bar. Around 1pm is usually the time I eat a breakfast/lunch.
Breakfast Options
I am sticking to my habit of having two versions of breakfast. Weekday breakfast and weekend breakfast. On weekdays where my husband is in the home office it is usually traditional German breakfast with bread and cold cuts. Some slices of apple and that's it.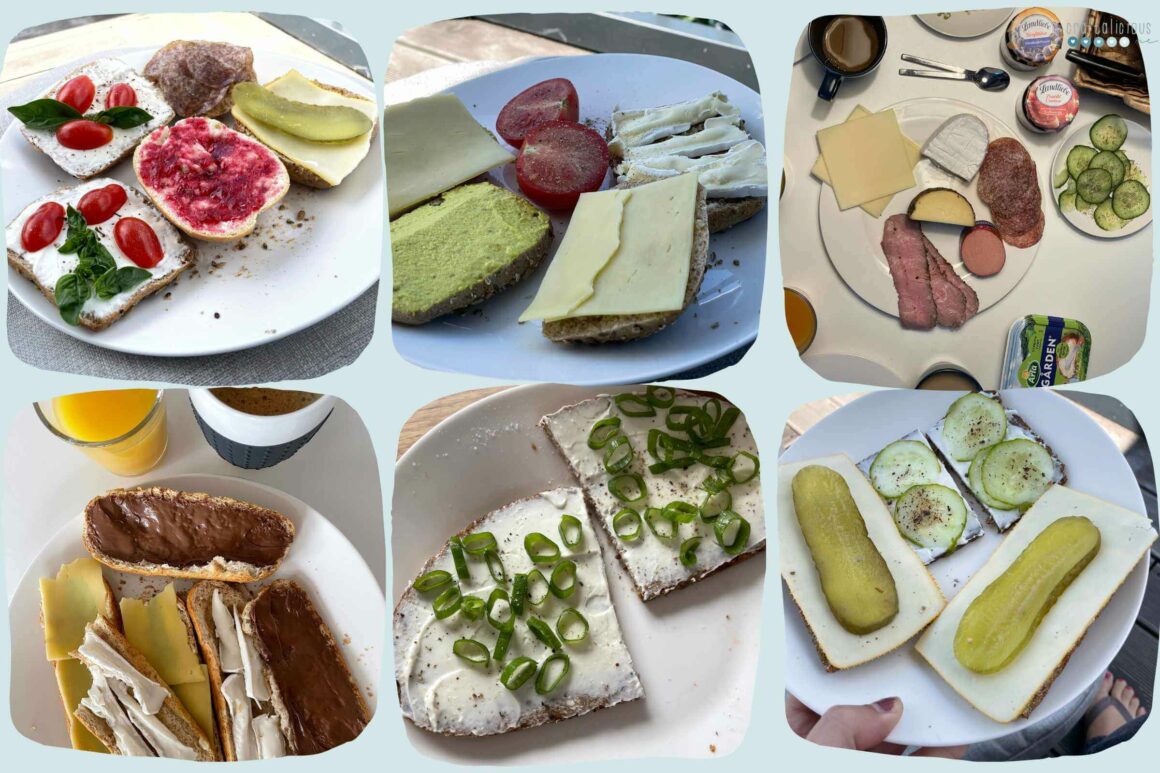 On weekends we switch out the bread with rolls (upper row). Sometimes we add scrambled eggs to the table. When we want to spoil ourselves we make finnish pancakes (image below upper middle) or waffles.
When the husband is in the office I usually eat differently. Lots of fruits and yoghurts, granola and porridge. Sometimes I stick with the bread version but then add eggs sunny side up onto them or have a grilled cheese for lunch. I also often crave warm meals and so hot semolina or rice pudding can be my food of choice. Or I get fancy and through in some Quarkkeulchen (bottom right).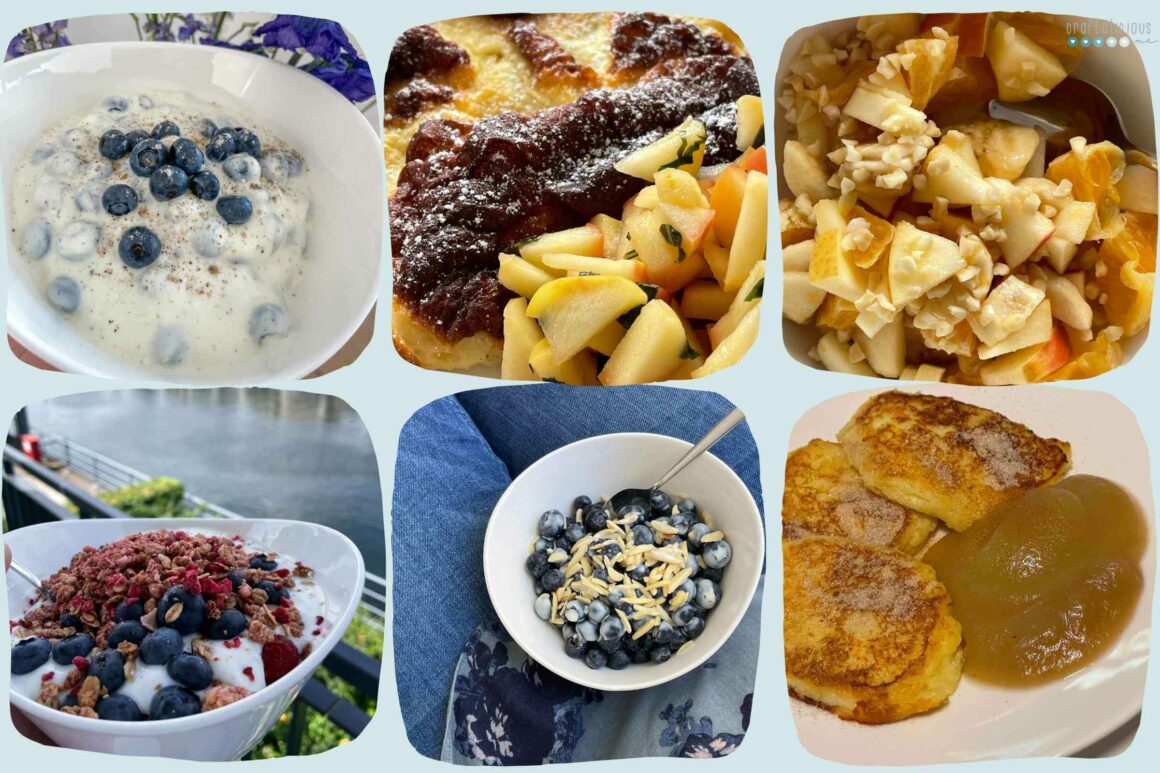 Dinner Options
Ordering in
Since we moved in early April we had a lot of take out food. For one we were lazy. For one we were busy. We worked late and then we needed to get packing. So often so that we ordered food and then packed boxes until the food arrived. When we moved here the same in reverse. And then I had my surgery and so again lots of ordering since Mr. ♡ despises cooking.
Being in a new neighborhood that is much farther away from downtown take-out choices are a bit reduced. However we found a Mexican place (upper right) that is rather great and we have that at least once a month. Also we have a really great burger place (upper middle) that also serves hot dogs and Philly cheese steak. And then if the husband gets pizza I usually order Sushi. But we also found a pizza place a few minutes away (button middle) where we can eat or pick something up and enjoy on the balcony.
Home cooked meals
But I do cook. Most of the times actually. We had a lot of pasta, salads in many shapes – a favorite is caprese salad or a version I created with tofu (bottom right) loosely based on myoma recipe book. As often as I could I had favorite potatoes and quark (upper left). But also I made Nakkikastike (bottom middle), tried my hand at Mac & Cheese or Käsespätzle (upper right) and of course many soups. I also followed the TikTok Trend of boil, crushed and baked potatoes (upper middle) as a side to salads. And then of course a household favorite fish fingers (or salmon for me) with mashed potatoes and cucumber salad.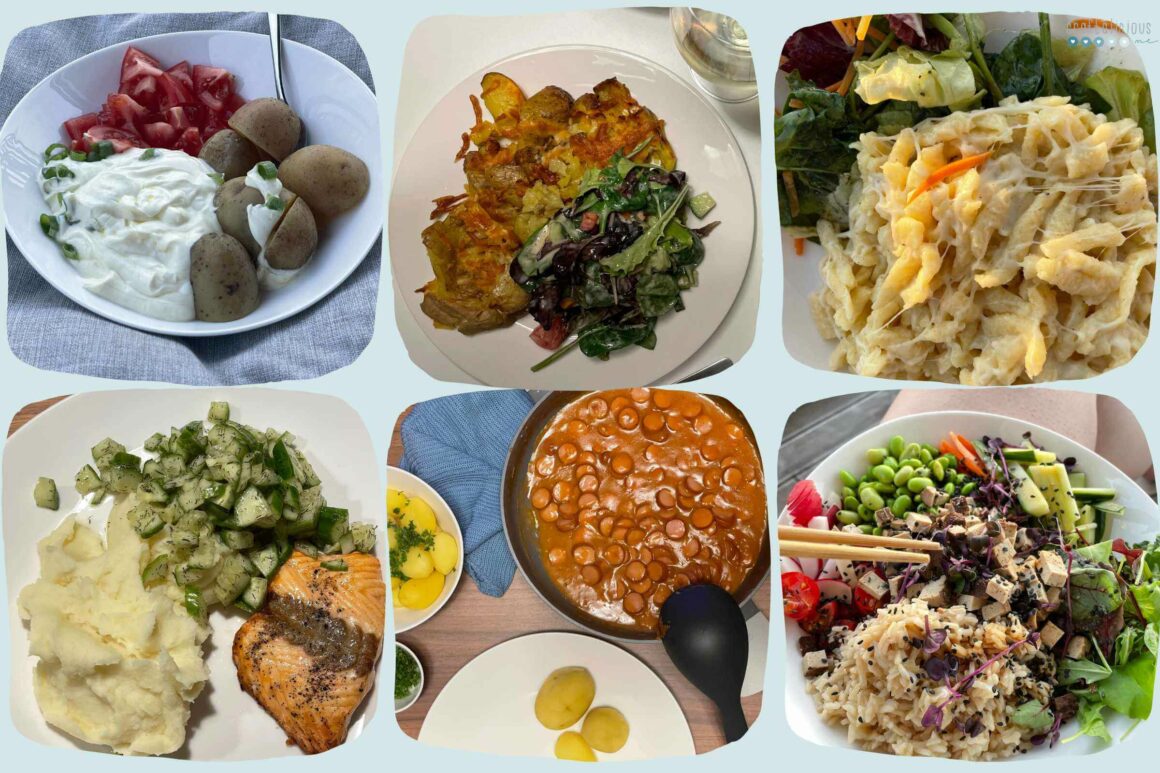 Eating Out
And then there are the times we treat ourselves to eating out. Now that we are bit advanced in the pandemic it is easier to do so again. Often times it was during summer and outside. Or during one of the rare vacations like the Spa weekend (upper left) or the family visit in Münster (lower middle). We had pasta after trying our hand in golf (upper middle) or went to the favorite childhood restaurant of the husband (bottom right) where nostalgia was better than the food. And the I had sinner with mom (bottom left) or had to eat out in the hospital during surgery (upper right) that was actually really good.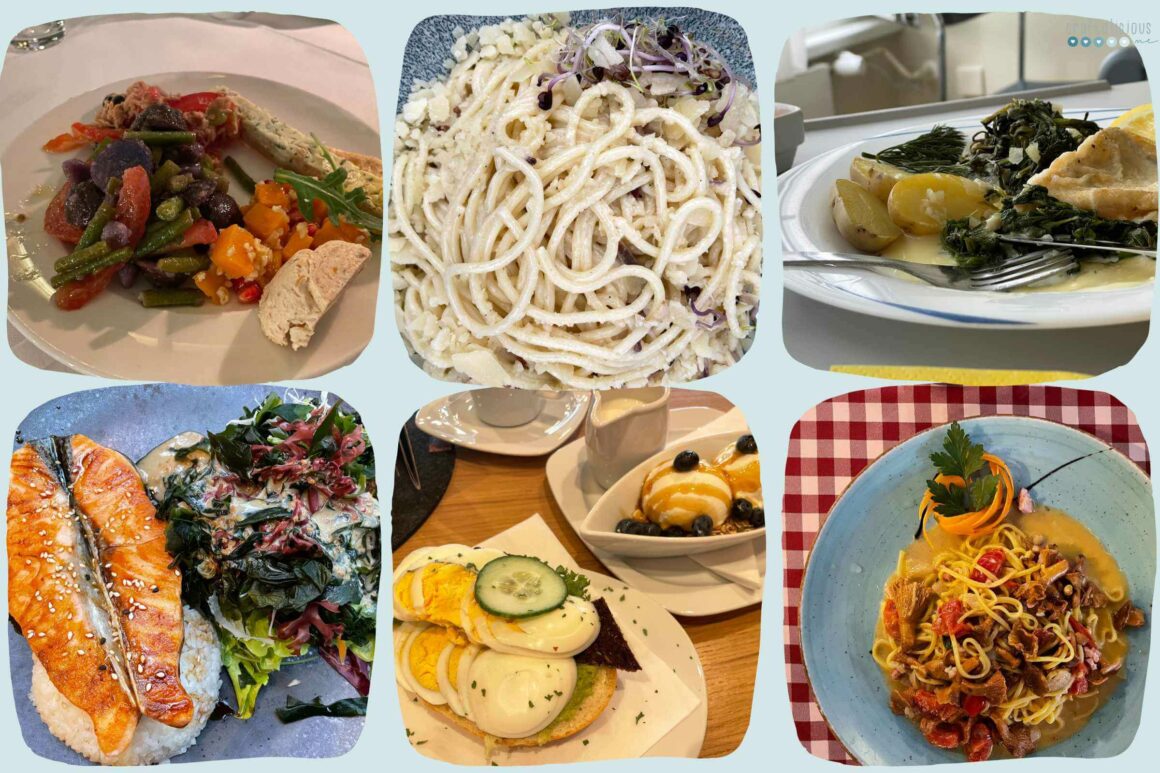 Food is great. Food is my downfall. (I spare you all the cakes and snacks and candies. Maybe I include it next year.) And every dish tells a story. Most the images I share here I could tell where I was, who my company was, how it tasted and what happened before or after that meal. isn't it great that food can trigger our memory that way?
But now its your turn. Will you join in the fun and share a selection of the dishes you had in 2022? And then let me know which dish intrigues you the most in my selection.
Happy eating
Tobia