Two years ago I started a project. I wanted to cross off 101 goals in 1000 days. And to stay on track I have already decided to do an annual goal check-in. Today is the day: I want to see how far I have come. And maybe you also like to have a look. Then follow along:
Checked goals on the bucket list
Let's start with all the goals that have successfully been crossed of the list.
Number 4 – new pots & pans
Bought some new pans over Christmas break and decided that no new pots are mandatory at this time.
Number 10 – start a small housebar
The husband got me a little bar for my reading nook. I still have to fill it with all the bottles scattered around the house but I'll cross it off.
Number 36 – go iceskating in a frozen lake
This winter it was cold enough and so we hopped in the car and went to the lake. Proof here.
Number 37 – read 125 books
Checked that off in the beginning of 2021 and now am already at 155 books. I am upping this goal to 200.
Number 43 – use a buzz or chain saw
Spend a weekend in the countryside with my dad last August and was able to cross that off.
Number 55 – make apple strudel
I did it and while it didn't remotely looked like apple strudle it sure tasted like it and was good. I'll give it another try one of those days.
Number 59 – dye fabric with natural colors
Creative weekend in the country where I dyed with avocado seeds
Number 65 – trying etching technique for Easter eggs
I did Easter 2020 but was underwhelmed. So much so that I didn't mention it last years check in.
Number 67 – teach my godchild a craft
Christmas crafting through face time with my niece and nephew. We made paper stars.
Number 81 – make a new friend
My online friend became a penpal buddy and then we met a few times in Berlin. First time just right before Covid lockdowns in February 2020, latest in June 2021.
Last year in my goal check in I already mentioned #12, #39, #42, #45, #56, #61, #69, #74.
Goals in progress on the 101 things in 1001 days bucket list
Number 1 – get retirement plan in order
I started looking into investments and slowly starting there. It's work in progress but I am doing it.
Number 3 – set up living will
Nothing happened here since my initial tackle on this goal.
Number 6 – declutter and move towards minimalistic life style
Trying to sell our dvd collection, sorted through some books, trying to buy less. So work in progress.
Number 11 – full time projects
Still hesitant to cross it off but one project is almost full time and has been extended the fourth time. Another new client – very small though. I'll keep pushing myself and maybe ill cross it off by the end of the challenge. Over all I am happy as it is.
Number 17 … set up craft lab aka home office
I put some effort in and installed new book shelves. Sorted through a lot of mess. Now that shops are open again I plan on test seating some lounge chairs so I can finish it off.
Number 18 – see new places
3/10 No development here thanks to Corona. Or does new places within Berlin or Germany count? Than I am at 6/10.
Number 28 – new recipes
3/10 can you tell it's not my strong suite?
Number 31 – new restaurants
4/10 Desperate times make me count a street food car as restaurant. Hopefully more to report next year when wrapping up.
Number 34 – see World Heritage sights
2/3 – no progress but I can always go to some Berlin sights to make it happen.
Number 46 – continue to blog
Going strong. Thanks for coming along.
Number 47 – NaBloPoMo
1/2 in 2020. Already collecting ideas for 2021.
Number 57 – wedding album
I have started but it's a tough one. – Couldn't be more true. No progress.
Number 65 – grow something from scratch
I am currently nurturing 3 avocado seats. Lets see how successful that is.
Number 71 – improve fitness, get in shape, loose weight
I bought a hula hoop, I have used it, but I am nowhere going the right directions with my health goals.
Number 76 – fell more self-confident
Work in progress. I am trying to do smaller exercises.
Number 77 – learn to listen
Life long learning session.
Number 78 – no spend month
1/3 I count it as one done even though I bought 1 skin care product and two notebooks (all for 0,99€) and which I didn't need right away but that are now in use.
Number 80 – learn Spanish
I am on a streak (65 days and counting) but I am not even done with level two. Won't reach this goal but I keep on going.
Number 89 – make my hair
HA… I have a default hairstyle I am doing daily. Do hair treatments count here?
Number 91 – learn phone number
Still can't remember.
Number 92 – reconnect with childhood friend
more or less on hold thanks to Covid.
Number 93 – donate
I started using Amazon Smile for all purchases. Also donated some through the church after online services. I still want to do a bigger donation though.
Number 94 – Volunteer
2/3 for the Christmas project with my sis. Looking forward to 2021.
Goals to reconsider in the list
Number 15 – new out-of-home-offices
I worked in one new place which was ok, but I don't think I'll end up there again. And then Corona started.
Number 13 – finding people
Having trouble here. I reached out but was "forgotten" when a meeting was set up. Maybe I am just not that person to hang out with others. I am doing good on my own as Corona showed… Not yet giving in though.
Number 35 – motor boat license
Not sure if that makes sense. Most small boats can be driven without any.
Number 90 – wear handmade clothes/jewelry for a month
Sendend year I attempted it but I definitely do not have enough clothe to make it through a month. With earrings maybe. Nor sure if that is currently a priority anymore.
The list looks long and I feel like I am on a good path so far. But what is the verdict. Can we boil it down a bit more? Let's see: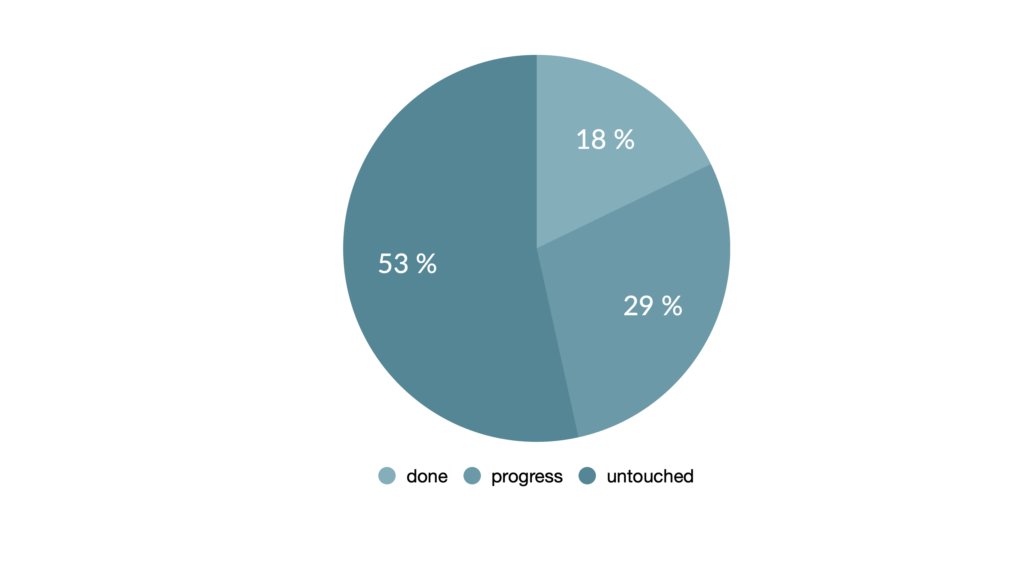 Looking at the charts is helpful. It is still not looking like I will cross of the majority of the goals but I can definitely see where my priorities lie. And with Covid all my travel and adventure goals are on the back burner.
Now will you tell me about one thing on my list that you would also like to do?
Happy goal-crushing
Tobia