And just like that in the middle of a pandemic and and a world in chaos I finish my eighth year of blogging. For me that is a big achievement. When I started this blog it was to escape a terrible job, the feeling of being utterly lost and loosing myself along the way. The blog became and still is a constant. And I love that I have a lot to talk and share even after 8 years. My drafts file counts 39 unpublished posts. I will continue to blog but before we start of the next blogging year we have look at my 2020. My eight years of blogging.
Blogging
I wrote 77 posts this year. That makes 6 posts a month aka 4,7 days a new post. That is amazing. I knew there was more constancy and had a feeling that it was a good year but I did not expect it to be my second best blogging year. Only in 2013 (my first year of blogging) did I publish more posts. Who would have thought.
This year I also finished the NaBloPoMo challenge and blogged for 30 days straight. Finally. Something I attempted over and over again but only managed to uphold in 2020.
I had a few some fun posts that saw daylight in 2020. My favorite recipe post was a childhood favorite I have re-discovered. My favorite DIY was this jewelry display I build back in 2019 but finally shared on the blog. My favorite post to write was probably the joy of penpals. One thing I am proud of is my calendar freebie I shared with you. A project I wanted to do for many years. My favorite book review was published in February. And because there was no travel in 2020 my pre-corona anniversary trip to Oslo is pretty special. And then there was a check-in for my longterm project 101 things in 1000 days after one year.
I also introduced the Corona Diaries this year to stay sane in all the craziness and keep a record of what is going on.
My readers favorites
It looks like the book posts were well liked. The top was my post about reading goals for 2020. And the corona diaries were liked too. The one with the most views was week 7 in May when I had a really low month. Overall this year the vegan bath bombs are still a hit and also the tutorial for making Sorbian Easter Eggs – I guess we all had time at home to try new things. And my entire 101 in 1000 days bucket list got many hits. I hope I could inspire some of you to join that project.
Social Media
Like everyone else this crazy year I have spent many minutes and hours on Social Media. Instagram (356) has been favorite again – to keep on with people I couldn't meet, to travel to other countries and to find inspiration. I posted 100 pictures this year. I had a few more peeks at Twitter (219) this year but mostly I could not stomach what was going on. I surfed Pinterest (493) more and so did a lot of others. The pandemic brought me many new blog followers on Bloglovin (200). Thank you for coming by. Feedly (13) continues to be out there too.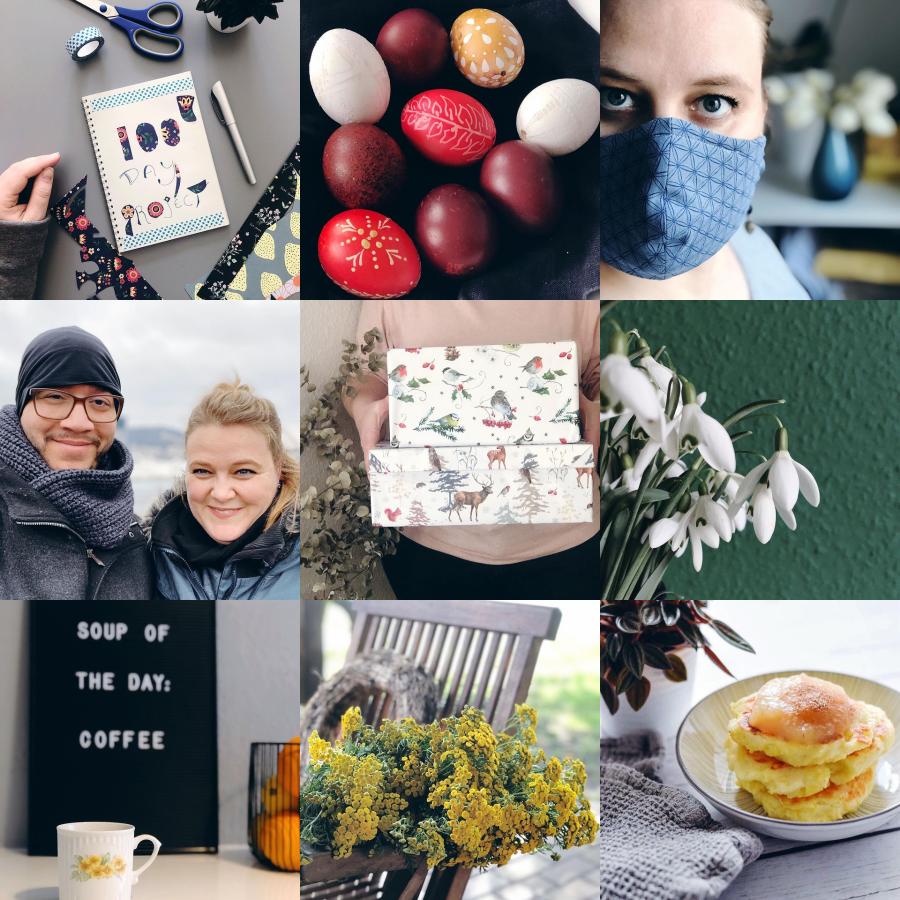 And this was blogging in 2020. I hope you Weill continues to join me on this journey and appreciate envy single on of you stopping by and taking time to read. Special thanks to my friend San who keeps commenting and makes blogging so special. It's always such a great thing to see a new comment.
And while the old year fades away I wave it good. Tomorrow I start we start with a blank canvas to make the most of 2021. Hop by if you are interested about my word of the year and my new resolutions.
Happy New Years and stay safe
Tobia