Just typing this headline I am amazed that I share my life online for almost a decade now. How did that happen? And how did I manage to never run out of things I'd like to share? I have to say even though I have been a bit absent on this blog after the NaBloPoMo challenge I still loved showing up here so much this year. And I have high hopes for continuing to do so in 2022. But before I ramble about all those plans let's have a look into my 2021: nine years of blogging and what that actually looked like.
9 years of blogging
I wrote a total of 72 blog posts this year. That makes 6 posts a month and a new post every 5th day. That is amazing. I felt like I started out strong but lost steam. But there have only been 5 posts less than last year so I guess I can be proud.
This year I can proudly report, that I finished the NaBloPoMo challenge again and blogged for 30 days straight.
I was able to share some fun posts that are close to my heart. I shared my traditional easter bread with you this year. My favorite DIY post that I published is probably the eucalyptus scrub but I loved seeing all the Christmas cards from previous years combined too. My favorite post to write is a tough one and I a debating between the 25 things about me as a reader and the Gathering Herbs post. I had a little check-in for my bucket list and I shared my monthly intentions this year.
And then of course a post that took the longest to create was the calendar free for 2022. But it was such a fun thing to create and I sincerly hope you enjoy it. Is it crazy that I already have an idea what the one for 2023 will look like?
My readers favorites
But are my favorite posts to write are the same you enjoyed? Well no surprise the all time favorites are still the Sorbian Easter egg tutorial, my favorite summer dish Schmorgurken and the vegan bath bombs. But my 101 in 1000 days bucket list seems to be rising to the top. Many more people seem to get into the goal setting thing. Let me know if you start your own list, I'd like to come by to cheer you on. You also enjoyed the currently posts that I introduced this year. And the reading goals was a hit too.
Social Media
I hope I am not alone when confessing that I spend way to much time on social media this year. Again. And I can not all blame it on work. No this time around the rabbit hole suck me in many more times that I would have liked. Instagram (414) has been the all time favorite. I just love looking at pretty accounts that inspire me to be creative or to connect with online friends. I wasted so much time on Twitter (213) this year reading through strange conversations. Often it was more like an accident you can't look away. I really need to reduce that time as it doesn't give any value. I used to love twitter specially the twitter parties but that somehow died manny years ago. So sad. I also searched Pinterest (555) a lot of times. I was sucked in when it came to fashion and natural cosmetics. But also found inspiration for my 100 day project there. If you want to follow my blogging journey you can do so through feedreader such as Bloglovin' (238) or Feedly (15).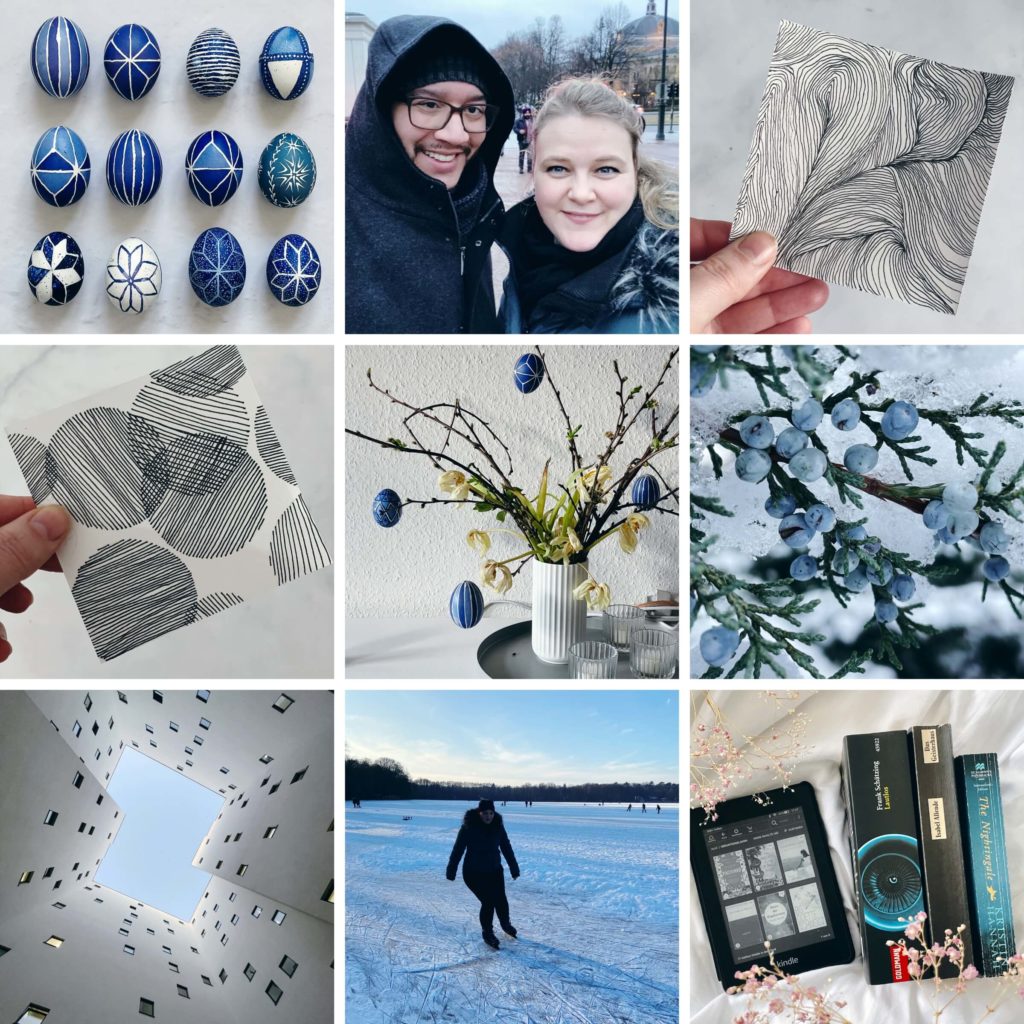 And this was another wrap up of my 2021: nine years of blogging. I am more than thankful for everyone stopping by and reading my words and even more appreciate everyone taking the time to leave encouraging words. I know we are all ver busy and I wished I had more time reading all those lovely words out there and connecting but it often falls to the wayside and I struggle to keep up with my already online friends. So thank you if you find time to connect with me. I am hoping we have a lot of things to share and talk in 2022.
For now I say bye bye 2021 and hello 2022. Come back tomorrow when I kick of the new year with my favorite post of the year.
Happy day to you
Tobia